I was recently asked what my take was on the recent Apple (NASDAQ:AAPL) stock split. If you will recall, back at the end of April, Apple announced its 7 for 1 stock split. On Monday, June 9, the stock started trading on a split-adjusted basis for shareholders of record on June 2. In a stock split, a company increases the number of shares outstanding while lowering the price accordingly. Apple stock was trading around the $645 level when the split occurred. After its 7 for 1 stock split is opened on Monday at around $93 share.
So here is my take on stock splits in general, even though a stock split is basically a wash, there is a psychological boost that occurs. In the case of Apple, it also made the stock price more attractive to mom and pop retail investors. Since Apple announced its stock split back in April, the shares have rallied up more than 23%. But not all of this market move was attributable to the proposed stock split.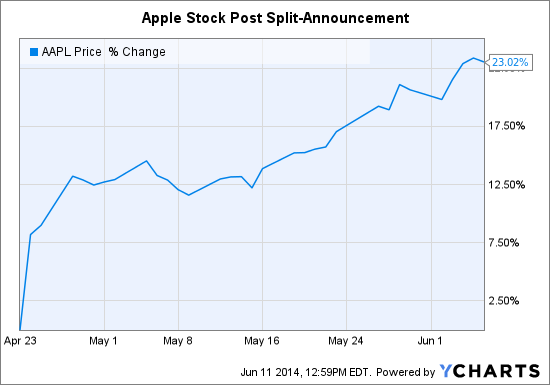 Apple reported a pretty strong earnings quarter on April 24th. They also announced they were acquiring Beats Electronics along with its streaming music service. This all cash acquisition was a signal to the market that Apple was finally willing to spend some of its cash hoard. And Apple has several new products rumored in the pipeline including the iPhone 6 refresh which is supposed to offer users a bigger screen. There has even been talk again about an iWatch product launch.
Apple's split announcement was well-timed creating a much needed "buzz" for the stock in conjunction with all these other announcements and ahead of the Apple's WWDC (Worldwide Developer's Conference). So my take on Apple's stock split is that has probably helped provide a psychological boost to the share price and motivated some retail investors to get excited about owning the stock, but I am still more concerned with Apple's underlying fundamentals. The real question is, is Apple a "best stock for right now?"
Best Stocks Now Analysis
Apple stock is a Gunderson Trophy Winner. This mega-cap technology company has been one of the big winners over the last decade.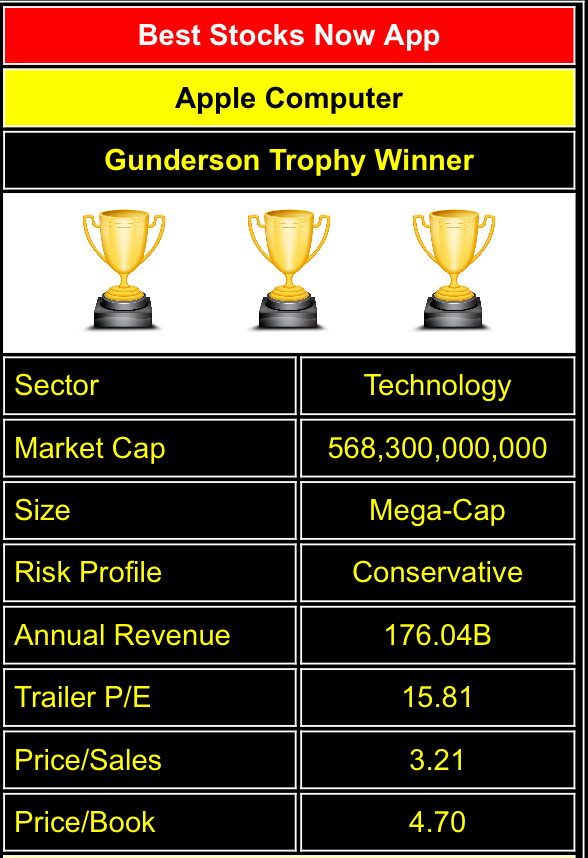 Data from Best Stocks Now App
Despite the fact that Apple has been such a consistent growth story over the years, it still trades at a fairly reasonable valuation. Its trailing P/E is 16 and its forward P/E is 14. It receives an overall Value Grade of C+. Apple's critics have cited concerns about slowing growth for the company, but it still has a very respectable estimated 5 year annual growth rate of more than 15%, giving it a PEG ratio of less than 1.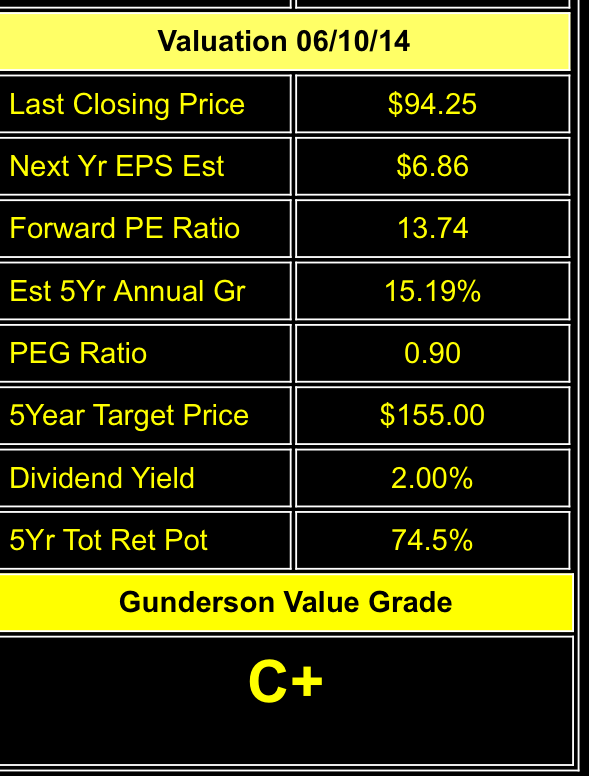 Data from Best Stocks Now App
Over the years, Apple has been a solid performer, with returns far outpacing those of the S&P 500. This gives Apple a Performance and Momentum Grade of A. After posting lackluster returns of only 8.1% last year, the stock has rebounded and is up 19% YTD.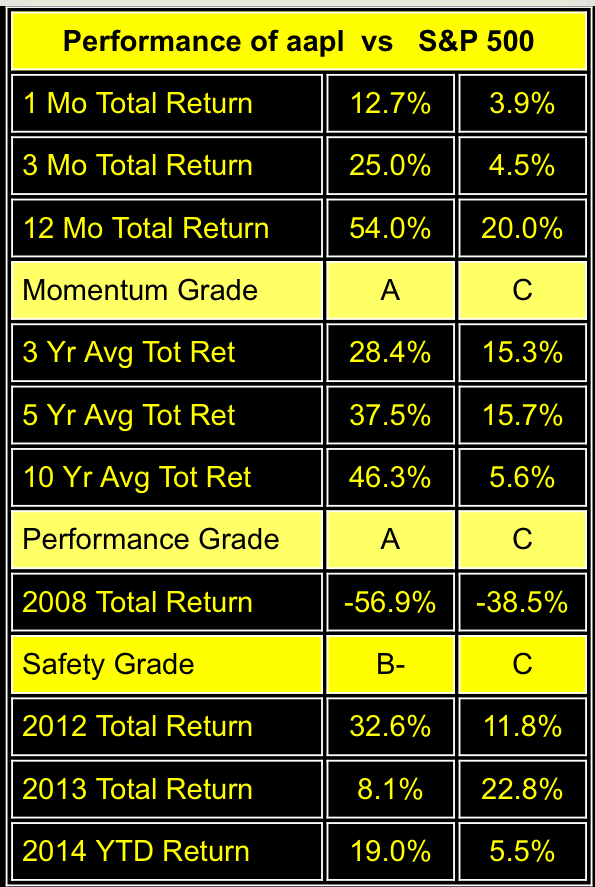 Data from Best Stocks Now App
Apple stock currently ranks #13 in the 3800+ stock universe and receives a grade of A.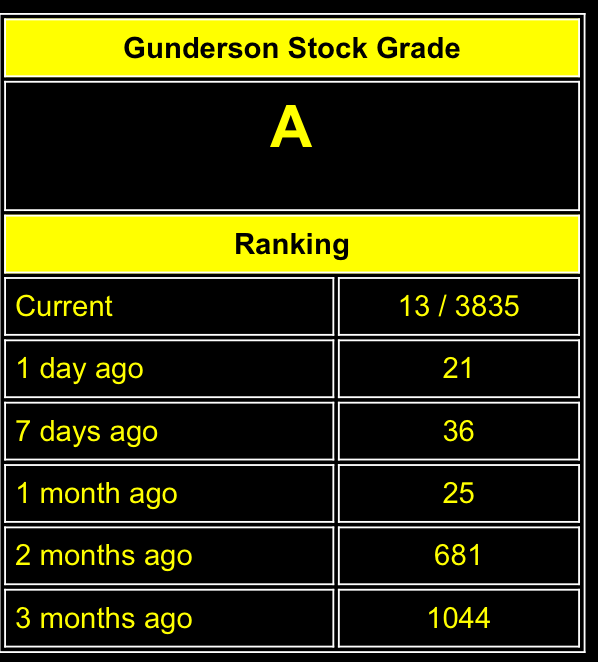 So based on my analysis, stock split or no stock split, Apple stock is indeed a name worth owning and qualifies as a "best stock now."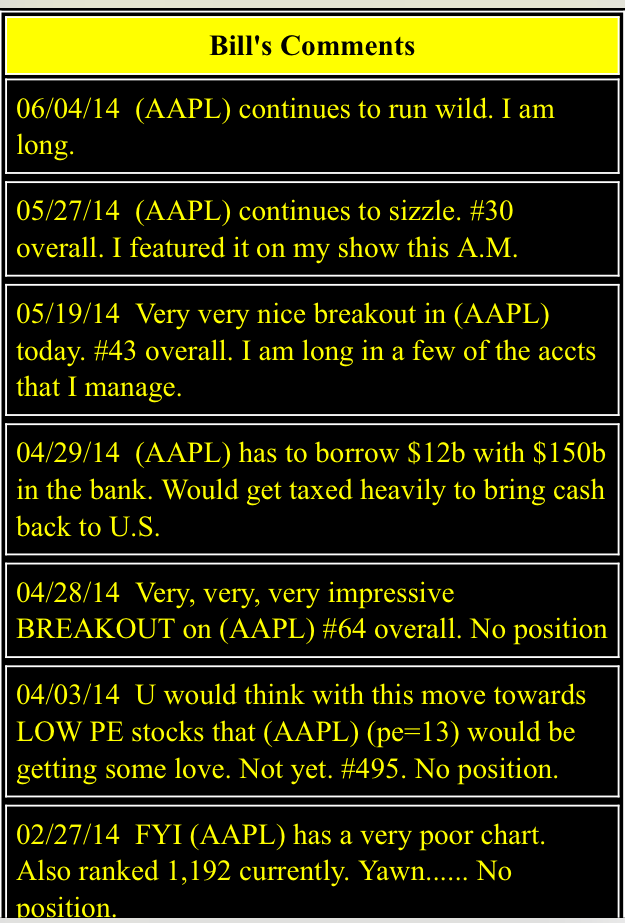 Data from Best Stocks Now App
Follow me on Twitter @BillGunderson for a change of opinion on this stock.
Disclosure: The author is long AAPL. The author wrote this article themselves, and it expresses their own opinions. The author is not receiving compensation for it. The author has no business relationship with any company whose stock is mentioned in this article.