After surging around 75% following the merger of American Airlines and U.S. Airways back in December, American Airlines Group Inc. (NASDAQ:AAL) should head even higher and possibly substantially so. A leading global airline has seen a relatively smooth integration of the merger so far that is leading to a significant increase in earnings estimates.
The ability to survive the polar vortex winter that hammered airline operations and generate a 5% to 7% increase in passenger revenue per available seat mile during May is a further sign of the attractiveness of the merged airline. The industry remains strong with Delta Air Lines (NYSE:DAL) recently hitting highs, but United Airlines (NYSE:UAL) continues to struggle among the legacy airlines.
Surging Earnings Estimates
Back in early March when the stock was trading around $38, legendary investor James Dinan of York Capital Management proclaimed that American Airlines Group had the potential to earn $6 in 2015. At the time, it seemed crazy that the recently merged airline could produce such substantial earnings growth yet analysts now forecast an even higher number next year.
Table - EPS Trends

Source: Yahoo! Finance
The interesting part is that one analyst now forecasts 2014 earnings in excess of $6 and 2015 earnings of $8. No doubt, the stock would be significantly higher if it hit those numbers.
Cheap Valuation
The biggest benefit on the side of new investors into American Airlines Group is that the market still sees the airlines as unchanged from past sins. Other stocks such as the giant airplane maker of Boeing (NYSE:BA) trades at substantially higher earnings multiples. This is partly due to a more consistent history of profits and maybe less competition, albeit the Chinese and other countries are making great pushes to join Airbus and Boeing in the large commercial airplane sector. At the same time, the mega mergers in the domestic airlines have significantly reduced the competitive landscape faced by American, Delta, and United making these stocks more attractive than in the past.
Considering that landscape, a vast difference shouldn't exist between the PE multiples of American Airlines and Delta or car rental firm Hertz Global Holdings (NYSE:HTZ) that both trade at around 12 forward multiples. Currently, American sits at only 7x forecasted 2015 earnings. On top of that, a wide divide shouldn't exist between these stocks and Boeing at 16x estimates. The below chart highlights the forward PE ratios of the legacy airlines.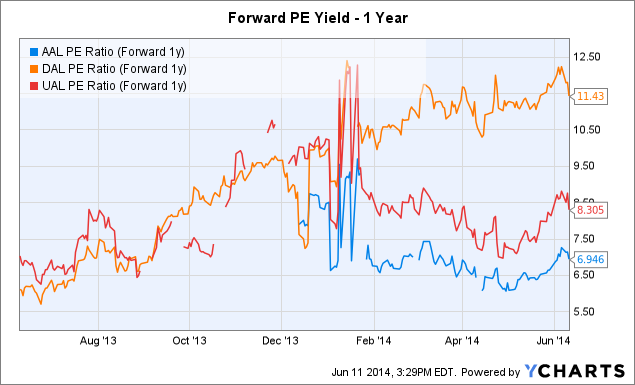 AAL PE Ratio (Forward 1y) data by YCharts
Conclusion
As is typical with any stock, it takes investors a while to adjust to the new prospects whether positive or negative. Most investors have remained in denial that this airline that started at $24 in early December could earn $6 per share only two years later. To just obtain a market multiple equivalent to Delta and Hertz would increase the stock value by over 50%. For the stock to claim a multiple closer to Boeing of only 14x earnings would place the stock at an incredible $85, or double the current price. Despite the large gains, American Airlines remains horribly mispriced.
Disclosure: The author is long AAL. The author wrote this article themselves, and it expresses their own opinions. The author is not receiving compensation for it (other than from Seeking Alpha). The author has no business relationship with any company whose stock is mentioned in this article.
Additional disclosure: The information contained herein is for informational purposes only. Nothing in this article should be taken as a solicitation to purchase or sell securities. Before buying or selling any stock you should do your own research and reach your own conclusion or consult a financial advisor. Investing includes risks, including loss of principal.