Procter & Gamble (NYSE:PG) is a U.S. consumer sector giant serving almost 4.8 billion people around the globe with its strong portfolio of trusted brands, such as Olay, Pampers, Pantene and many more. Moreover, with its two powerful and sustainable strategies, innovation and productivity, the company is headed to creating value for its shareholders. Also, despite currency headwinds, PG's efforts to grow in emerging markets stay strong.
Key Drivers = Productivity + Innovation
In a highly competitive Consumer Staple Industry, continuous innovation is the key to success. In order to remain successful among the key peers in the consumer sector, PG has been continuously bringing in new and diverse products in almost all of its categories. Moreover; the recent launch of PG's innovative product "Gain Flings" has gone extremely well, reaching nearly a 3% value share in the U.S. laundry category in just two months. The company's recent tide drycleaners store initiative to serve the growing demand for a product that makes cleaning efficient and effortless is another testament to the long-term success of PG in laundry care.
Until recently, the company's Unit-dose detergents generated well over $1 billion in retail sales and are now available in 20 markets around the globe. On the whole, with these innovations in laundry care, the company has recently reported a 2% year-on-year increase in net sales of the Fabric Care and Home Care segments.
The product innovation measures have allowed PG to maintain its leading manufacturer share in a highly competitive U.S. Laundry Care Industry. By the end of 2013, the total sale of PG's products accounted for a 55% share of laundry care, up from 54% in 2012; this 1% jump in PG's value share was the highest by any company in 2013.
The following chart shows PG's detergents', Tide and Gain, position with regards to their sales (in $) among the top 10 leading U.S. detergent brands in 2013. With this huge lead among other detergents, PG is all over the U.S. laundry market. Moreover, with new product launches and innovations, PG is likely to keep its leading position in the laundry care category by the end of FY2014.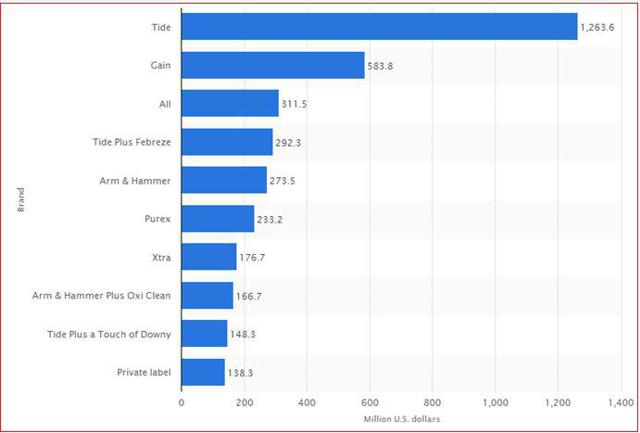 Click to enlarge
Source: Statista.com
PG's innovation scheme to deal with competition from strong competitors like Colgate (NYSE:CL) and Kimberly-Clark (NYSE:KMB) is well on track to keep its share ahead in the long run.
Besides innovation, PG's focused approach to improve its productivity through cost cut initiatives is another plus for the company's long-term success. The company's cost saving program is geared to save $10 billion by the end of 2016 through a reduction in marketing, selling and non-manufacturing overheads. In the recent quarter, due to overhead productivity improvements, PG has lowered SG&A expenses by 4% year-on-year, leading to a 0.20% improvement in core operating margin.
As part of its plan to lower overhead expenses, PG has taken the initiative of reducing its workforce. Up till now, a 13% reduction in workforce has been achieved, which places PG close to its goal of reducing almost 16%-22% rolls by the end of 2015. Moreover, the company has also merged several of its divisions to support a leaner cost structure. So far it has managed to merge Western, Central and Eastern Europe divisions into one European organization. Moreover, India, the Middle East and African divisions have been merged into one IMEA region by the company. With this unionization of divisions, PG will reduce its interfaces and transaction costs. I believe these simplified operations will bring PG close to its target of saving $1.6 billion by the end of 2014 and allow it to support further cost savings beyond 2016. PG's core business strategy of growth by improving its productivity and bringing in innovation will fuel its earnings and is highly likely to portend well for the stock in the long run.
Focus On Core Business Segments
As part of its program to improve productivity, PG is allocating resources to businesses where it can create value. The company is intelligently exiting businesses that won't help it improve its core productivity in the long run. In this regard; PG's plan to divest the Pet Care segment will enable it to focus on core businesses.
Over the past six years, PG exited businesses that have accounted for over $6 billion in sales, including coffee, pharmaceuticals, snacks, kitchen appliances and water purification. I believe its policy of exiting these non-core businesses with its focus completely shifted on core, growth generating businesses will add well to the company's productivity in the long run.
Emerging Markets
In the recent past, a slowdown in developed markets shifted the focus of most consumer staple companies towards emerging markets. PG has long been pushing hard for its market share in emerging markets, and its efforts are finally paying off. The company, with its recent quarter results, came up with 5% organic sales growth in emerging markets as compared to organic sales growth of only 1% in developed markets. But perhaps due to high spending on marketing, PG's share of profits in emerging markets is relatively low. Also, strengthening of the dollar proved to be a major setback that most companies faced in emerging markets. PG's recent quarter's total sales had a 3% negative currency impact. Whereas one of its closest competitors CL reported a 6.5% drag on its sales due to negative currency impacts in its recent quarter's results. In the near future, the negative currency headwinds will remain a threat for PG and all other companies with international market exposure.
Conclusion
I believe PG is well committed to creating brand loyalty and creating value for shareholders with its targeted investments in core business, most promising developing markets and product innovation opportunities. PG's growth initiatives are aggressively driving the company's productivity, and cost savings will also portend well for future growth in the company's earnings. However, currency headwinds will remain a pressure on the company's earnings due to its international market exposure.
Disclosure: The author has no positions in any stocks mentioned, and no plans to initiate any positions within the next 72 hours. The author wrote this article themselves, and it expresses their own opinions. The author is not receiving compensation for it (other than from Seeking Alpha). The author has no business relationship with any company whose stock is mentioned in this article.