Occidental Petroleum ( OXY), one of the largest independent oil and natural gas exploration companies in the United States based on market capitalization, hit a new 52-week High at $100.97 last week. Strong first quarter results and insider buying certainly helped in supporting Occidental Petroleum's share price lately. The oil and gas company has done well for shareholders, too: Shares of Occidental Petroleum gained approximately 20% over the last two years and about 10% over the last twelve months. Since their lows at the beginning of February, shares have gained more than 15%. Deutsche Bank recently initiated coverage on Occidental Petroleum with a price target of $110.
Why Occidental Petroleum?
Occidental Petroleum has a strong asset footprint in the United States, although the E&P company also has sizable operations in the Middle East (including Bahrain, Oman, Qatar, Libya, Iraq, Yemen and the United Arab Emirates) as well as in Latin American countries Colombia and Bolivia. While Occidental Petroleum has a decade-spanning history in the Middle Eastern energy markets, the exploration company has its U.S. operations at its strategic core. Its largest operations are in the Permian Basin in West Texas and New Mexico and additional production assets are located in California and the Mid-Continent.
63% of Occidental Petroleum's first quarter production related to oil, 26% to gas, and only 11% to natural gas liquids, while 61% of Occidental Petroleum's total production originated in the United States. Though Occidental Petroleum has a fairly international footprint, its business value is largely going to be driven by its U.S. oil exploration assets.
Strategic concentration
Occidental Petroleum has repeatedly said that it intends to grow average long-term production of oil and gas by 5%-8% a year. This clearly is an ambitious growth rate. Moreover, analysts now speculate that Occidental Petroleum is going to reposition its development portfolio by concentrating its assets and going all-in on the Permian play.
President and CEO of Occidental Petroleum Stephen I. Chazen commented on first quarter results at the beginning of May:
We continued to focus on our domestic production growth strategy, growing our oil production to 274,000 barrels per day. This was an increase of 10,000 barrels per day on a year-over-year basis and 4,000 barrels per day on a quarter-over-quarter basis. Our cash flow from operations was approximately $2.7 billion. Net of contributions from partners, we spent about $2.2 billion on capital expenditures and purchased approximately 10.5 million shares of our stock during the quarter. We are on track with our key long-term projects. Occidental Petroleum's intention to concentrate on domestic operations, and oil production in particular, is a strategic move to develop only the most promising domestic production assets, which ultimately should be reflected in strong cash flow and dividend growth.
Permian assets driving production growth
Occidental Petroleum's Permian assets are promising: The company expects to spend about $1.6 billion and drill approximately 340 wells in 2014 in order to drive prospective production growth. Occidental Petroleum expects to grow its Permian Resources production by 13-16% in 2014 highlighting that overall production growth is being driven by its Permian assets.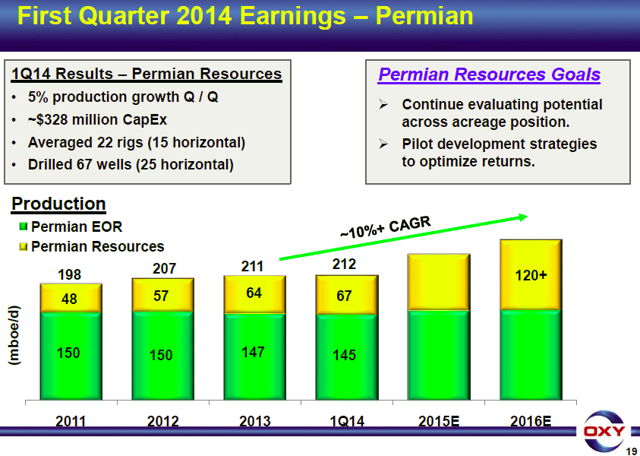 (Source: Occidental Petroleum Corporation First Quarter 2014 Earnings Conference Call Presentation, May 5, 2014)
Occidental Petroleum remains committed to improving its long-term dividend growth prospects and its appeal to income investors as well. Over the last twelve years, Occidental Petroleum increased its annual dividend payout by approximately 16% annually, and that includes the financial crisis in 2007/2008 during which oil prices fell off a cliff.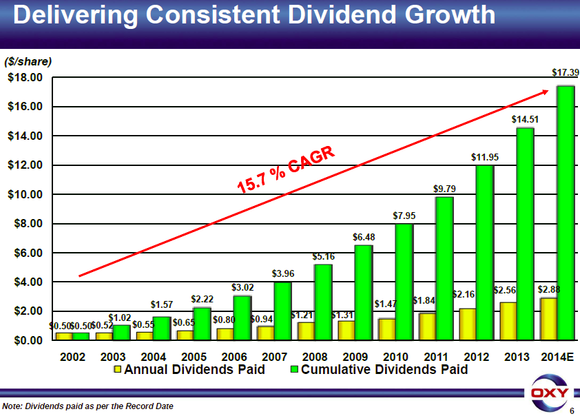 (Source: Occidental Petroleum Corporation, Sanford C. Bernstein 30th Annual Strategic Decisions Conference 2014 Presentation)
Share performance
As indicated in the introduction, shares of Occidental Petroleum have done well for shareholders and Deutsche Bank's most recent price target of $110 implies further upside potential of around 10%.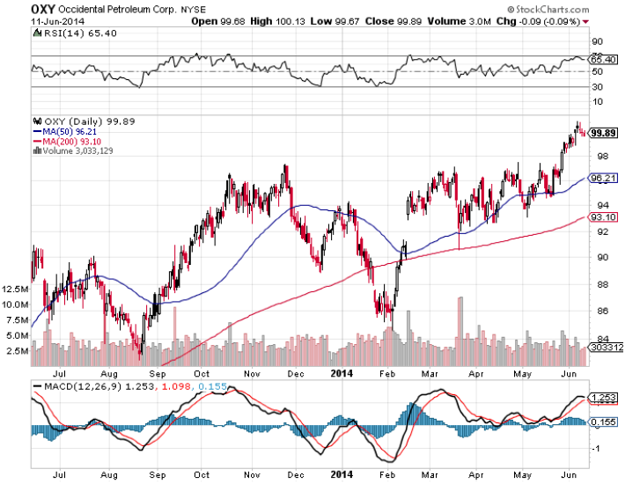 (Source: StockCharts.com)
Final assessment
Going forward, investors can expect that domestic operations, especially in the important Permian Basin, are going to play a dominant role for Occidental Petroleum and for its cash flow growth.
At least a part of the growing cash flow is likely being used for share repurchases. The company already announced that it intends to reduce its share count by up to 100 million shares which would represent approximately 13% of outstanding shares. Substantial share repurchases are a good thing for shareholders and should provide support to Occidental Petroleum's share price over the course of the year.
A focus on the most promising production assets in the Permian Basin is the right move for Occidental Petroleum and ultimately should benefit its shareholders. The energy company currently pays investors a quarterly dividend of $0.72 per share, which translates into a forward dividend yield of approximately 3%. With a more concentrated asset footprint, strong Permian production growth and substantial share repurchases, Occidental Petroleum is a Strong Buy.
Disclosure: The author has no positions in any stocks mentioned, and no plans to initiate any positions within the next 72 hours. The author wrote this article themselves, and it expresses their own opinions. The author is not receiving compensation for it (other than from Seeking Alpha). The author has no business relationship with any company whose stock is mentioned in this article.