Skyworks Solutions (NASDAQ:SWKS), an innovator of high-performance analog semiconductors, has grown significantly over the last five years, returning approximately 368 percent during the period. And yet, there are no signs of its growth stopping anytime soon. As a matter of fact, growth is likely to accelerate further, considering its robust fundamentals.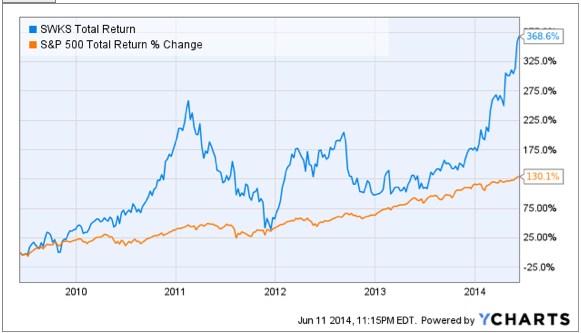 Let's take a look at few reasons as to why this wonderful company would continue to grow:
Supplying to best-in-class businesses
In just over a decade, Skyworks has transitioned from a small component supplier with $700 million in revenue to a $2 billion and growing semiconductor leader. The company offers a wide range of products for markets, including smartphones and tablets, as well as wireless-enabling platforms across a diverse set of end-markets, including automotive, broadband, wireless infrastructure, energy management, GPS, industrial, medical, and military.
Sure enough, there's no shortage of competitors in the analog processing sector, but Skyworks has differentiated itself through meticulous attention to product quality and a unique control over manufacturing processes. As a result, it has acquired more than a handful of big-name customers, such as Apple (NASDAQ:AAPL), Samsung (OTC:SSNLF), LG Electronics (OTC:LGEAF), Cisco (NASDAQ:CSCO), General Electric (NYSE:GE), Google (NASDAQ:GOOG), Honeywell (NYSE:HON), Nokia (NYSE:NOK), Foxconn (OTC:FXCOF), and Fujitsu (OTCPK:FJTSY), among others.
Many of these clients are best-in-class businesses, with years of operating history and freedom to pick top-notch suppliers. And despite having fastidious supplier criteria, most of these businesses have chosen Skyworks for crucial components of their product lines. As a result, Skyworks greatly benefits from the popularity of its clients and their successful product lines.
For instance, smartphone giants Samsung and Apple account for a significant portion of Skyworks' total revenue, and trends point to continued growth in both of these accounts, esp. in view of their product launches. Samsung's Galaxy S5 has got off to a terrific start, and Apple's iPhone 6 is looking to make a solid comeback. Therefore, Skyworks is well-positioned to benefit from the sales of both the devices. Similarly, there are other clients who are also top-notch business in their own right, and supplying to them puts Skyworks in a different league of profitability altogether.
Joint venture with Panasonic
The surging demand for uninterrupted connectivity, along with ever-rising user data demands have driven the rapid growth of bands and the addition of 4G/LTE capabilities. As a matter of fact, 3GPP now has over 45 sanctioned bands. This is considerably increasing the demand for filters, and especially for high-performance temperature compensated surface acoustic wave (TC SAW) filters that enable dense packing of bands.
On April 28, 2014, Skyworks announced the creation of a joint venture with Panasonic Corporation to design, develop and deliver high-performance filters, including SAW and TC SAW devices. The JV intends to capitalize on Panasonic's acoustic filtering and piezoelectric leadership, while further expanding Skyworks' product breadth and integration capabilities so as to deliver the world's highest-performance, lowest-cost and shortest-cycle time solutions.
The need for superior sensitivity and the increasing co-existence issues due to simultaneous usage of GPS, Bluetooth, WiFi, and cellular radios entails high-quality filtering enabled by Panasonic's advanced technology. Basically, the JV will allow Skyworks to cover the RF spectrum with top-notch filter products, by targeted band, enabling it to offer differentiated architectures for the most challenging customer applications.
The parties expect the transaction to close before the end of the current fiscal year. At closing, Skyworks will hold two-thirds of the newly created entity, with Panasonic retaining a third. For consideration, Skyworks will pay $148.5 million to Panasonic for its share of the new venture. The company expects the investment to be immediately accretive to its margins and earnings per share.
"Internet of Things" - a key growth driver
There is much said and written about the "Internet of Things" of late. Until a few years back, the tech world was mainly concerned with connecting places and people. Now, they have turned their attention to the next phase of the Internet's evolution that would connect things. The idea is based on the simple principle that anything that can be connected to a network will be connected to the network. Advancements in technologies are helping make machine-to-machine communication a reality. According to a 2012 report by Scotiabank, there will be 50 billion machines connected to the Internet by 2020, with automotive and medical business sectors likely to be the biggest markets in machine-to-machine connectivity. Likewise, there would be several macro trends that will bring about growth opportunities for the semiconductor industry.
During the recent earnings release, Skyworks CEO, David Aldrich said that the company "is set to substantially outpace the broader semiconductor industry as we capitalize on increasing analog system complexity driven by the Internet of Things." Given the company's differentiated product portfolio, scale, original equipment manufacturer relationships, and integration skill sets, the Internet of Things represents significant growth opportunities for Skyworks.
Impressive financials
Skyworks has reported some excellent numbers in recent years. Both revenue and net income have more than doubled between 2009 and 2013. Higher sales allow for fixed cost absorption and help expand margins. Both operating and net margins improved by nearly 3 percentage points in fiscal 2013.
Over the last few years, the company has grown its R&D expenses in line with its sales, which is a good sign, as its products and markets demand rapid technological advancements, requiring a continuous effort to enhance existing products and technologies, as well as develop new ones. R&D costs have been around 12 percent of net sales over the last four years. It also maintains close collaborative relationships with many of its clients to help identify market demands and target development efforts along those lines.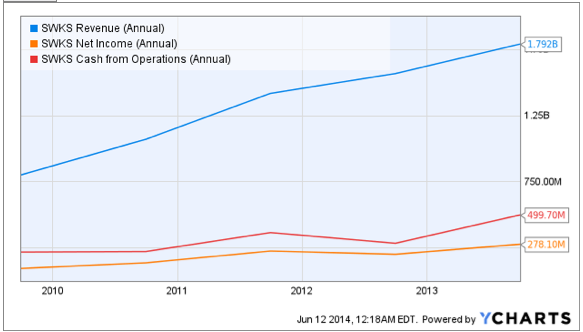 Skyworks' operating cash flow increased from $210 million in 2009 to $500 million in 2013, while capital expenditure remained around $100 million for the last four fiscals. Its cash flows from operations have continuously exceeded net income, which indicates that the company may be much healthier than its net income suggests. In 2013, free cash flow grew to $376 million, up 96.69 percent year-over-year.
For the quarter ended on March 28, 2014, Skyworks reported revenues of $481 million, up 13.1 percent from the year-ago period. As observed in fiscal 2013, margins continued to improve significantly during the quarter as well. Net income grew to $76.9 million from $61.7 million in the year-ago quarter.
Further, the company has no debt, and had $797.8 million in cash and cash equivalent at the end of the fiscal second quarter, significantly more than $511.1 million it had at the end of last fiscal.
Skyworks has a history of beating analysts' expectations. Out of the last five quarters, it has exceeded expectations in each of those quarters. Moreover, the company recently raised its current quarter revenue and earnings guidance. It now expects revenue of $570 million, compared to previously projected $535 million, representing 31 percent year-over-year increase and 19 percent sequential growth. It also revised its earnings estimate to $0.80/share from the previously guided $0.73/share, reflecting a 47 percent increase compared to the year-ago period and 29 percent sequential growth.
Returning cash to shareholders
Up until the last quarter, the company did not pay a dividend. However, it does have a shares repurchase program in place, and buys back more shares than it prints these days. Although these buybacks aren't massive, they are enough to erase the impact of stock-based compensation. Last July, the Board of Directors approved a $250 million stock repurchase program. During the six-month period ended on March 28, 2014, the company paid $78.6 million to repurchase 2.7 million shares of its common stock. In the March quarter, $151 million remained available under the existing share repurchase authorization.
On April 22, 2014, Skyworks announced its first cash dividend of $0.11 per share. This represents a $0.44 annualized dividend and a dividend yield of 0.93%. At earnings per share of $1.672 (ttm), the distribution translates to a payout ratio of 26.3%, thereby, providing enough room for further growth.
Bottom line: Skyworks looks like a solid business from all angles. From unstoppable growth to big-name customers and top-notch efforts in technology advancements, everything points to a promising future for the company, not to mention the recent initiation of a dividend program, which only adds to its already massive appeal.
Disclosure: The author has no positions in any stocks mentioned, and no plans to initiate any positions within the next 72 hours. The author wrote this article themselves, and it expresses their own opinions. The author is not receiving compensation for it (other than from Seeking Alpha). The author has no business relationship with any company whose stock is mentioned in this article.