Recent headlines would prompt concern from almost every investor in eBay Inc. (NASDAQ:EBAY), but are these short-term problems or long-term concerns? After all, both EPS and revenue have been growing steadily, and when it boils down to it, investors are really only concerned about the money.
With that, one important observation needs to be made. Slowly, EPS trends are starting to lag behind revenue trends, suggesting that the company is experiencing difficulty bringing earnings to the bottom line. This affects shareholder value and shareholder perception, and it doesn't help when negative news hits the tape.
Specifically, recent negative news has included the departure of a key executive, penalties imposed by search engines, and in my observation, technical breakdowns as well. These are all concerning factors, downgrades of the stock have also occurred, but thus far, there are no reasons to suggest that EBAY will not be able to continue on its path, as illustrated in the chart below.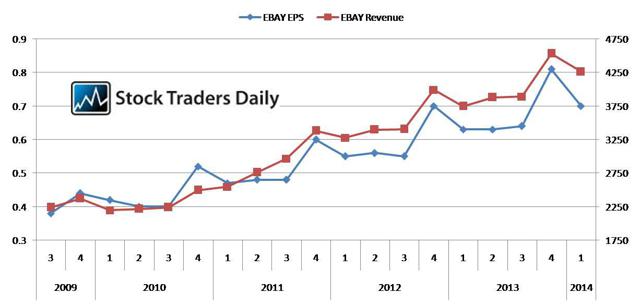 After extraordinary items are excluded, the PE multiple for EBAY is about 17 times earnings. Given that EPS growth has been exceeding double digits in recent years, this is not an obtuse multiple, but the stock is breaking down, and for those investors who adhere to the notion that price is all that matters when it comes to making money in the stock market, the focus shifts from what the fundamentals might suggest to what the stock is actually telling us.
Quite often, stock prices will reflect risk in the company before the fundamentals actually begin to deteriorate on paper, and that could be true in this case as well.
According to our real-time trading report for EBAY, the stock price has begun to break the longer-term support level that we have identified, and that presents serious risks to investors. When longer-term support levels break technical red flags surface, sell signals and short signals are triggered. This will be true so long as the stock remains under longer-term support, which has now been converted into a resistance level.
Everything considered, the company is not deteriorating, but the stock certainly is, and for those people who understand that price is all that matters to making money in the stock market, they should respect the price action we are witness to.
Disclosure: The author has no positions in any stocks mentioned, and no plans to initiate any positions within the next 72 hours.
Business relationship disclosure: By Thomas H. Kee Jr. for Stock Traders Daily and neither receive compensation for writing this article from the publicly traded companies listed herein.