One financial asset class performing surprisingly well so far this year has been the fixed income area. What a difference a few months can make in investor psychology! At the beginning of the year there was near unanimous opinion the bond market would be in for another difficult year. The Federal Reserve's long awaited "tapering" program or withdrawal from purchasing billions of dollars of government bonds was expected to push interest rates higher and put further downward pressure on bond prices. That popular scenario has not played out as expected. Instead, long term bond prices have rallied strongly since the start of the year making them one of the world's top performing assets in 2014. The conservative business cycle investment strategy we utilize to manage private accounts and our actively managed ETF incorporates multiple asset classes. Meaning we look to invest in assets that have low risk attributes and a reasonable promise of satisfactory returns. Our pro-active asset allocation and sector rotation process employs multiple layers of input including business cycle, fundamental and technical analysis. Another important aspect of the decision-making process we utilize to manage portfolios is to pay careful attention to investor psychology and have a healthy respect for contrary opinion.
Contrary opinion is the concept involving taking the opposite view of the majority or the conventional wisdom of the day. The reason contrary opinion is so effective is when opinion is heavily one-sided as a result of a well-established and well-publicized trend, most investors are either all in or all out of that particular investment. Therefore a surprise can only happen if the investment moves the other direction, which leaves investors reversing their position, chasing the new direction. Stellar bond market performance this year in the face of near unanimous negative sentiment 6 months ago is a perfect example of the benefits of paying attention to investor psychology.
Contrary Opinion Takes the Opposite View of Conventional Thinking…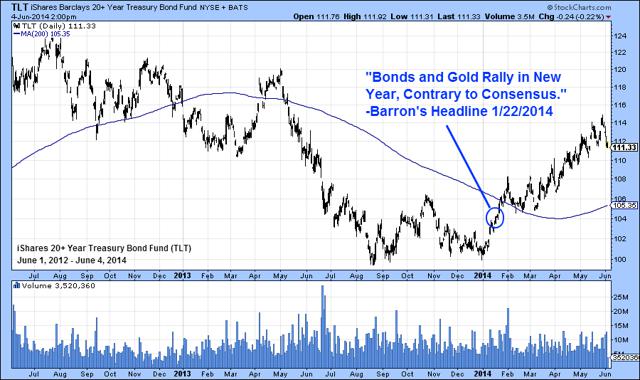 … The Bottom is the Point of Maximum Pessimism.
Our investment accounts and fund continue to hold a mid-teen allocation of various fixed income positions. The advantage of a multi-asset investment strategy is diversification can smooth out returns, providing us with the opportunity to carefully invest in contrarian opportunities.
Just as bonds were generally shunned by the investing public early this year, we can make the same contrary investment observation today for the precious metals asset class. Let's face it; it's been a very long down cycle in precious metals prices. After 3+ down years for gold, silver and other metals, the outlook is again extremely one-sided and downbeat for this important asset class. Negative sentiment has reached another extreme, signaling contrarians to once again investigate metals for a low risk investment opportunity.
Gold Sentiment Once Again At Extreme Pessimism Levels…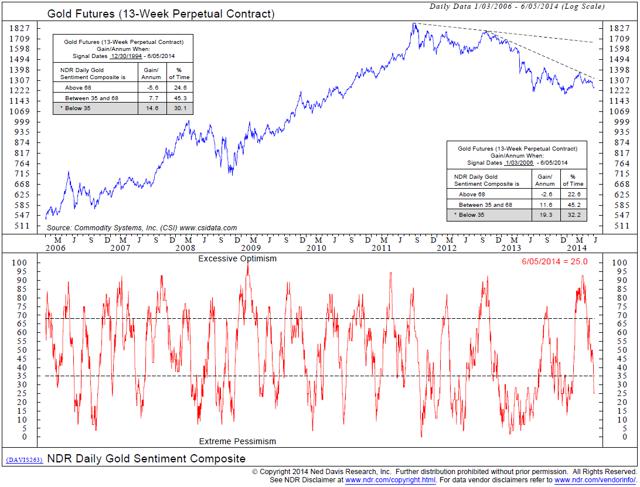 … A Good Indication of Rally Potential
To take advantage of this opportunity we have been methodically acquiring positions in metals and mining companies with the most pristine balance sheets and encouraging future prospects. Gold mining companies when compared to the underling price of physical gold are trading at generational low valuations. The oldest available gold mining index, the Barron's Gold Mining Index (BGMI) currently trades at the lowest level relative to the price of gold in more than 70 years (see the chart provided by Incrementum below). Considering the current bearish investor psychology, and the historic low relative valuations, the risk to reward potential for patient value investors appears to lean heavily in favor of gold and especially gold mining stocks surprising to the upside.
Gold Miners Relative to Physical Gold At Historic Low Valuation Levels…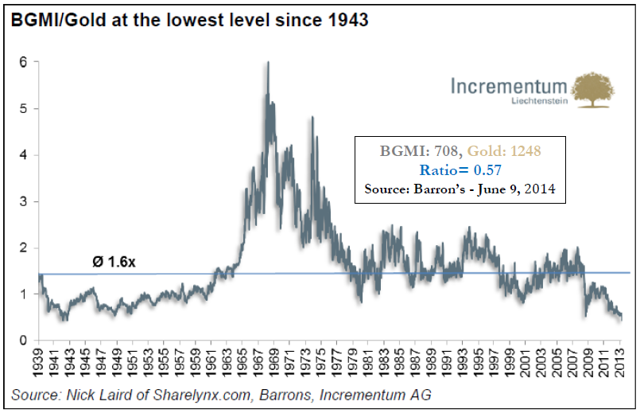 … Offering A Once in a Generation Low Risk Buying Opportunity.
Precious metal royalty companies are one mining sub-category that is especially interesting. A royalty company provides upfront financing to gold mining companies in exchange for a share of future mine production. Stock prices of gold and silver miners have fallen dramatically the past three years creating an extremely favorable environment for royalty companies to provide financing by offering an attractive alternative over traditional sources of capital such as debt or equity. We may be a little early in establishing these positions but there is great value in the sector and these high quality royalty companies also provide a growing dividend stream, so in our view the potential reward greatly outweighs the risks.
Co-authored by: Jim Kopas, CFA, Tom Kopas, and Joe Turner - Portfolio Managers at Pring Turner Capital Group, and sub-advisors for the Pring Turner Business Cycle ETF (DBIZ).
Disclosure: The author has no positions in any stocks mentioned, and no plans to initiate any positions within the next 72 hours.
Business relationship disclosure: DISCLOSURES: Pring Turner Capital Group ("Advisor") is an investment adviser registered with the U.S. Securities and Exchange Commission. The views expressed herein represent the opinions of Advisor, are provided for informational purposes only and are not intended as investment advice or to predict or depict the performance of any investment. These views are presented as of the date hereof and are subject to change based on subsequent developments. In addition, this document contains certain forward-looking statements which involve risks and uncertainties. Actual results and conditions may differ from the opinions expressed herein. All external data, including the information used to develop the opinions herein, was gathered from sources we consider reliable and believe to be accurate; however, no independent verification has been made and accuracy is not guaranteed. Neither Advisor, nor any person connected with it, accepts any liability arising from the use of this information. Recipients of the information contained herein should exercise due care and caution prior to making any decision or acting or omitting to act on the basis of the information contained herein. Pring Turner Capital Group is the "Sub-Advisor" for The Pring Turner Business Cycle ETF, (DBIZ) ©2014 Pring Turner Capital Group. All rights reserved.