In April last year, I compared Home Depot (NYSE:HD) to Lowe's (NYSE:LOW). You can find this article here: Home Depot and Lowe's: Great, but not at this price. Both Home Depot and Lowe's have underperformed the S&P 500 since the writing of that article, with Home Depot up 7.84% and Lowe's up 23.05%. The S&P500 grew by 24.98% in the same time frame. Year to date, the S&P 500 is up 5.16%, while HD and LOW are down 3.06% and 5.33% respectively.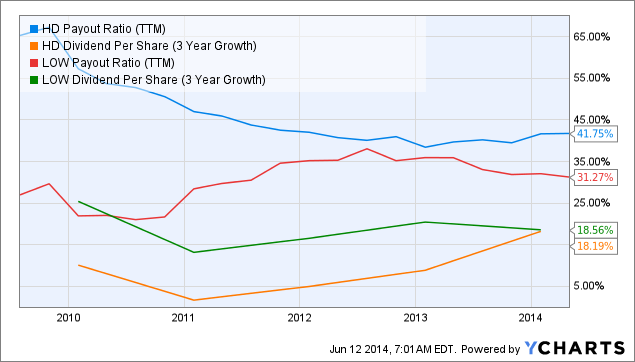 HD Payout Ratio (TTM) data by YCharts
Home Depot's dividend yield is a bit higher than Lowe's (2.36% for HD vs. 1.96% for LOW), but its payout ratio is also slightly higher. Both companies have grown their dividends at a very high pace, with almost identical 3 year dividend growth rates, as can be seen from the graph above.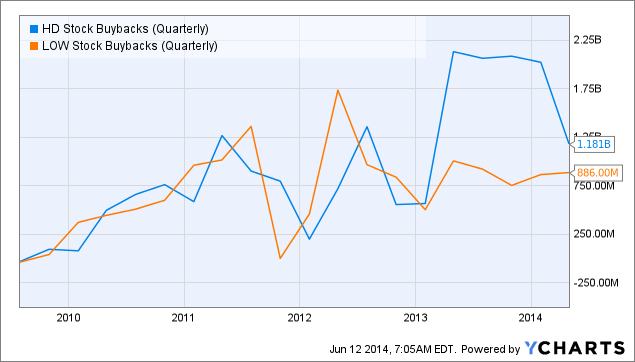 HD Stock Buybacks (Quarterly) data by YCharts
As we can see from the graph above, Home Depot slightly more on stock buybacks over the past year than Lowe's. However, Home Depot's market cap stands at $109.15 billion, which is more than twice the size of Lowe's, which currently has a market cap of only $46.78 billion. These means Lowe's is buying back a far bigger portion of its outstanding shares.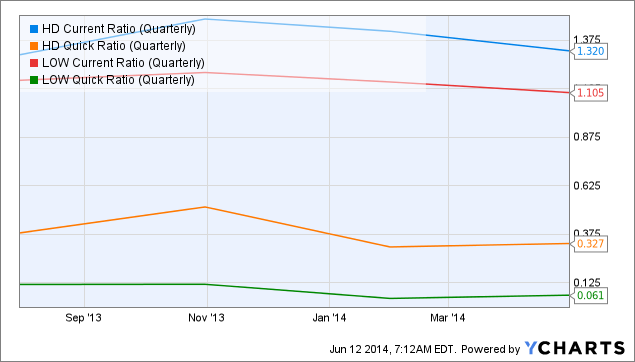 HD Current Ratio (Quarterly) data by YCharts
Looking at the short term balance sheet we find Home Depot has a current ratio of 1.32 compared to Lowe's 1.11. Companies like these tend to have extremely low quick ratios, as a large part of the current assets consists of inventory. Home Depot's got $2.51 billion in cash and equivalents, which is $1.83 per share, or just shy of 4 quarters worth of dividend payments. Lowe's has $768 million in cash, which is equal to $0.77 per share. At 23 cents per quarter, this would be enough to pay 3 quarters worth of dividends.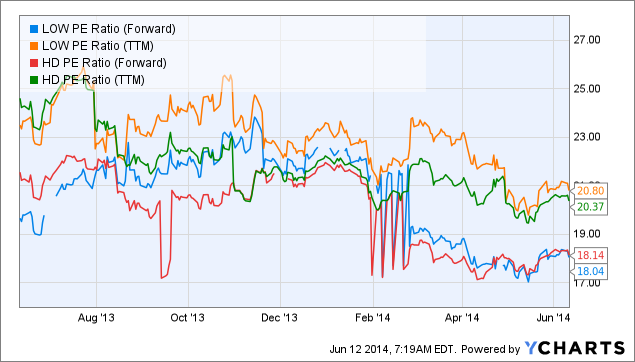 LOW PE Ratio (Forward) data by YCharts
Home Depot and Lowe's are trading at similar valuations. HD is valued at a trailing 12 month p/e ratio of 20.37, which is very close to its 5 year average of 20.5, while Lowe's TTM p/e ratio stands at 20.8, just over its 5 year average of 20.3. On a forward p/e basis, Lowe's is slightly cheaper but the difference is too small to be of any importance in my opinion.
Conclusion:
It can be difficult to choose between Home Depot and Lowe's. The two companies are trading at almost identical price to earnings ratios. Home Depot has a higher current yield, which would make it more suitable for investors in need of income streams, but Lowe's payout ratio gives it more room to grow its dividend through payout ratio increases. A good strategy might be to buy them both.
Disclaimer: I am not a registered investment advisor and do not provide specific investment advice. The information contained herein is for informational purposes only. Nothing in this article should be taken as a solicitation to purchase or sell securities. Before buying or selling any stock you should do your own research and reach your own conclusion. It is up to investors to make the correct decision after necessary research. Investing includes risks, including loss of principal.
Disclosure: The author has no positions in any stocks mentioned, and no plans to initiate any positions within the next 72 hours. The author wrote this article themselves, and it expresses their own opinions. The author is not receiving compensation for it (other than from Seeking Alpha). The author has no business relationship with any company whose stock is mentioned in this article.