Achillion (NASDAQ:ACHN), a biotech company that specializes in developing hepatitis C treatments, went up dramatically in sympathy of the buyout of another hepatitis C biotech company, Idenix (NASDAQ:IDIX). ACHN closed at $2.88 on June 6th, and closed at over $7 on June 11, for an over 200% gain in just three days. I believe the market is dead wrong in its increased valuation of Achillion because of Idenix's buyout. Shorting ACHN at these levels is how legends are made, as well as millions of dollars. For reasons I explain in this article, I believe ACHN will be trading in the low $4s later this year, and eventually will be under $1 in several years.
On Monday, Idenix was acquired for $3.85 billion by Merck. It's reported that there was a bidding war for Idenix between AbbVie (NYSE:ABBV), Johnson & Johnson (NYSE:JNJ), Merck, and Bristol-Meyers Squibb (NYSE:BMY). These Big Pharmas purchased Idenix for its nucleotide treatment to cure hepatitis C, or HCV, and compete with Gilead's Sovaldi.
Investors are buying ACHN in the hopes that it will also be bought out at a huge premium to its share price. However, Big Pharma companies have so far shown no interest in acquiring Achillion. There are relatively simple reasons for this. Investors must ask themselves:
Why was the bidding war bid up so much for Idenix, when the pharmas also have the option to purchase Achillion, as well as other hepatitis C-focused companies? What does Idenix have that they don't have? The answer, in a nutshell, is Idenix has a nucleotide that has shown good results in its Phase II trials, and Achillion and other HCV biotechs don't.
Gilead's Nucleotide, Sovaldi, Is Extremely Successful At Curing Hepatitis C
A big reason for the buyout of Idenix is because Gilead's Sovaldi is a dream come true for hepatitis C patients, and it is also a nucleotide. With the Sovaldi regimen, in just three months, most hep C patients are completely cured of the disease. All most patients need to do is take one Sovaldi pill per day, and two Ribavirin pills per day. The adverse affects from nucleotides are minimal, only minor headaches and tiredness.
Gilead expects to sell $4.5 billion worth of Sovaldi in 2014. With such an effective regimen, Sovaldi is a far superior treatment than the traditional treatment for HCV using Vertex's (NASDAQ:VRTX) Incivek, which is a member of a class of drugs called the protease inhibitor. Unlike nucleotides, protease inhibitors have many adverse effects like itchy skin, rashes, neutropenia, anemia, and gastrointestinal disorders, such as nausea, diarrhea, and anorectal symptoms.
Protease Inhibitors Are Going The Way Of The Dodo For Hep C Treatments
The pure play hep C biotechs acquired so far by Big Pharma has been Pharmasset, acquired by Gilead in 2011, Inhibitex, acquired by Bristol-Meyers Squibb in 2012, and now Idenix, acquired last week by Merck. Inhibitex's drug turned out to be toxic, but that's besides the point. The point is, what do all these acquired HCV biotechs have in common? They all had a nucleotide drug to cure HCV, with successful Phase II or Phase III trials. No Big Pharma company has ever shown interest in acquiring a biotech that is developing protease inhibitors to treat HCV.
As I explained in my bearish article back in 2012 on Achillion, Achillion makes protease inhibitors. Notice, I never wrote a bearish article on IDIX. I always thought IDIX had potential because its focus is on nucleotides to treat HCV.
Protease inhibitors are still used to treat hep C in the US and other countries, but it's clear that nucleotides are a far superior treatment for the majority of hep C patients. As time goes on, more patients will be treated using nucleotides and less on protease inhibitors.
Achillion Is Not A Nucleotide Creator
The following is Achillion's pipeline, as shown on its website:

ACH-2684 and Sovaprevir are protease inhibitors, so are not in demand, and might even become obsolete by the time they get approved. The only drug out of the group that may have potential is ACH-3422, because it's a nucleotide.
Achillion Is Way Late To The Nucleotide Game
The only thing we know about ACH-3422 is that it was tested on animals in preclinical trials, and didn't cause severe side effects on them. All we know is that it is safe for animals, we have no evidence whatsoever of its efficacy against HCV. It has never been tried on humans. On Tuesday, Achillion announced that it is just starting its Phase I trial of ACH-3422. So we have no idea how effective the drug is at all, because it has never been tested in a clinical setting.
Adam Feuerstein, biotech analyst for thestreet.com, wrote an article on 6/9, titled "Achillion Pharma Might Be Next Hep C Takeout Target". In the article, he states that ACH-3422 is a nucleotide, and so Achillion could be a buyout target. While I think Mr. Feuerstein is a great biotech analyst and usually agree with his views, I have to disagree with him here.
Achillion was founded in 1998. Its whole focus was to make protease inhibitors to fight hepatitis C. Then, way late to the game, it announced in May 2013 that it has started its own nucleotide, ACH-3422. Successful drugs don't work like this. Pharmasset, Inhibitex, and Idenix had spent years upon years developing and experimenting with their nucleotide drugs, while Achillion just shifted gears last year when it realized that its protease inhibitors is the wrong approach to treat HCV in this day and age.
Here, IDIX reports results from Phase I/II studies of its nucleotide IDX184 from May, 2009.
Here, Pharmasset reports results from its nucleotide PSI-7977 Phase IIa studies from 2010.
Here, on clinicaltrials.gov, it shows that Achillion has hardly been doing any work at all lately on its clinical studies. Two studies were completed, one is not recruiting, and the other is terminated. There are no reported ongoing studies for its nucleotide, ACH-3422.
Compare Achillion's activity to Idenix's activity on clinicaltrials.gov. Idenix has completed 12 studies, and is actively recruiting for three studies.
If all a biotech has to do is create a random nucleotide inhibitor to fight HCV and be an instant takeout target, then everyone would be doing it. I could hire a couple scientists with experience in nucleotides and start a business in my garage. Would that business then become a takeout target? It's an extreme example, but it's in the same ballpark of what Achillion has done, because Achillion's scientists have had no previous experience developing nucleotides, and there aren't any clinical studies on the drug.
Why would Big Pharma companies find Achillion's ACH 3422 valuable enough to acquire, when they can just develop a nucleotide in their own labs? Achillion is starting off on the ground floor with its nucleotide. In fact, several Big Pharmas are ahead of Achillion in their nucleotide development for HCV treatments.
The following are other nucleotides being developed, some were developed long before Achillion's ACH-3422:
GS-9191 created in 2009.
Vertex's reports results from Phase IIa study of its nucleotide VX-135.
Here, it mentions mericitabine, a nucleotide developed by Roche (OTCQX:RHHBY) in Phase III trials.
This article from May 2014 discusses nucleotides being studied for their use in combating the hepatitis C virus. It says:
Currently, mericitabine has the most robust data but its efficacy appears to be less than optimal. Other drugs such as ALS-2200 (and its diastereomer VX-135) and BMS-986094 are promising but the data in humans are too scanty to draw conclusions about their future role at this current point in time. Other promising molecules are LG-7501, ACH-3422 and EP-NI266, although no clinical studies have been performed thus far, so this must be rectified. Another drug of promise GS-6620 has displayed a high degree of pharmacokinetic and pharmacodynamic variability, which makes further development unlikely.
That last article mentions several nucleotides, including ACH-3422. But there's no evidence that ACH-3422 has greater potential than any of the other nucleotides, because there haven't been any clinical studies on it.
EP-NI266 is a nucleotide being developed by Enanta Pharma (NASDAQ:ENTA), another HCV drug developer. ACH-3422 doesn't have any more promise than EP-NI266 has. ENTA has only gone up about 8% since the IDIX buyout news. There's no fundamental reason why ACHN stock should go up more than ENTA did on the news.
The following is ENTA's drug pipeline taken from its website: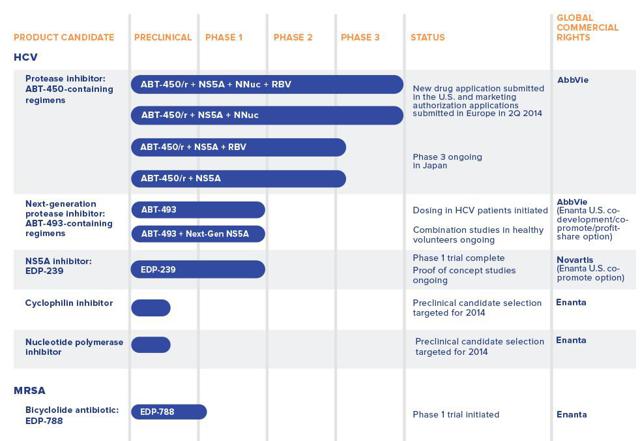 All of ENTA's pipeline is for developing HCV drugs, except for the MRSA one on the bottom. ENTA has a much better and further along pipeline than ACHN does. It even has partnerships established with major pharmas AbbVie and Novartis (NYSE:NVS). ENTA also has revenues from some drugs, whereas ACHN doesn't have any.
In 2011, Achillion had talks with Big Pharmas in order to develop partnerships or a buyer, but none ended up having any interest.
The reason why ACHN went up a lot more than ENTA did is because it's a more well-known stock. Therefore, the spotlight is on it, and it's an easy target for sell-side analysts to raise their price targets and get the attention of retail investors to buy who have a new interest in the hep C space. If biotech professional investors had an interest in ACHN, they would've bid the stock up more on Monday. The 80%+ gain on Tuesday was all froth and hype, and the stock will probably swiftly give back most of Tuesday's gain.
If Achillion Ever Gets Its Nucleotide To Market, By Then The Need Will Be Minimal
This study estimates that there were 2.7 million Americans living with hepatitis C last year, actually less than expected, because the amount of people with the disease isn't growing. This number includes people who don't know that they have it. Gilead is expected to make $4.5 billion in sales with Sovaldi in 2014, which is only sold in the US. Divided by $84,000 per regimen, that totals $4.5B/$84K = 52,571 hep C patients cured. That will leave roughly 2.65 million Americans with hepatitis C. Then let's say Sovaldi is used more per year in 2015, as it will become more well-known and more patients want a cure for their hep C. Let's predict Sovaldi cures 75,000 hep C patients in 2015, 100,000 patients in 2016, and 100,000 every year thereafter.
Merck should be able to get its IDIX drug to market by the beginning of 2017. Let's say it cures 50,000 hep C patients per year.
Then, let's say Achillion's nucleotide is successful and gets its drug out finally in 2019. It will be at least the 3rd HCV nucleotide to market, so won't be used nearly as much as the other two, which already have established reputations with doctors. And at that time, the amount of HCV patients will be well below 2 million in the US. Furthermore, the ones who know they have HCV and will seek treatment will be drastically reduced, because Gilead and Merck will have already treated the low-hanging fruit.
How would Achillion's drug, assuming it ever makes it to approval, be so stellar that it can compete with Gilead and Merck in a market that will have already declined considerably?
Achillion's Looking To Treat HCV In 8 Weeks Instead Of 12 Weeks
Achillion's latest press release explains a little bit about its hep C treatment. It explains:
"Our HCV pipeline also provides the opportunity to add a NS3/4A protease inhibitor, such as sovaprevir or ACH-2684, in order to explore triple-direct acting antiviral regimens that can potentially shorten treatment durations to less than 8 weeks."
As shown above in the link to clinicaltrials.gov, Achillion has been doing very little work with its clinical studies. It has a long, long road ahead, and is just talking the talk, not walking the walk. In the meantime, Gilead, Merck, AbbVie, and many other biotech companies are finding great treatments for HCV. Do HCV patients really need Achillion?
Achillion Is Likely A Long-Term Zero
I personally think odds are Achillion will end up massively diluting itself and trading under $1 three or four years from now. Its protease inhibitors are not worth very much. The only drug with any potential is its nucleotide, which isn't worth much right now, because it's no better than all the other HCV nucleotides out there that haven't been clinically tested.
Disclosure: The author is short ACHN. The author wrote this article themselves, and it expresses their own opinions. The author is not receiving compensation for it (other than from Seeking Alpha). The author has no business relationship with any company whose stock is mentioned in this article.
Editor's Note: This article discusses one or more securities that do not trade on a major U.S. exchange. Please be aware of the risks associated with these stocks.