"The fact that the S.E.C. has allowed the S-1 to progress this far is an indication that it may actually happen."

- Gil Luria, Wedbush Securities, on the Bitcoin ETF
All of my previous articles about Bitcoin (BITCN) (OTCQB:BTCS) have basically centered around the notions that I think make the cryptocurrency a bad idea. I'm in the minority, it would seem.
Do you know what Bitcoin is yet?
Bitcoin is a type of online digital currency (or cryptocurrency) based on the creation and transfer of an open source protocol that is independent of central banks or any other type of governance. Bitcoin's website describes it as "open source P2P digital currency." Put simply, it's an independent digital currency, catching popularity because it's the first of its kind; and conversely carrying what this author believes to be insane risk for the very same reasons.
I could have sworn that when the Mt. Gox disaster happened, Bitcoin had died right in front of our very eyes. It was exactly what I had pictured - massive virtual disasters causing millions of USD worth of equity to simply "go elsewhere" without explanation, and a wet-behind-the-ears looking Bitcoin exchange CEO bowing apologetically in front of the Japanese media, announcing that "Poof! 850,000 Bitcoins have disappeared."
"We're sorry," he said in fluent Japanese, "we got a little carried away staying up late playing 'Call of Duty' and drinking orange soda. We totally spaced on the Bitcoin thing."
That's my rough translation anyway. The full video is here.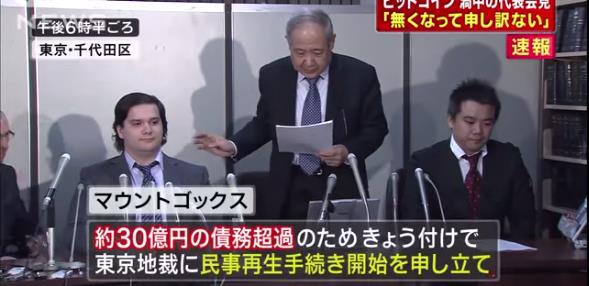 Apparently, that situation wasn't enough for people to stop taking Bitcoin seriously, and while the currency was temporarily clipped in value, it has since recovered.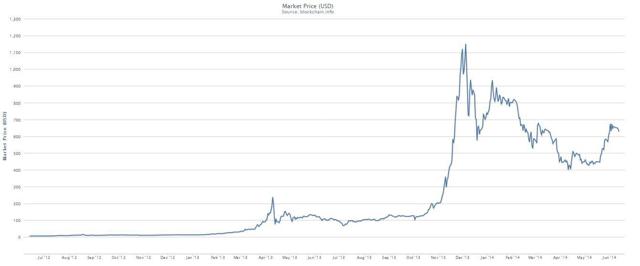 When I had penned my last article in February of 2014 on Bitcoin, it had been accepted at more and more retailers and major companies like Overstock (NASDAQ:OSTK), Zynga (NASDAQ:ZNGA), PayPal (NASDAQ:EBAY), and Tesla (NASDAQ:TSLA) - garnering lots of good press along the way, and continuing to help support the currency's value and credibility.
Now, other big names are lending themselves to the list. It doesn't seem to matter what the regulators are thinking or planning on doing for regulation, Bitcoin seems to be on the verge of mass acceptance, no matter what.
First, it was Dish Network:
Dish Network (NASDAQ:DISH) says it will accept payments by Bitcoin beginning in Q3.
Subscribers will be able to make payments through Dish's website, with Coinbase serving as the processor.
The initiative makes Dish the largest consumer-facing company to accept the virtual currency.
Then, just days later, it was Apple (NASDAQ:AAPL):
Apple, which previously took a hard-line stance against Bitcoin wallet apps, has updated its App Store review guidelines to state apps "may facilitate transmission of approved virtual currencies provided that they do so in compliance with all state and federal laws for the territories in which the app functions."
Coinbase is now showing a Bitcoin bid-ask spread of $673.68-$675.89, putting the virtual currency well above a Sunday close of $646.01. It's now up ~71% from an April 10 price of $395.34.
And then, just yesterday, it was Expedia jumping onto the bandwagon:
Two weeks after Dish Network announced it'll accept Bitcoin and five months after Overstock did so, Expedia has done the same.
Not surprisingly, the online travel giant doesn't expect huge initial volumes. But its size - 2013 gross bookings totaled $39.4B - makes its vote of confidence a big one.
Last month, eBay CEO, John Donahoe suggested PayPal will eventually support the virtual currency, but didn't give an ETA.
Coinbase currently shows a bid-ask spread of $625.46-$626.49.
And there's even once again been a shift on how the media is choosing to report about Bitcoin. The doom and gloom headlines of the Mt. Gox days have since disappeared. The headlines over the last few days are all looking positive: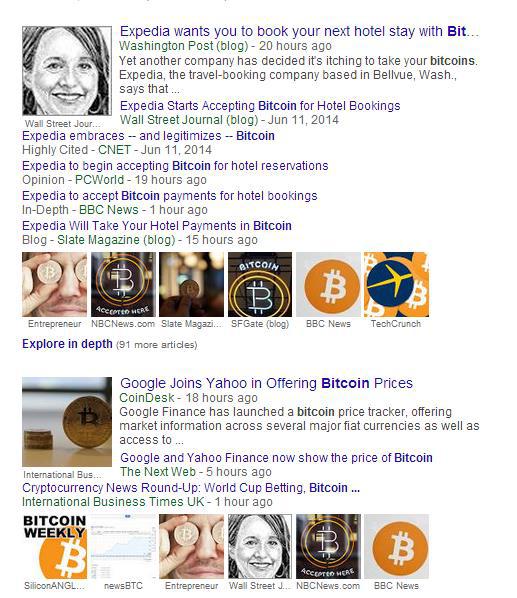 ... and have been such a far cry from what they were during the Mt. Gox SNAFU: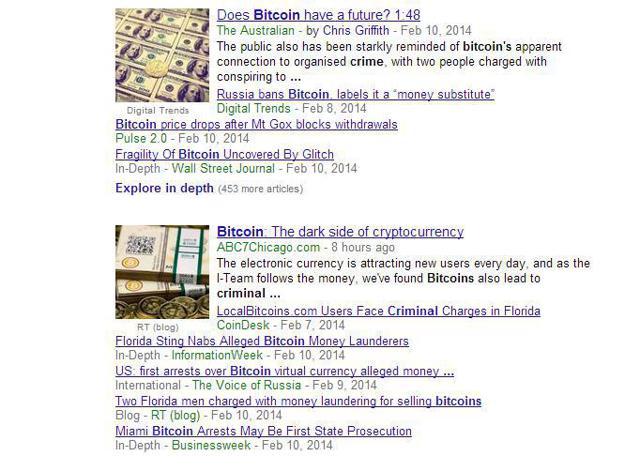 And lest we forget that if you're new to Bitcoin and don't really have the means to go out and acquire your own stash or "mine" your own stash, it's still going to be easy to invest in Bitcoin.
In what I thought was an absolutely ludicrous idea at first, professional Facebook (NASDAQ:FB) pests, the Winklevoss Twins, have been pushing forward with the idea of a Bitcoin trust ETF for some time now. Lately, it's looking like they've made some traction, as they've apparently decided on the Nasdaq to list their security. From the New York Times:
Despite cautions and hesitations among regulators about investing in virtual currency, the Winklevoss twins are inching closer to creating the first publicly traded Bitcoin fund.

On Thursday, Cameron and Tyler Winklevoss, the brothers most widely known for their legal battles with Facebook's co-founder, Mark Zuckerberg, disclosed in a regulatory filing that they had chosen to list their Bitcoin exchange-traded fund, the Winklevoss Bitcoin Trust, on the Nasdaq stock exchange.
On one hand, this is definitely going to make Bitcoin investing easy to the masses; maybe even fashionable. On the other hand, it could be setting up to be another Mt. Gox if the currency tanks, or it's found out one of the Winklevoss twins has been blowing the virtual trust assets at the virtual OTB (hey, these things happen, it was a lock).
I mean, look at this Investor Alert that the SEC issued in May of this year. Pretty serious looking business, right?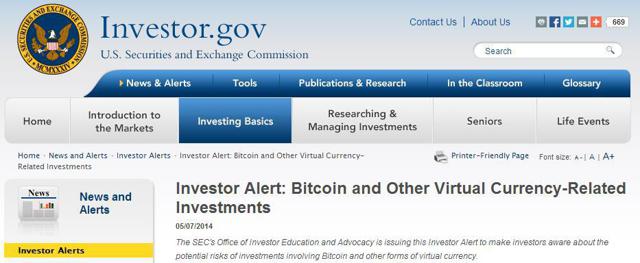 It states:
The rise of Bitcoin and other virtual and digital currencies creates new concerns for investors. A new product, technology, or innovation - such as Bitcoin - has the potential to give rise both to frauds and high-risk investment opportunities. Potential investors can be easily enticed with the promise of high returns in a new investment space and also may be less skeptical when assessing something novel, new and cutting-edge.

We previously issued an Investor Alert about the use of Bitcoin in the context of a Ponzi scheme. The Financial Industry Regulatory Authority (FINRA) also recently issued an Investor Alert cautioning investors about the risks of buying and using digital currency such as Bitcoin. In addition, the North American Securities Administrators Association (NASAA) included digital currency on its list of the top 10 threats to investors for 2013.
Yet, Bitcoin just continually seems to be pushing forward. And it's the currency's peer-to-peer nature that is going to make it extremely hard to stop and/or regulate.
I've started to come to terms with the fact that Bitcoin may be here to stay for a considerable while, whether I like it or not.
Then, the question turns to whether or not investing in Bitcoin is going to be worth it. Those that think that Bitcoin is going to run its course have projected the price of the currency to head much higher. Of course, this always carries the risk, too, that regulators clamp down hard on Bitcoin and it falls significantly. It's damn close to buying a lottery ticket, still.
Some price projections pin the currency at up to $8,000/USD by the end of this year:

Source: insidebitcoins.com
But, with the volatility we've seen thus far this year, and with "wild cards" in play, we can't be certain. It certainly does present itself as a large risk/reward type of situation.
When thinking about the potential rewards, I always try and think about the "Mt. Gox Guy", as he was dubbed, who lost around $200,000 trying to get out in front of the Bitcoin "adoption curve".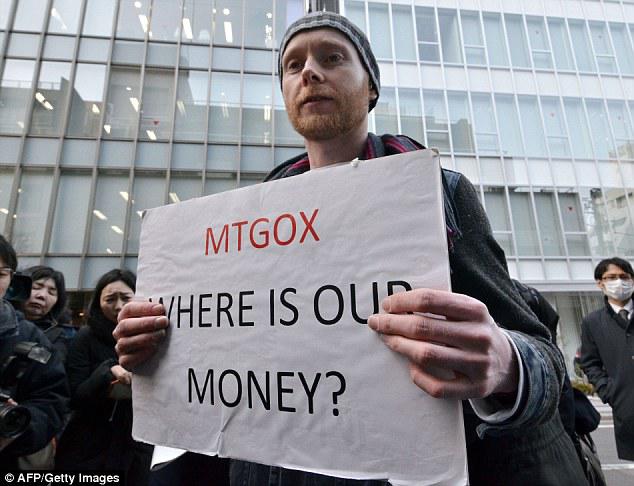 I wonder if he still believes in the currency.
But, alas, it would appear that the debate is over before it really ever had time to get some traction. Bitcoin seems to be spreading everywhere; with or without the approval of regulators. If regulators continue to be reactive instead of proactive with the virtual currency, it's soon going to be absolutely everywhere.
It just may be time for me to face that Bitcoin - despite being risky - isn't going anywhere.
Best of luck to all investors.
Disclosure: The author has no positions in any stocks mentioned, and no plans to initiate any positions within the next 72 hours. The author wrote this article themselves, and it expresses their own opinions. The author is not receiving compensation for it (other than from Seeking Alpha). The author has no business relationship with any company whose stock is mentioned in this article.