Gap, Inc. (NYSE:GPS) recently announced it will be setting up factories in Myanmar, making it the first American company setting up operations in the country.
The dramatic changes experienced by many countries recently offer opportunities for growth, along with challenges for reform. The country of Myanmar, which used to be called Burma, recently emerged from a restrictive military rule that hamstrung the country's progress both economically and socially.
Gap's International Expansion
Over the past three years, the Gap brand has been able to deliver solid returns for investors. GPS has beaten estimates for earnings per share nearly every quarter since 2004.
However, over the past months, the stock price has remained essentially flat, a reflection of the general malaise in the retail sector.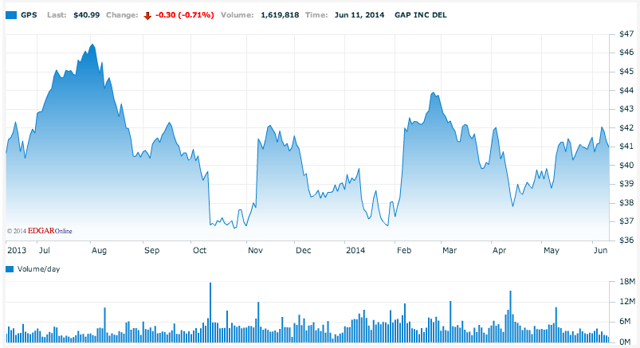 Click to enlarge
(Nasdaq.com)
The effects of the recession have had a long-lasting effect on income, and spending on clothing has lagged as consumers focus on debt reduction and other long-term goals.
Gap appears to see a chance to grow by expanding its presence in foreign markets and utilizing some of the obvious advantage in newly opened nations.
Factories in Myanmar may face some significant problems, such as electricity shortages, poor roads and an under-educated populace. However, the company is willing to overcome these shortcomings for a long-term goal.
Myanmar's Challenges
The new government that came to power in Myanmar in 2011 promises a vast change from the policies of the previous regime.
The military took over the government of the country in 1962, after a period of internal conflict that included assassination and imprisonment of a series of leaders. The tight controls of the government held Myanmar back from the general global expansion that many emerging countries enjoyed over the past two decades.
However, Myanmar is a country rich in natural resources, with a large population eager for economic progress, though largely uneducated. Having an American company agree to set up operations in Myanmar is a significant step in the country's efforts to broaden their economy and attract foreign investment.
Lag in the Retail Sector
The retail sector has been slow to regain its footing after the Great Recession. The largest retail ETF by assets, the SPDR S&P Retail ETF (NYSEARCA:XRT) has shown little change for the past twelve months.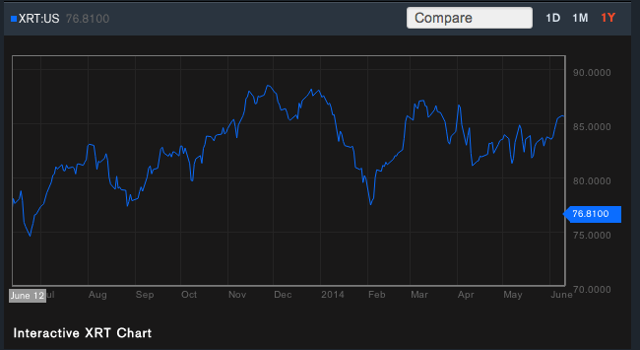 Click to enlarge
(Source)
Consumers were forced to tighten clothing budgets. This habit has become part of the trimming of household budgets that continues even though economic data has steadily improved over the past two years. Sales data for these stores has lagged for the past three months, with little to indicate that the consumer has become more optimistic.
However, with so many favorable outlooks for the economy at large, retail spending is expected to pick up over time. Consumers can withhold clothing spending for only so long, and a rebound effect often provides significant gains for retailers as their customers become more confident.
Gap's Outlook
Although the outlook for the retail sector continues to be negative, Gap may be positioning itself for a rosier future by implementing significant cost-cutting measures.
Partnering with USAID is a mark of greater interest in Myanmar's sustainable development - despite what some critics have said regarding the opening of factories in a place with very low working standards.
Myanmar is likely to provide encouragement to any company that can utilize its large workforce.
More companies are expected to look to Myanmar's aggressive economic policies as an opportunity for their own expansion. GPS's current efforts may just make it the company that is at the head of the pack.
We are positive on GPS' prospects going forward in 2014.
Disclosure: The author has no positions in any stocks mentioned, and no plans to initiate any positions within the next 72 hours. The author wrote this article themselves, and it expresses their own opinions. The author is not receiving compensation for it (other than from Seeking Alpha). The author has no business relationship with any company whose stock is mentioned in this article.