Introduction
Arotech Corp. (NASDAQ:ARTX) is cheap, profitable and growing, with strong guidance for 2014 and 2015. The stock recently pulled back from its highs. This gives investors a buying opportunity because ARTX is much cheaper in valuation than its peers. 3D Analytics has completed a thorough review of ARTX and determined the stock is grossly undervalued. Consequently, we assign a buy rating on the stock with a $12 price target, which is triple its current levels.
Battery and power-systems division
The battery and power-systems division is the smaller of the company's two segments but offers huge growth opportunities with accelerated revenue growth. The chart below shows revenues for each of the past three years.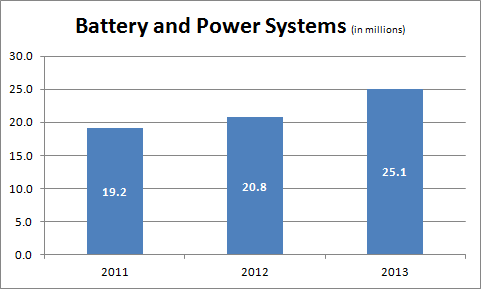 SWIPES
Soldier Worn Integrated Power Equipment Systems is one of Arotech's exciting new products and has a huge potential for growth. The SWIPES system provides a power supply to soldiers, eliminating the need to carry spare batteries for radios, GPS, flashlights, mine-detection systems and other battery-operated tools. This system, which is conveniently wired through the Moly vest currently worn by members of the armed forces, presently is used by 7,500 U.S. Army soldiers, and it has huge potential for future sales to the Army.
The benefits of SWIPES:
Soldiers do not have to carry spare batteries for each electronic device because the SWIPES system powers them all.
The system weighs less than two pounds, a 30-percent reduction in the battery weight a soldier must carry.
Trickle charge is provided to the soldier's radio, keeping it fully charged even if it needs to be removed from the system.
The need to carry multiple backup batteries, which can be lost in the heat of combat, is eliminated.
Here is a link to an informative video on the SWIPES product. The Army, which has been re-ordering the system, voted SWIPES one of the "greatest inventions" of 2010. It was stated at the Noble Financial conference that the U.S. Marines and Israeli Armed Forces might start ordering SWIPES and have expressed great interest in integrating this product into their issued combat gear. According to ARTX Q1 conference call, the next-generation SWIPES 2D model will materialize in the second half of 2014. The 2D was created for the U.S. military, but ARTX also delivered test units to the IDF (Israel Defense Forces). Those tests are producing positive results, and the company expects to receive orders this year from the IDF.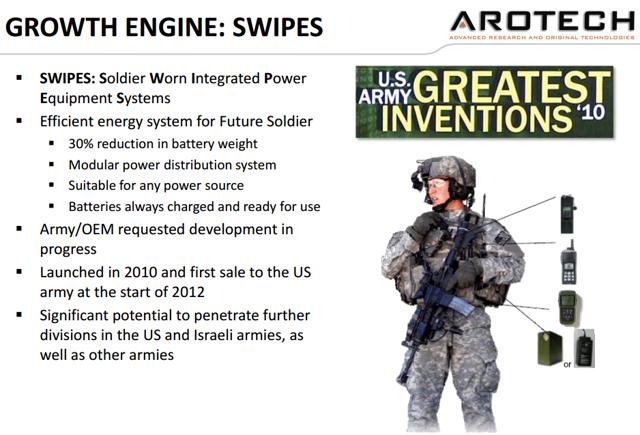 Click to enlarge
Aerospace
Arotech develops the rechargeable lithium-ion batteries used in UAVs (otherwise known as drones), rockets, launchers, satellites and unmanned submarines. The speed, range and effectiveness of those devices are increased because these lithium-ion batteries are 50-percent lighter than standard lead-based batteries, and many of the industries which produce those devices are in a large-growth phase. According to its 2014 budget, the U.S. government plans to spend an estimated $4.1 billion to increase its unmanned vehicle fleet. Meanwhile, Amazon (NASDAQ:AMZN) is exploring the possibility of using drones by 2015 to deliver packages to its consumers. That signifies unlimited growth in the drone market, and as a result, the demand will skyrocket for lithium-ion batteries for drones.
Unmanned submarines also are growing at an astounding rate. These machines are used in military reconnaissance missions as well as in the commercial industry. The U.S. military, in conjunction with Lockheed Martin (NYSE:LMT), is spending $1 billion to develop submarines which can inspect oil rigs. These subs would greatly decrease the time and expense of inspecting an oil rig.
In ARTX Q4 conference call, management said the following:
"We continue to invest in the development of large-format lithium batteries and chargers. We are seeing traction from our products, particularly for unmanned submersibles, and we believe we (will be) beginning to see revenues from these by next year. We're also continuing developmental programs for high-power lithium batteries for rockets, UAVs and tank starters, some of which we will start selling later in 2014. In addition, we are developing and promoting the lithium-ion based batteries as a replacement for lead-acid batteries for military vehicles and for medical and commercial applications."

Click to enlarge
Storage for grid power
On March 6, 2014, Arotech announced it had advanced its development of an iron-flow battery to provide storage for grid power. Arotech is in the process of acquiring a patent for this new technology. These new iron batteries have multiple competitive advantages over the current offerings for grid power. The iron chemistry provides a higher return on investment, a better life cycle and lower maintenance costs than what currently is in operation. The growth of solar energy and other renewable-energy sources is driving the demand for more efficient grid-power solutions. The iron-flow batteries could revolutionize what is expected to be a $400-billion industry by 2030.
Other Application served
Robotics
Electric Vehicles
Portable Computing
Communications
Medical Devices
Electronics Devices
Acquisition of UEC Electronics
On Apr. 1, 2014, Arotech announced it had acquired UEC Electronics and would integrate it into ARTX Battery and Power Systems Division. UEC develops and manufactures electronic components and subsystems, primarily for military, aerospace and industrial customers. UEC specializes in core, proprietary engineering capabilities in high-demand solution areas, including:
hybrid power generation systems
smart power subsystems for military vehicles and dismounted applications
aircraft and missile-systems support for cutting-edge weapons and communications technologies.
According to ARTX Q1 conference call, UEC will begin contributing in the second quarter, and management anticipates significant future upside as UEC is integrated into the Battery and Power Systems Division. Management also believes the substantial benefits from the acquisition of UEC will increasingly materialize and become clear in the last quarters of 2014, in 2015 and beyond.
Simulation, training and consulting division
The simulation, training and consulting division is the larger of the two segments and consistently has grown over the past three years. The chart below shows the division's revenues for each of the past three years.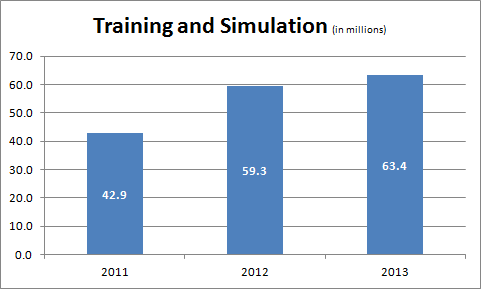 Arotech has become very strong within the simulation and training industry. Arotech offers products for the military, public safety, transportation and airports. Inside these divisions are multiple product offerings. The military-training simulation provides packages that simulate the driving of vehicles, on-the-ground combat, air warfare and air refueling. The public safety simulators are geared toward training of police, fire and EMS personnel, with different packages available to each sector. The transportation simulators train drivers of buses, trains and large trucks. The final simulation package is geared toward operation of airport equipment. Each of these packages offers a superior simulator to develop the end user's job-specific skills while saving the company or government considerable money.
The military market for these simulations is experiencing exceptional growth as more customizable training is demanded. Old training methods are outdated and inferior to the experience Arotech's simulations provide. According to research by Frost & Sullivan, total expenditures for Global Military Training and Simulation for 2012 was $36.88 billion. Because of simulation's superiority over previous training methods, that expenditure is expected to climb to $46.09 billion by 2021. For Arotech, this increased demand will mean many more sales generated by this division. Arotech also has three exciting new contracts worth a total of $120-155 million coming through the pipeline, a fact that should help the segment continue its rapid growth.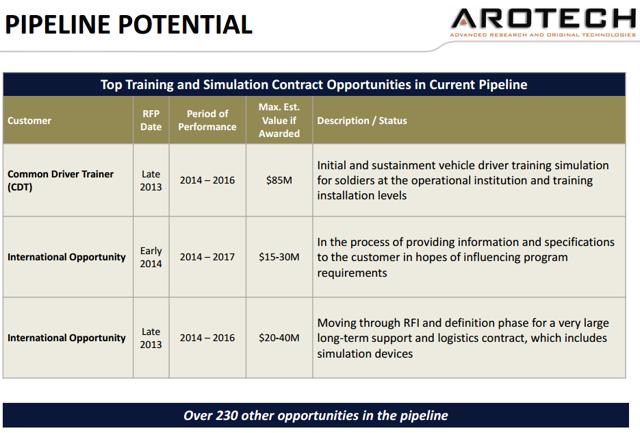 Click to enlarge
Another record year expected in 2014
ARTX reported a record year for 2013 in both revenues and earnings and expects another record year in 2014. According to the Q4 conference call, management expects full-year revenues to reach between $117 million and $123 million and a non-adjusted EBITDA of somewhere between $8 million and $8.5 million. At the mid-point, ARTX guidance represents a 42-percent year-over-year growth in revenue and 27-percent growth in EBITDA. ARTX is strong, stable and profitable and has consistently grown revenues and EBITDA over the past three years. With UEC revenues and EBITDA having been added in the second quarter and combined revenues for 2014 being projected at $40-42 million for the battery and power-systems division, we expect ARTX to announce positive results for both Q2 and the rest of 2014.

A peer-group comparison shows ARTX is significantly undervalued
In order to assign a value to ARTX, we found the best comparable companies we could for both the battery and simulation divisions. We found ARTX to be severely undervalued and to have a stronger balance sheet than some of those comparable companies. Therefore, we decided to value ARTX through a peer-group analysis using the EV/Revenue ratio. After weighing ARTX revenues by division and averaging the EV/Revenue ratios of the comparable companies, we concluded ARTX should be valued at $12 a share, which is up almost 200 percent from current levels.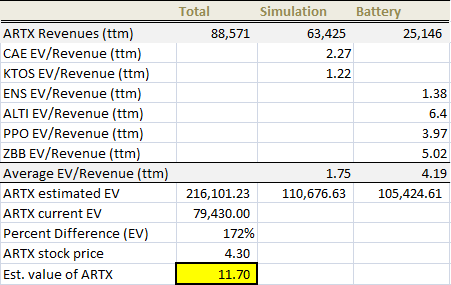 Conclusion
Given its monster potential, we believe ARTX will be a story stock for 2014 and beyond. ARTX is a huge opportunity for investors because it is cheap compared to its peers and because it has rapidly growing revenues and EBITDA. Consequently, we assign a buy rating on the stock with a $12 price target, which is almost triple its current levels.
Disclosure: The author is long ARTX. The author wrote this article themselves, and it expresses their own opinions. The author is not receiving compensation for it. The author has no business relationship with any company whose stock is mentioned in this article.
Editor's Note: This article covers one or more stocks trading at less than $1 per share and/or with less than a $100 million market cap. Please be aware of the risks associated with these stocks.