Micron Technology (NASDAQ:MU) has been en fuego so far in 2014, rising about a third so far this year. I purchased some just out of the money bull call spreads earlier this week, as everything seems to be falling into place for this chip manufacturer and I can see it continuing with its recent momentum. The shares are also still reasonably priced, despite its large run-up. Analysts are lining up behind the shares, and investors could see further upside in short order.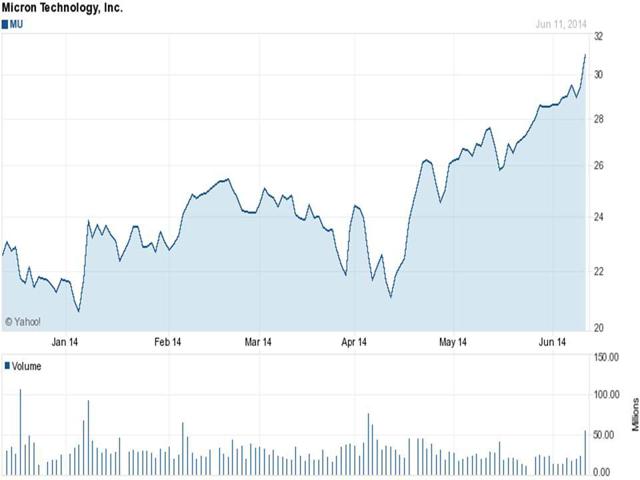 Drexel Hamilton upgraded the shares in late April. Its price target was raised from $30.00 to $50.00 a share. Drexel's analyst expects "DRAM prices to keep rising this year and next thanks to a favorable supply/demand balance, and DRAM margins to eventually hit 50%."
Yesterday, Credit Suisse analyst John Pitzer reiterated his "Buy" rating on the firm, and also raised his price target from $30.00 to $50.00 a share. I put a lot of credence in Mr. Pitzer's outlook given he is currently a five-star ranked analyst, according to TipRanks, based on the quality and performance of his previous calls.
Finally, analyst Simon Woo at Bank of America/Merrill Lynch upgraded the shares from "Underperform" to "Buy." Mr. Woo also raised his price target to $22.00 to $40.00 a share. This is important, as this analyst had been a long-term bear on the stock.
As Jim Cramer noted at TheStreet the other day, this is important, as the bears seems to have lost the argument around the direction of DRAM prices. In addition, the Mad Maestro of Mad Money reminded his readers this is not the same DRAM market as years past. The industry has consolidated significantly, and the market is basically in the hands of three major players. This should make prices more inelastic, and bodes well for the longevity of this demand-induced bump and for the price of Micron. Jim also notes how explosive Micron stock has moved in the past during rallies.
Micron posted a small loss in 2013, but is tracking to better-than-$3 in earnings per share in 2014. The company has easily beaten both top and bottom line consensus in each of the last two quarters. The shares are priced at ~10 times forward earnings, a significant discount to the overall market multiple.
The company has a solid balance sheet and a five-year projected PEG ratio of significantly under 1 (.53). Given the stock's valuation, analyst support and the improved fundamentals for the remaining players in the DRAM space, the shares looks like they have further upside ahead.
Disclosure: The author is long MU. The author wrote this article themselves, and it expresses their own opinions. The author is not receiving compensation for it (other than from Seeking Alpha). The author has no business relationship with any company whose stock is mentioned in this article.