The end is nigh for short interests betting against Herbalife (NYSE:HLF). I know this, and can say so confidently, because I've seen this movie before. In my previous life as a young senior equity analyst, the first company I initiated coverage on was Prepaid Legal Services, a company with a business model many would compare to that of Herbalife. Those opposed to HLF would have called Prepaid a pyramid scheme, just as they are referring to Herbalife today. Prepaid faced the same intense pressure, and some of it from the same financial reporters hounding Herbalife. Yet, Prepaid overcame them all, squeezed them right on out into oblivion in fact, and the shorts lost a bundle. Based upon some of the discussion I've heard recently, I do not believe the activist shorts betting against this company see the freight train coming at them, nor realize that they are driving it themselves.
First, let me say, I have no investment interest in Herbalife as yet, but if or when I do take a stake, it would be a long interest. At this point in time, I simply find the stock an interesting case study and one familiar to me from a lesson learned ages ago. Maybe, if pride can be swallowed by some of the short interests, I might save them some significant capital that I see at risk today. My intention is to do so, while also proving myself to readers not yet familiar with my work over the years.
The Prepaid Story
There once was a company named Prepaid Legal Services, which sold exactly that. Customers would subscribe to memberships that offered a slew of prepaid legal services. They were also encouraged to become salesmen, and benefit from the sales of each person they enlisted to become salesmen. Sound familiar?
The company came through a stock screen of mine and was atop the list. I was astounded at its amazing growth, substantial returns and unrealized value. But as I researched the company further, I came to see why the stock was so cheap. Usually there's a good reason for a bargain basement valuation in today's mostly efficient American stock market. It was because of allegations of running a pyramid scheme and all the accursed plagues that came with that.
Prepaid, thus, came under intense scrutiny, and many went so far as to call it a scam that would eventually fall apart. Mathematics told them so they said. Coincidentally, I saw Bill Ackman on CNBC a couple of days ago speaking about Herbalife, and one of his reasons for Herbalife's longevity where a pyramid scheme should eventually fizzle on the numbers, was that "there are a lot of people in the world." I had déjà vu. The people who said the same thing about Prepaid Legal Services might have been proven right, just as Ackman believes he will be, except for one important fact. Something else happened first at Prepaid that I believe is now at the early stages of unfolding at Herbalife. And the most ironic aspect of it is that, if it happens, it will have been spurred by the pressure of the activists, and lawsuit filers and the threat of government review.
Ackman has not seen it yet, but I suspect Carl Icahn has and is going to be a little upset with me about publishing the reason now. Just a little upset, mind you, as HLF shareholders will still benefit nonetheless. I've just given short interests a chance to review the Prepaid case and see the train headed for HLF short interests before it gets even closer.
Ironically, Bill Ackman referenced Herbalife's extraordinary share repurchase plan as the catalyst lifting the stock from the upper $40s it plummeted to when the FTC launched its formal investigation to the $63 point it traded at on Wednesday, June 11th. He's right about that, but he's wrong in thinking the company is out of options.
When Herbalife reported its first quarter results, it also announced an extraordinary measure to halt payment of its dividend and focus on share repurchases. As part of its previously announced $1.5 billion share repurchase plan, the company said it would be buying back $581 million of its common stock in the second quarter ended in June. Ackman noted that the plan, which he believes has supported the shares, would be ending in June. He expects share repurchases to fall back to $15 million a quarter thereafter.
Back at Prepaid Legal, share repurchases never ended and squeezed short interests tighter and tighter, and the stock price rose substantially. Shareholder lawsuits stopped piling on and the existing suits lost some of the basis of their arguments, since the stock price was rising. In the end, Prepaid Legal was taken private, so there was no win for shorts.
Now, every company is capital constrained, so the recent level of repurchases may be unsustainable, but I believe a higher level than what is expected by short interests will become a new normal for this company. And many of the short interests that are riding along with the activists will not have the wherewithal to stick around forever in a stock that shows no sign of giving way.
I expect that for as long as the pressure stays focused on Herbalife, the company, like Prepaid, will also continue to repurchase shares. It's a war of attrition really, but short activists are dependent on the action and timeline of federal regulators, and the final determination cannot conclusively be predicted in my opinion. In fact, I believe there is a greater likelihood of the company being found to be just, though the practices of individual salespeople here or there could come under scrutiny. I think you can argue that the operating model could be less than perfect at Herbalife, but that is a case you can make about most corporations. To go a step further and make a case for fraud is a reach.
Ackman stated in the interview with CNBC that Herbalife knows what its distributors do and perhaps even guides its distributors based on the fact that it meets with and rewards its top distributors every year. I think that is another reach that regulators are not going to agree with. In the meantime, the company will likely repurchase shares at a pace ahead of what the shorts expect, and if need be, I think it could be acquired by private interests.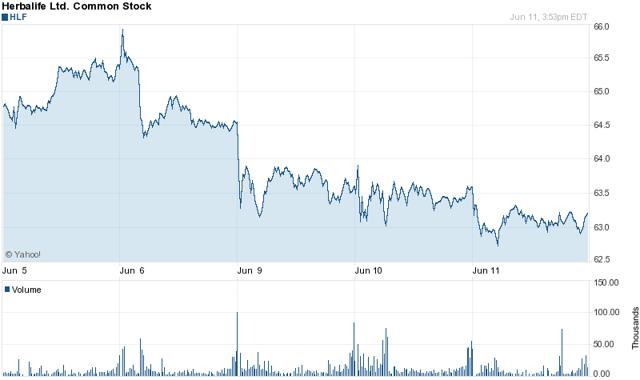 5-Day Chart of HLF at Yahoo Finance
HLF shares gave way in the days since the CNBC interview, probably on the argument Bill Ackman made about the June ending of the extraordinary repurchase program. So, in the near term, the stock could get cheaper. There is also the risk regarding the overhanging investigation, so upside is limited until that goes away. Even so, I wouldn't count on any government review turning up anything in a timely fashion. Would you? And I believe this company's history of beating earnings estimates and growing earnings offers reason for it to rise further in the meantime, especially given its discounted valuation.
The stock trades at 9.3X my EPS estimate for the next 12 months of $6.79. I estimated my EPS figure by taking a simple average of the consensus estimates for this year ended December and the 2015 consensus. By doing so, I've accounted for the next six months of this year and the first six months of next year relatively well, while also incorporating any seasonality. I say relatively well, but this is likely a conservative figure due to the company's record of beating estimates. Analysts are looking for about 15.5% growth between this year and next, and 19% over the next five years according to Yahoo Finance data. That means, if we conservatively use the 15.5% figure, the PEG ratio for HLF is 0.6X, where 1.0X would be fair for a steadily growing company without much risk of interruption. Prepaid Legal always traded cheaply as well, until suddenly its shares started to be retired and eventually didn't trade any longer, and not due to bankruptcy or forced closure but because of its going private.
Because of the action of management to buy back shares here, HLF is one of my favorite ideas for 2014. It has been so since I heard about the share repurchase program, though I apologize for not sharing those thoughts until now. Even so, I expect significant appreciation opportunity lies ahead, so I won't fret over those missed points. Depending on the interest in this report, I may follow up with another one detailing one more very important reason to buy the stock near term, so stay tuned.
Disclosure: The author has no positions in any stocks mentioned, and no plans to initiate any positions within the next 72 hours. The author wrote this article themselves, and it expresses their own opinions. The author is not receiving compensation for it (other than from Seeking Alpha). The author has no business relationship with any company whose stock is mentioned in this article.