ETF Spotlight on PowerShares India Portfolio (NYSEARCA:PIN), part of a weekly series.
Assets: $482 million
Objective: Tracks the Indus India Index, an index of 50 companies designed to represent the total Indian equity markets.
Holdings: Top holdings include Reliance Industries, Infosys Technologies, Indian Oil Corp. and Reliance Communications
What You Should Know
The top-weighted sector in PIN is energy, with 27.7% of the weighting. Other major sectors include information technology (15.2%), financials (13.8%) and utilities (11.4%).
The fund is nearly entirely composed of large-cap companies, although mid-caps make up 1.3%.
PIN has an expense ratio of 0.78%.
The Latest News
India's stock market and PIN are at two-year highs.
Industrial output, which grew 13.8% in July, is a major factor for growth in India. The double-digit output growth was much higher than the single-digit growth previously expected.
It's predicted that the country's annual economic growth may top 9% in the next five years, which would make the country the world's fastest-growing major economy. India's economy expanded 8.8% in the second quarter year-over-year.
India is seen as the only economy in Asia driven by domestic demand. India's export gains fell more than 50% in July to 13.2% from the previous month.
The Reserve Bank of India is reducing its credit-tightening policies as inflation abates and companies signal a peak in short-term borrowing costs. The Central Bank estimates that inflation will drop to 6% by March 31, compared to an average 10.5% in the first seven months of the year. Bond yields have widened to 0.63% against swap rates since February. (Click to enlarge)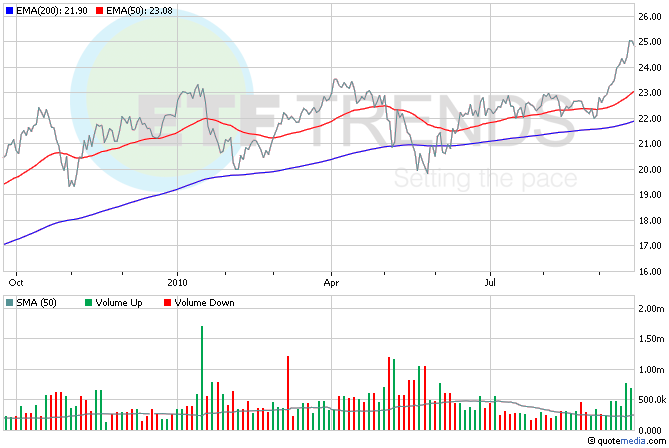 Disclosure: None