Apple Has Rocketed, and Should Continue to Do So
I'm loving my Apple (NASDAQ:AAPL) stake that I purchased shortly before this past earnings and stock split. It's easily been the best trade of the year for me, second only to the puts I bought the day before the FBI announced their formal investigation into Herbalife (NYSE:HLF).
I'm up about 570% on my initial options position that I disclosed taking via StockTalks/Twitter here on April 22nd:

...after I predicted that 2014 was going to be a good one for Apple...

...and then I added to my position on June 2nd.

With that came the discussion with one of my investing friends (who is also in Apple) at around $600 ($85 now) as to when we were going to think about scaling back our position. We both replied the same thing to each other, almost at the same time: $100.
At $100 a share, I'll take some of my position off the table, but fully intend on leaving the rest for the long term.
No sooner did he tell me he was paring back his position a little yesterday, than the stock began to head into red territory - it finished the day down about a half a percent.
What if Apple doesn't hit $100 anytime soon?
That can be a good thing. It'll let me hold onto my current stake and perhaps add more in the interim before Apple makes the move upward that I'm expecting that it will.
Here's the three main reasons that I'm betting on Apple taking down $100 before the end of this year.
1. Fall's Coming Product Line
Again - the big controversy coming out of earnings last quarter was that despite the beat and despite the stock split and buyback news - there were no new products. This sent everyone into a frenzy.
"Is Apple done innovating?" people mindlessly postulated, working themselves up into a panic thanks to the help of CNBC and others.
Yes, Apple is done innovating. The most fundamentally sound half-trillion dollar company is simply just going to stop making new products. That's exactly what's going to happen.
Give me a break. Have people lost their minds?
There's no doubt there's going to be a slew of new products coming out this fall, and they're likely to floor everyone like Apple products have a knack for doing. Just because Apple isn't first out of the gate when it comes to things like the smartwatch and streaming TV, it doesn't mean that when they do introduce products that they're not going to be worth the wait and completely blow people heads off. You just watch.
We just had the same "panic" set in after the WWDC, which is notoriously a software based conference. Even though I was looking for a bit more from the conference, I wasn't surprised when they didn't announce hardware. Some people, on the other hand, were floored that Apple didn't release new products.
Don't worry, they're coming - I assure you. And when they do, they're going to be outstanding products - and right in time for the holidays.
CNET has a perpetually updating fresh list of some of the latest iPhone 6 rumors out there, including wireless charging. If you want a preview of exactly how much heads could spin this holiday season, check it out.
2. Retail Will Pour In, Headlines Keep Pushing $100
Aside from the perception that the stock is "cheaper" now than it once was, headlines are starting to help money pour into Apple. Look at all these headlines that pair Apple stock up with the mystical $100 price point.
There isn't a place we turn where the current headline about Apple, post-split, isn't about the stock and its relation to $100/share. The media has implanted this number into the minds of millions of traders and retail commonfolk saying things like "stocks at $90 usually go to $100," which - despite making absolutely no sense at all - I heard at least 5 times on CNBC during the trading day yesterday.
If Apple does finally hit $100, I'm expecting anchormen/women's heads to just start exploding with excitement.
Lest we forget that people who don't know how to properly value a company on the most fundamental levels (i.e. outstanding shares x share price = market cap) will continue to contend that $100 is "cheap," and will pour into the security here. While I believe $100 remains cheap on a fundamental level, I think that the retail push by "less informed" investors will help push Apple over the $100 hump.
3. Massive Buyback
And then, of course, if Apple can't find the retail bid to do it - why not support your stock by laying out the world's largest stock buyback onto the bid whenever you "consider the price cheap" (read: anytime you want)?
People love buybacks because they reduce the amount of outstanding shares and bring more value to the shares already in hand. But, companies also use buybacks as deterrents from bad news (see: LULU's buyback this morning) - and to hold the bid up in times of unease or distress (see: how in God's name is Herbalife trading above $60).
The buyback doubles as a nice little security blanket, knowing the company has your back and isn't going to let your investment get clipped too hard anytime soon.
$100 is on the Radar
I'm watching Apple dip as I write this.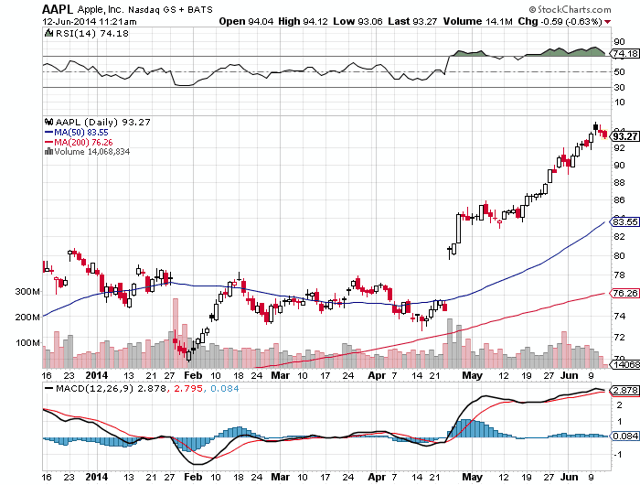 It's down around $93, pressing its lows of the day after opening up this morning above $94. On another push downward, I'll even consider adding a bit more.
My price target on Apple from when I bought around $520 was over $700. With the split and the buybacks, I think it's simply a question of "when," not "if." When the stock reaches the $700 ($100) point, it may be the first time I consider paring back a little, while letting the rest of my position ride for the long haul. I said in a previous article that I intend to be in Apple for the long term, and that's the truth.
I contend Apple takes down $100 in the coming months, without issue.
More on Apple from QTR:
Disclosure: The author is long AAPL. The author wrote this article themselves, and it expresses their own opinions. The author is not receiving compensation for it (other than from Seeking Alpha). The author has no business relationship with any company whose stock is mentioned in this article.