There has been a whirlwind of speculation in the music streaming space since Apple Inc.'s (NASDAQ:AAPL) $3 billion acquisition of Beats. Two of the leading standalone music streaming services - Pandora (NYSE:P) and Spotify - were expected to benefit from the interest in the space. According to Market Realist, Pandora and Spotify have 31% and 6% share of the U.S. music streaming market, respectively. The article, "The 'Can't Miss' Trade On Pandora", explains the potential jockeying for position after the Apple/Beats deal:
The transaction put Google Inc. (NASDAQ:GOOG) (NASDAQ:GOOGL) and Amazon Inc. (NASDAQ:AMZN) - deep-pocketed music industry players - into the spotlight as potential acquirers of music streaming companies like Pandora Media and Spotify. Of the two acquisition candidates, only Pandora is publicly-traded. The problem for Pandora is that there may be a limited number of potential suitors, and consistent operating losses will not drive the price higher sans a sale.
Apple/Beats Forces Google's And Amazon's Hands
Since the Apple/Beats deal was leaked in mid-May, Pandora's stock has rallied nearly 20% to $26.59/share on June 12, from a year-to-date low of $22.20 on May 8th.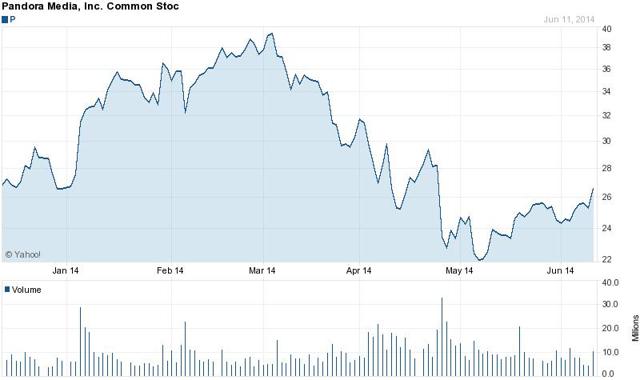 One could surmise the rally was due to Pandora's takeover value. Earlier this week, news leaked that Google was in talks to acquire Songza, a direct competitor of Pandora. At a supposed $15 million purchase price, the deal will not add much to Google's bottom line. However, Songza's platform, which delivers curated music, will make Google an immediate player in music streaming and save it upwards of a decade in audio coding.
Just yesterday, Amazon announced it was launching its own its own streaming service to compete with Pandora, Songza, Beats Music and Spotify. In the article, "Why Apple/Beats Partnership Will Change Competitive Landscape For Music Streaming", I highlighted Amazon's strategy:
Amazon has apparently gotten the memo that downloading is slowing being replaced by streaming. The company is planning to offer music streaming to customers of its video streaming service - Amazon Prime - with a limit on how much a customer can listen to a particular song. The hope is that by offering customers a music sample, they will then download the song from Amazon's MP3 store... According to the Wall Street Journal, Amazon has offered major record labels a fixed payout for content instead of payments based on how often subscribers listen to their songs.
However, Amazon's new streaming service will not include Universal Music Group, who thought the lump sum payout was too paltry. Universal includes artists like Kanye West, Jay-Z and Lady Gaga. I also understand that the service will be "ad-free" and omit new releases. Given the aforementioned caveats, Amazon's offering may not be quite on par with its competitors' - Pandora's share price rose 5% on the news, if that's any indication. It may be able to rely on its built-in distribution with Amazon Prime to offset any holes in its playlist. At a minimum, both Amazon and Google have decided to stick their toes in the water, instead of investing billions in music streaming.
Where Does This Leave Pandora
For now, the two obvious choices to acquire Pandora appear to have made other arrangements. Both Amazon and Google are profitable where Pandora is not. They both have time on their side; as long as Pandora produces operating losses, time is the company's enemy. For 1Q 2014, the company lost approximately $29 million on revenue of $194 million. That said, the company has never made a profit in its existence, and there are no assurances that it ever will. Other potential acquirers could emerge; Google or Amazon may be back in play if their current forays into music streaming do not pan out. However, at this stage, I think the takeover premium embedded in Pandora's share price is unwarranted.
Conclusion
In reaction to Apple/Beats, Google and Amazon have made minimal investments in music streaming. Given consistent operating losses and declining takeover prospects, Pandora is a sell.
Disclosure: The author is long P. The author wrote this article themselves, and it expresses their own opinions. The author is not receiving compensation for it (other than from Seeking Alpha). The author has no business relationship with any company whose stock is mentioned in this article. I have a long/short position on Pandora