Much of the media in the last few days has focused on events occurring in Iraq and the potential for an Oil disruption as a result. Oil has moved higher, and for the most part equities have not cared broadly, although Consumer Discretionary stocks (NYSEARCA:XLY) continue to be under relative pressure. Jobless claims may actually move higher if companies worry about higher energy costs and begin to take preventative measures to allow for its absorption by reducing hiring. Independent of geopolitical concerns though, one would expect that if the stock market is right about the economy, than Oil prices likely should have an upward bias regardless. After all, a strengthening global outlook should mean the demand for Oil increases.
The problem is global growth remains very tepid, and any kind of move higher in Oil might be the tipping point for the long awaited correction. While our ATAC models used for managing our absolute return and equity sector rotation mutual funds and separate accounts remain positive in the very short-term, I do think intermarket trends could deteriorate markedly if Oil begins outperforming stocks. Take a look below at the price ratio of the United States Oil Fund ETF (NYSEARCA:USO) relative to the S&P 500 (NYSEARCA:SPY). As a reminder, a rising price ratio means the numerator/USO is outperforming (up more/down less) the denominator/SPY.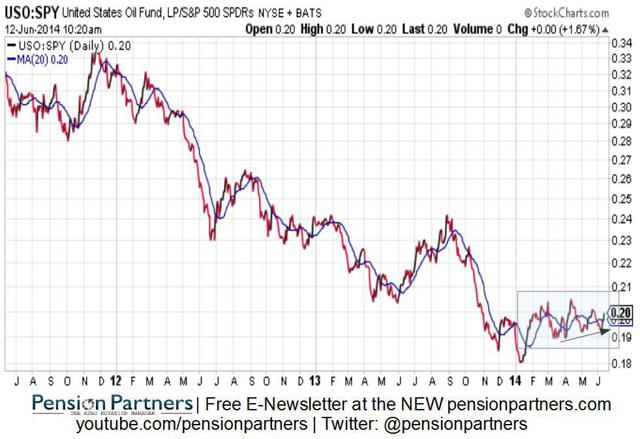 Click to enlarge
Note that for a few months now, Oil (using USO with all its contango issues as a proxy) and the S&P 500 have been performing roughly in line with each other. Should Oil suddenly begin to rally hard, this ratio rise, and consumer discretionary stocks continue to massively underperform, it will be hard for broader beta to continue its rally. This in turn could force Yellen to expedite the taper due to political pressure and arguments that easy monetary policy are the cause of rising energy costs. If you'll recall, in 2006 Bernanke made it a point to argue that the Fed could rate rates if the price of Oil were to continue to push higher. We may see another similar scenario in the months ahead, which would likely be highly disruptive to the investable landscape.
Remember - volatility is like the phoenix, and has a nasty way of rising from the ashes of complacency…
Disclosure: The author has no positions in any stocks mentioned, and no plans to initiate any positions within the next 72 hours. The author wrote this article themselves, and it expresses their own opinions. The author is not receiving compensation for it. The author has no business relationship with any company whose stock is mentioned in this article.
Additional disclosure: This writing is for informational purposes only and does not constitute an offer to sell, a solicitation to buy, or a recommendation regarding any securities transaction, or as an offer to provide advisory or other services by Pension Partners, LLC in any jurisdiction in which such offer, solicitation, purchase or sale would be unlawful under the securities laws of such jurisdiction. The information contained in this writing should not be construed as financial or investment advice on any subject matter. Pension Partners, LLC expressly disclaims all liability in respect to actions taken based on any or all of the information on this writing.