In a recent interview, Carl Icahn, Chairman of Icahn Enterprises (NYSE:IEP) and activist investor who currently holds over 2% of eBay's (NASDAQ:EBAY) equity, stated, "I have never seen worse corporate governance than eBay."
Although waxing poetic is nothing new in the world of activist investors, Mr. Icahn's statement is tantamount to saying that eBay is the worst run company he has ever seen. Given Mr. Icahn's status as a renowned investor, billionaire and shareholder, eBay's CEO John Donahoe was listening.
Recent Deal To End Proxy Fight
In April, eBay hammered out a deal with Mr. Icahn to end a long-standing proxy fight in which he sought two board seats and a spin-off of eBay's PayPal division, the crown jewel and rising star of the company.
The deal places former AT&T CEO as an eBay board member and, at least for now, a media truce that have both men touting each other's praises. More importantly, it moves Mr. Icahn from an adversary to a strategic advisor at a time when Mr. Donahoe needs all the advice he can get.
It appears more likely that a Pay-Pal spinoff could be impending, following recent quitting of its leader David Marcus to be head of Facebook's mobile messaging.
PayPal Division Head Leaves
In June, the head of eBay's PayPal division, David Marcus, left to lead Facebook's messenger business. His reasons for leaving during such a critical time in PayPal's growth have led to speculation that he was not confident in the future of its business.
Marcus faced numerous difficulties as PayPal's leader - managing over 13,000 employees, some of whom refused to download the company's app.
PayPal faces numerous new competitors, including companies as catchy-sounding as Square, Stripe and Clinkle, along with Google (NASDAQ:GOOG) (NASDAQ:GOOGL) and Apple (NASDAQ:AAPL) - as the market for mobile payments heats up. While PayPal is still an established leader in the space, the current incumbency could easily become a void for other companies to shine - both in the US and particularly emerging markets.
Google, Facebook (NASDAQ:FB) and Apple, with strong and increasing international reach could appear to be the most formidable competitors in this regard.
Sixty percent of the global population, which does not currently use the Internet, could be deemed "untapped users" for mobile payments in the coming years.
Recent Cyber Attack
Mr. Marcus's departure is on the back of a recent cyber attack against the company's network that targeted encrypted passwords, prompting the company to urge users to change their passwords as a precaution.
Although cyber attacks have become more commonplace these days, especially against high-profile companies, it is still unsettling to investors as the financial risk of any customer's personal financial information could lead to stiff government fines, restitution and more importantly lost customers.
Despite Distractions, eBay Attempting To Move Forward
Even with the many recent distractions, eBay is still driving forward with enhancements to its core business with the launch of Designer Collective.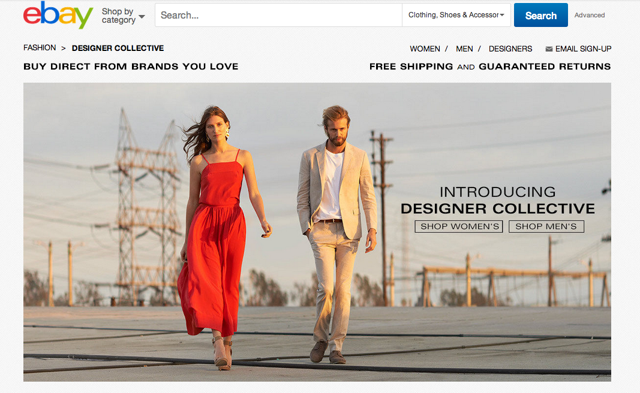 These will be featured shops of 16 American designers selling their current-season collections at full price. eBay hopes that the shops will attract new users to its 145 million active user platform and support its rebranding effort as more than just an auction site.
In addition, earlier this year the company took the unusual step of repatriating $9 billion in foreign held cash that has triggered a $3 billion federal tax bill. There is only one reason you bring that much cash back to the US and that is to invest it.
For eBay Investors: Caution in 2014
While eBay remains one of the most iconic online brands in the world, and customers will likely continue to flock to use its services, competition in e-commerce is certainly heating up as Chinese giant Alibaba (ABABA) is increasing its presence in the US in the run-up to its IPO, followed by several other smaller Chinese companies, including JD.com (NASDAQ:JD) and Jumei International (NYSE:JMEI). In a similar vein, Amazon (NASDAQ:AMZN) is ramping up its services in several ways.
Investors may want to proceed with caution and take some profits.
Despite most Wall Street analysts continuing to hold onto their buy rating for the stock, eBay has had mixed results, relative to analyst estimates. The company missed expectations for revenues four times in the past five quarters.
eBay stock is on a steady decline YTD, correlating with continued internal controversy.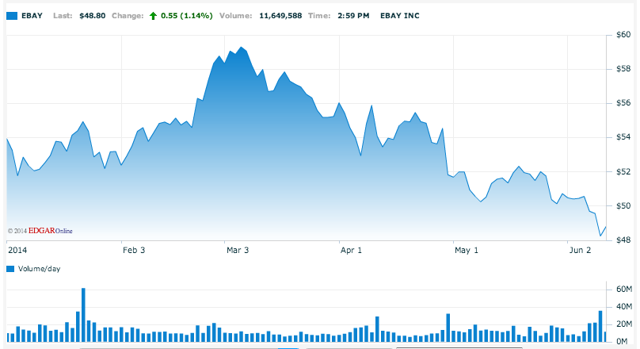 (Nasdaq.com)

Disclosure: The author has no positions in any stocks mentioned, and no plans to initiate any positions within the next 72 hours. The author wrote this article themselves, and it expresses their own opinions. The author is not receiving compensation for it (other than from Seeking Alpha). The author has no business relationship with any company whose stock is mentioned in this article.