Fourteen months after former Coca-Cola (NYSE:KO) executive Brian P. Kelley joined Green Mountain Coffee (NASDAQ:GMCR) as president and CEO, the two companies announced a pivotal partnership agreement.
KO's original 10% stake was valued at $1.25 billion, which for purpose of comparison is equivalent to almost 13% of KO's 2012 net income available to common shareholders. GMCR issued "new" shares to KO just under $75 a share. The agreement also granted KO an option to increase its GMCR stake to 16% over the next three years.
Not surprisingly, on May 13, 2014, KO announced it had acquired an additional 2.8 million shares (open market transactions). The company also said it had entered an accelerated purchase agreement with Credit Suisse to purchase 6.5M more shares of GMCR in open market transactions over the next nine months.
The expedited stake by KO has been welcome news to investors long GMCR. In contrast, the additional purchases by KO have provided a grim epitaph for crushed short-sellers. However, the real beneficiary to these rapidly unfolding events appears to be KO.
This article will examine recent and past developments that may have been in play leading up to the KO news. We will also discuss why KO likely hedged its bet opportunistically.
The Kelley Connection: In September of 2012, Mr. Kelley was named to become president and chief operating officer of Coca-Cola Refreshments. In November 2012, it was announced Kelley would become president and chief executive officer of GMCR.
It is unclear whether Kelley's sudden departure from KO came as a surprise or whether KO attempted to keep him. Fourteen months later, KO and GMCR entered into an equity stake / product development collaboration.
Abrupt or not, Kelley's departure from KO (following his promotion to lead CCR) raises another possibility. What if GMCR had been on KO's radar prior to Kelley's exit?
It would not stretch the imagination to think KO may have considered GMCR as a potential strategic fit and that Brian Kelley was the man for the job.
How might KO play its "hand" under such a scenario? Rather than initiate a bid or buy GMCR outright (which could have potentially been done earlier and at a lower market cap), KO may have thought it tactically advantageous to send in an operating specialist with the primary objective to get the "house in order?"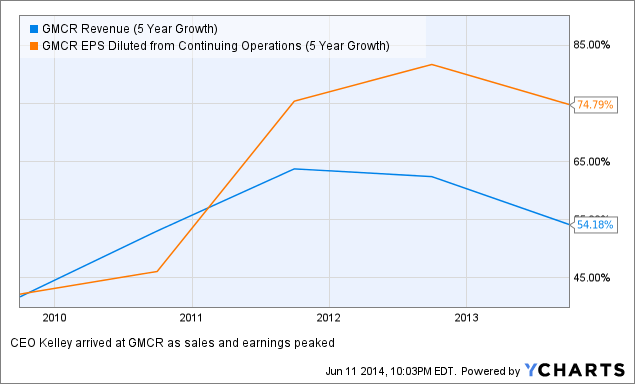 GMCR Revenue (5 Year Growth) data by YCharts
It is worth noting that Mr. Kelley arrived at GMCR just as revenue and earnings growth were peaking. It is not unusual for a new CEO to join a company at an inflection point, but the timing and pace of events since Kelley's arrival have a distinctly coordinated feel to them.
Mr. Kelley had a quantifiable operating background at KO, including supply chain, business integration and bottling. He also had previous experience dealing with the SEC and the regulatory investigation process during his time at SERVA. As a prospective candidate for the CEO post at GMCR, Mr. Kelley's credentials fit the needs of GMCR like a glove.
Another aspect to consider is that GMCR's cold platform reportedly has been in development for more than five years. Potentially disruptive innovation rarely goes unnoticed and KO likely recognized the opportunity of a "cold" platform integrated within its portfolio brands.
KO Has Evolved Into a Savvy Deal-Maker: Marie Quintero-Johnson, vice president and director of mergers and acquisitions at KO, explains the company's approach to deal structures this way:
Instead of a transaction driving the endgame, the operating objective drives the endgame. And the transaction itself is merely a facilitator.
The "facilitation" is an important component of Coke's evolving mandate. It is the blueprint for Coke's M&A team and its approach to procuring assets capable of adding support anywhere in the company's supply chain.
Considering that GMCR's growth rates moderated significantly from prior historic levels, scrutiny of the company's asset base and GAAP presentation of previous acquisitions would likely be complex and time consuming to the due diligence process.
Below, we present other examples of issues KO might consider relevant to the vetting of GMCR:
· Certain transaction structures may have both pre- and post- acquisition impacts on earnings. For example, certain contingent consideration arrangements or derivatives embedded in the deal financing require separate "mark-to-market" accounting. These are examples of structural elements in a deal that may result in unforeseen dilution to earnings.
· Detailed analysis can be necessary to determine scope of the accounting guidance as well the entity that is subject to its requirements. For example, divestiture alternatives present several accounting and financial reporting issues for sellers to evaluate such as: will they be able to deconsolidate the disposed business; will they be able to recognize a gain (or loss) on disposal; how should they account for any retained stake in the business being sold; can the business to be disposed qualify as a discontinued operation before the sale?
· Complex capital structures and other contingent provisions can require classification of ownership interests outside of equity (and dilution to EPS through accretion or even "mark-to-market" accounting) - and can introduce valuation complexities that can delay or even derail a transaction if not identified early in the process.
· Complex transactions often touch many areas of GAAP - including consolidation assessments, identifying and accounting for derivatives and complex financial instruments, potential new basis issues, accounting for new or modified stock compensation plans, etc. Realizing that prior GMCR management was taken to task for past internal control deficiencies, it would likely take time for KO to identify and understand all of the potential issues.
· Complex valuation techniques, and the vetting of acquired contracts, intangibles, contingent considerations (i.e., earn-outs, etc.) and other assets and liabilities that are difficult to value.
While it could be argued that GMCR's coffee and beverage portfolio might be a complimentary fit for KO, understanding the roadmap and actions of a previous management team could be a daunting task.
These issues become more evident when you consider GMCR's prior acquisitions resulted in Goodwill and Intangibles equivalent to more than 40% of the company's total assets. G&I is currently equivalent to approximately one-third of total assets.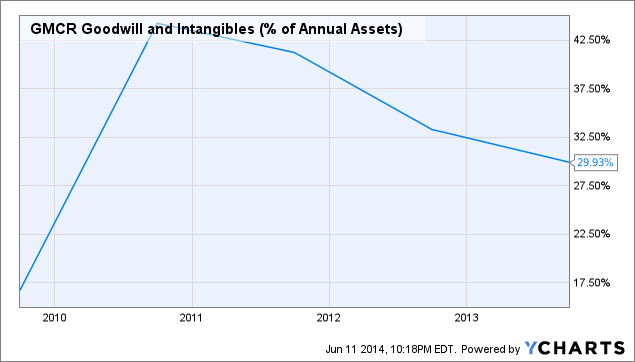 GMCR Goodwill and Intangibles (% of Annual Assets) data by YCharts
If anything, KO's initial and expanded equity stake does suggest GMCR's financials are at some minimum satisfactory. To what degree the financials have been scrubbed is not known, but KO's incremental purchases do indicate a step-acquisition tactical approach to its investment in GMCR.
That does not imply KO is uncertain about the intrinsic value of its target investment in GMCR, but it could indicate KO's "basis" of comfort relative to "best available information." As a side-note, Cleary Gottlieb is the firm who advised KO on the antitrust aspects of the equity investment in GMCR.
The trade-off between "minority" acquisitions and complete integration depend on value of the proposition. If KO's investment in GMCR is predicated solely on the expectations of a Keurig cold platform, why limit the equity stake to 16 percent? Why not commit 20%, 25% or more in equity support to the project?
The bottom-line here is if the end-game is perceived to be operationally motivated, why did KO not engage GMCR earlier and at a potentially lower price tag?
Closing Thoughts: Coke's expanded equity stake in GMCR reveals a commitment which is significant for both companies. Keurig Green Mountain Coffee CEO Brian Kelley is a critical component of GMCR's future prospects, which we have discussed previously ( I, II, III ).
Perhaps Mr. Kelley is the visionary who left KO on his own accord to pursue a new opportunity with GMCR. It is also quite plausible that Mr. Kelley's former employer was sufficiently impressed enough to come courting with check book in hand. Regardless, KO came knocking on GMCR's door less than a year and a half after Kelley's "exit" from KO.
Equally possible is that Mr. Kelley came to GMCR as the designer of a bigger plan. Corporate interlopers sent in to clean house first before the rest of the family moves in are routine in business annals. A popular course at Stanford Business School offers an elective primer on how to become a one-man KKR or Blackstone. Methods to plot a takeover (hostile or not) are ingrained in corporate consciousness.
History has shown varying degrees to the results of such tactical approaches to "turnaround" situations. Former Sunbeam boss Al "Chainsaw" Dunlap was sacked after a brief tenure at the struggling appliance maker he was brought in to fix. Dunlap's departure from Sunbeam was humiliating both to his legacy as an executive and to the Sunbeam investors who suffered from Dunlap's slash-and-burn restructuring tactics.
Moral of the Sunbeam / Dunlap story: It is easy to chop-chop a business into leanness, but there has to be some plan for growth on the other side.
The KO - GMCR engagement is far more subtle in that investors presume the pace of recent events as the result of logical conclusions. Technology (innovation of a cold platform for example) is perceived as the common denominator. The deep pockets of mature growth breathe new life into a once dynamic growth story darling.
Assumption to the outcome is that a cold single-serve beverage platform will be the transformational infusion both companies need to return to growth.
It is easy to understand how this would comfort GMCR bulls. In contrast to this enthusiasm, a cold platform product is not yet on the market. Also, there is no guarantee of its success going forward.
Regardless, KO's equity participation in GMCR comes less than two years after Mr. Kelley left the former to take a CEO position at the latter. Operational improvements since Kelley's arrival are quite evident.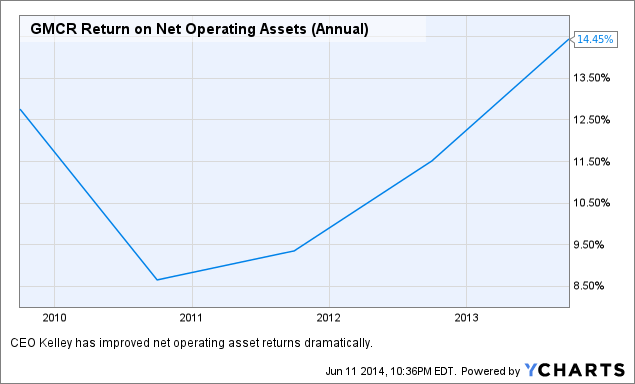 GMCR Return on Net Operating Assets (Annual) data by YCharts
However, we remain skeptical of GMCR's heralding margin expansion and improving cash flow since Kelley arrived. Some of the margin improvement can be linked to operational efficiencies, but a majority of recent margin support has been due to favorable input and raw material costs.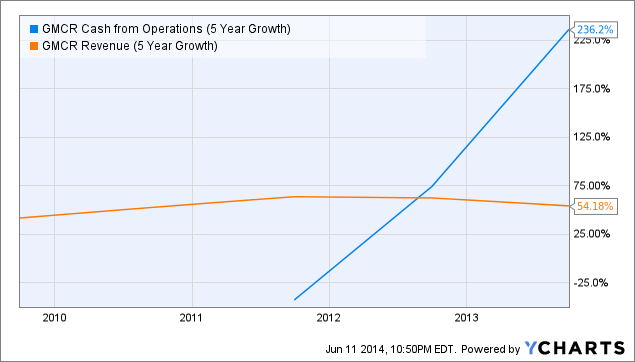 GMCR Cash from Operations (5 Year Growth) data by YCharts
As for cash-flow improvements, much of GMCR's cash flow in recent years has been a result of balance sheet maneuvering. Notice in the chart above that GMCR's cash from operations is parabolic relative to slowing sales growth.
A company's liquidity profile and quality-of-earnings depend on cash-flows generated by "actual" operations (i.e. paying customers). To wit, long-time GMCR observer Herb Greenberg recently pointed out, GMCR's FY2014 Q1 accounts receivables had spiked 25% or five times sales in that period.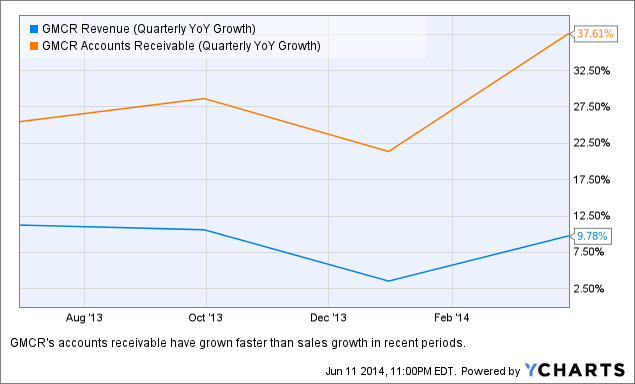 GMCR Revenue (Quarterly YoY Growth) data by YCharts
Mr. Greenberg's observation is sobering when you consider that receivables are one-step removed from cash. This means that a good chunk of GMCR's reported Q1 sales had not been paid for when the quarterly results were released. Other examples of GMCR's historical approach to utilizing the balance sheet as a vehicle for earnings management can be seen in the two charts below.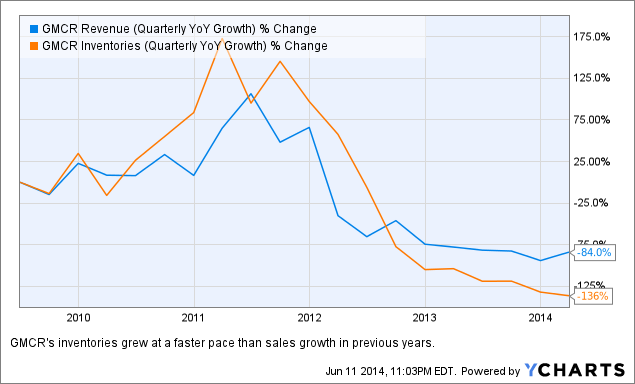 GMCR Revenue (Quarterly YoY Growth) data by YCharts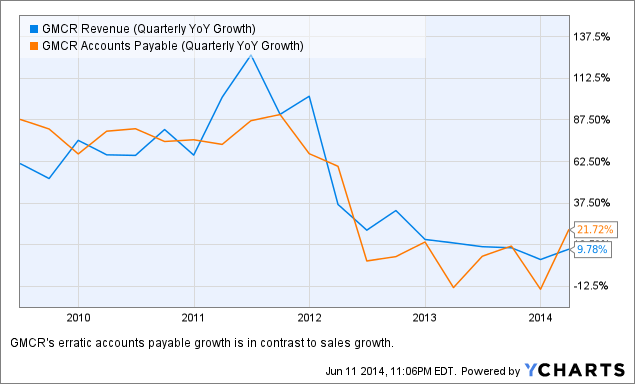 GMCR Revenue (Quarterly YoY Growth) data by YCharts
That Keurig "cold" had been in development prior to Mr. Kelley's arrival at GMCR is also quite interesting. Mr. Kelley acknowledged his confidence in the future opportunities of single-serve platforms early on. Yet, it should be a concern to investors that GMCR's previous explosive growth phase (2006-2011) failed to generate "organic" liquidity needed to fund its development.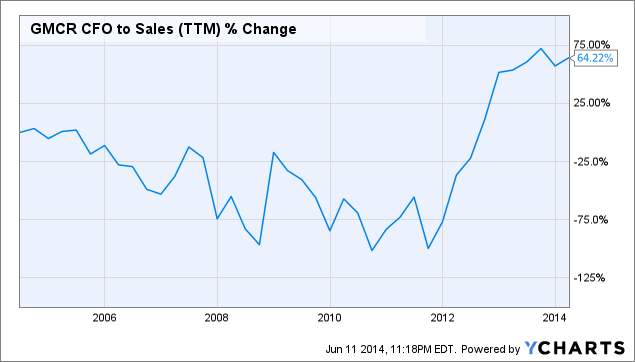 GMCR CFO to Sales (TTM) data by YCharts
However, it also begs the question of who was privy to the R&D progress and when did KO management and Brian Kelley first become aware of these developments?
We will not second guess KO's decision to invest in GMCR, but investors should consider that the tactical advantage may favor KO over GMCR. If anything, this deal reveals the adroit skill of KO's deep-bench of management talent.
There is a potential of significant value creation for both companies if Keurig cold is embraced by consumers. However, GMCR needs to execute flawlessly, and do so in the face of single-digit near-term growth prospects and while continuing to improve operating efficiencies.
With respect to margins a cold single-serve platform would likely benefit KO more than GMCR. This we believe would be a result of KO's proven integration capability and superior economies of scale.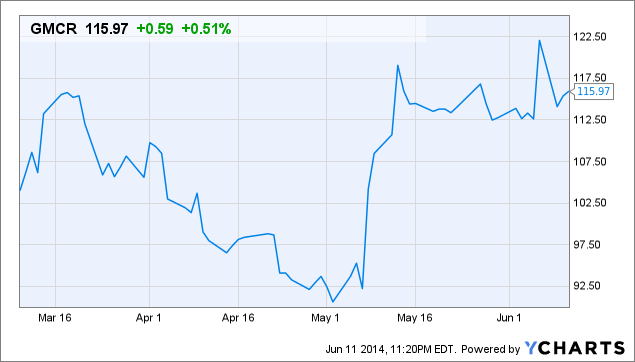 GMCR data by YCharts
If GMCR price action in recent months is any indication, investors are confident about the future. Yet at $115 a share, GMCR has priced in all the "good" news and then some. Other than the momentum trade or investor reaction to omnipresent announcements of expanded or new partnership agreements, we see no discernible near-term catalyst to push the stock higher from current levels.
For example, the June 10 announcement of a "hot beverage partnership" between GMCR and the privately held Subway restaurant chain illustrates the union of momentum and news. GMCR shares traded up +1.4% after the agreement was announced.
Data obtained from franchisetimes.com ranks Subway fourth out of two hundred "top" franchise chains by worldwide sales for 2013. In addition, the Subway "café" format appears to be gaining traction, which augers well for Keurig to expand its brewer platform install base.
Yet, the Subway deal as with many other recently announced GMCR "deals" lack visceral details. It is not likely that Subway coffee sales will surpass Starbucks (NASDAQ:SBUX) or McDonald's (NYSE:MCD) anytime soon, but what are the terms of the franchisee option relative to the transaction value(s) going forward?
More important is that the brewer platform is the "razor" of the "razor-razorblades" model for Keurig (see loss leader for more insight on the strategy). Since GMCR historically sells its brewers near cost, a greater proportion of brewer revenues within the overall revenue mix will likely put pressure on margins as brewer ramp accelerates going forward.
We use the Subway agreement to emphasize that while GMCR may have the opportunity to expand its platform "footprint" (via Subway's North American unit base), bigger feet do not always translate into margin growth.
There is always a price to pay for building market share. Former Keurig president Michelle Stacy (2008-2013) alludes to these challenges in an interview she gave regarding hypergrowth phases.
The GMCR / KO alliance only magnifies the margin concerns for GMCR as the opportunity leverage usually favors the partner who is more efficient. In this case, the nod goes to KO.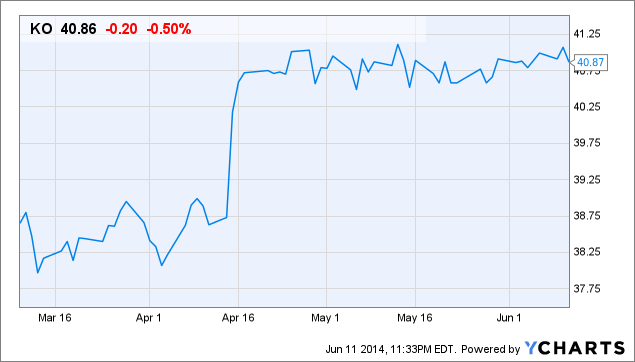 KO data by YCharts
KO is not a bargain at $41 either, but a pull-back to the $39 area or lower would be tempting. In light of KO's accelerated involvement with GMCR, an eventual total acquisition of the company appears not to be a question of "if" but "when." BUY / ACCUMULATE shares of KO up to $39.
Not only is KO "fully engaged" with a material interest in an upcoming launch of Keurig "cold," but we will go out on a limb here and submit that wedding plans (think takeover target) were likely on the drawing board prior to Brian Kelley's departure from KO and arrival at GMCR.
Using back of the envelope math, KO's combined sixteen percent equity stake in GMCR suggests an average cost basis of $90 +/- per share. If we assume that KO has an informed grasp of GMCR's valuation (based on best available information), it might be reasonable to also assume that GMCR shares are 28% overvalued. SELL / AVOID shares of GMCR.
Disclosure: The author has no positions in any stocks mentioned, and no plans to initiate any positions within the next 72 hours. The author wrote this article themselves, and it expresses their own opinions. The author is not receiving compensation for it (other than from Seeking Alpha). The author has no business relationship with any company whose stock is mentioned in this article.