iShares China Large-Cap ETF (NYSEARCA:FXI) and iShares MSCI China ETF (NYSEARCA:MCHI) have been staging a rally since early May. In the past month through June 10th, FXI increased by close to 7% and MCHI increased by approximately 6.5% while the S&P 500 increased by roughly 3 percent. This puts FXI in positive territory for the year to date through June 10th by approximately 2% and MCHI by less than 1%. The purpose of this article is to examine some of what I see are the major factors affecting the Chinese markets at the moment and to assess whether or not the rally in FXI and MCHI will continue.
Negative Factors
The housing market is seen to be slowing but not crashing. However, I think the fear of serious problems cropping up in the housing market will persist and act as a potential drag on FXI and MCHI.
Another potentially negative factor is that the Chinese government will allow the resumption of IPOs this month. IPOs had been put on hold since February and there are expected to be 100 IPOs from June to the end of 2014. Previously there had also been an extended freeze on IPOs for the 15 months up to December 2013 and there is a backlog of over 600 companies that have submitted IPO applications as of May 30th.
Ambiguous Factor
Imports in May were down 1.6% from the same period a year ago. This decline was not predicted by any of the 42 economists that participated in a Bloomberg survey, which had predicted a 6% gain. I put imports in the ambiguous category because although the May result might suggest weak domestic demand, it could also have a positive effect on GDP by improving the country's trade balance.
Positive Factors
Among the positive factors, exports were slightly better than expected in May. Exports increased 7% from the same period a year ago, beating a Bloomberg survey estimate of 6.7%.
Manufacturing and non-manufacturing PMI improved in May, while CPI and PPI figures for the month were stable. This is shown in the charts below, which are from China's National Bureau of Statistics website.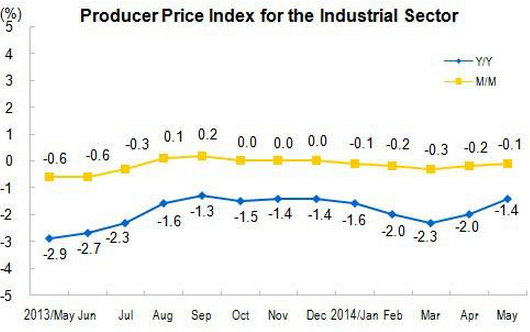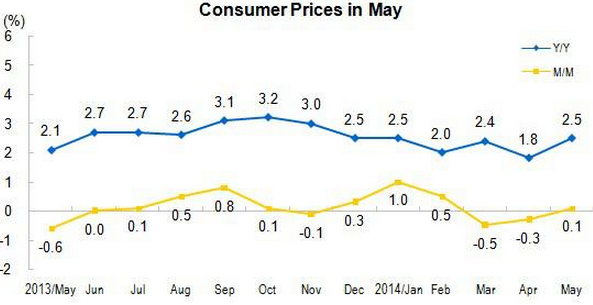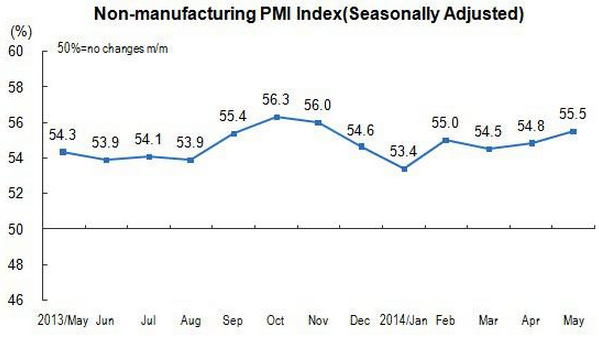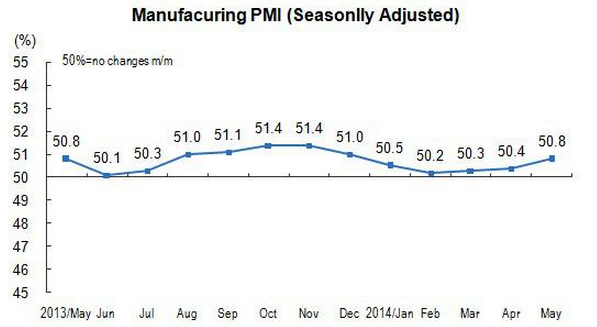 Last, but certainly not least, for the positives, China has implemented some relatively small-scale stimulus measures. A reserve ratio reduction for qualifying banks will take effect on June 16th and is aimed at supporting small businesses and rural businesses. The reduction will apply to two-thirds of urban commercial banks, 80% of county-level rural commercial banks and, 90% of county level cooperative banks. This stimulus measure comes on top of a previously announced increase in the 2014 target for fixed capital railroad investment. This figure has been increased 3 times thus far in 2014 and now stands at 800 billion RMB. The chart below shows how this compares with prior years and it is important to point out how the target for 2014 is the second highest figure after the historically high amount spent in 2010. The data used to compile the chart are from an article in Caixin (in Chinese).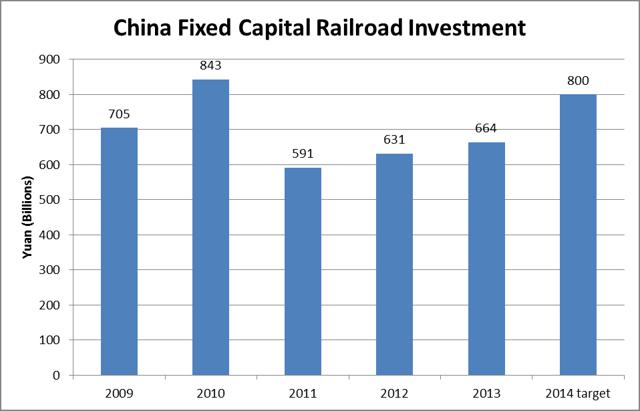 Conclusion
To sum up the above analysis, there are three positive factors, two negative factors, and one ambiguous factor. In my opinion, the positives outweigh the negatives but it is uncertain whether or not these positives have already been priced into the current rally and thus cannot be relied on to push the market higher. Personally, if I were already holding shares for the passive, long-term, portion of my portfolio, I would continue to hold them, but seeing as I currently am not, I do not view the present environment as a buying opportunity for myself. In fact, for the short-term, active portion of my portfolio, I have recently gone short the Chinese markets via ProShares UltraShort FTSE China 25 ETF (NYSEARCA:FXP). This was a decision based on technicals so I will not delve into the details here.
In closing, investors should do their own research and take their own financial situations into perspective when making investment decisions. I hope investors find the above summary of factors to be thought-provoking, but I would like to emphasize that the article is not meant to provide specific advice on investment actions.
Disclosure: The author is long FXP. The author wrote this article themselves, and it expresses their own opinions. The author is not receiving compensation for it (other than from Seeking Alpha). The author has no business relationship with any company whose stock is mentioned in this article.