If there is any one company that could be said to dominate the Internet era, that company would be Google (GOOG, GOOGL). Google provides the most popular search engine, web browser, webmail service, and mobile operating system; and has gained the adoration and appreciation of computer and smartphone owners around the world by providing all these services for free. Google's steady investment in its services has allowed it to claim large market shares, but this success has left it with little remaining room for expansion in many of these arenas. Therefore, in order to further expand its already ubiquitous technological empire, Google has begun to develop diverse technological products to take a leadership position in ushering in "the Internet of Things." Yet, despite all these convenient services and audacious innovations, Google still derives approximately 90% of its revenues from advertisement sales. Therefore, if Google is unable to maintain its current growth in advertisement revenue, its profits will suffer and it will be hard to justify its current P/E ratio of 30. As an individual, I greatly appreciate the immense amount of funding Google spends on R&D, but as an analyst, I don't think it will buoy Google's stock much in the short term. In fact, I believe Google's stock will experience a correction once investors acknowledge the rising challenges confronting its core advertising business and accept that its tangential businesses are unlikely to generate enough profit to sustain its current growth rate.
Google's Advertising Business
Google is by far the world's most popular search engine as demonstrated by Figure 1, capturing nearly 90% of the total market. Because it already controls the vast majority of the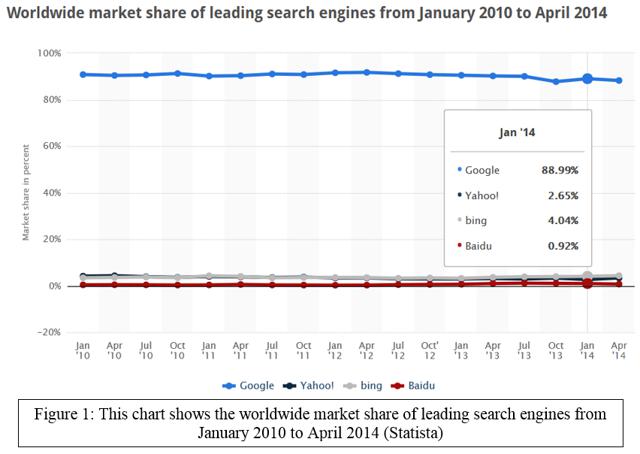 global search market, Google has very little room to grow amongst consumers with existing Internet connections and potentially much ground to lose to competitors. Additionally, as its cost-per-click income rate is decreasing and its traffic acquisition costs are increasing, it will either have to find a way to increase revenues from existing users or find additional users (Figure 2). Increasing income from existing users will be incredibly difficult as more serious competitors enter the market and attracting new users will be just as hard given that it has struggled for years to gain a decent share of the Asian market, its final frontier.

Market Share and Global Revenue Growth
Figure 3 shows Google Search's current market share in the 31 countries with the largest Internet-connected populations. It can be seen that Google controls approximately 90% of the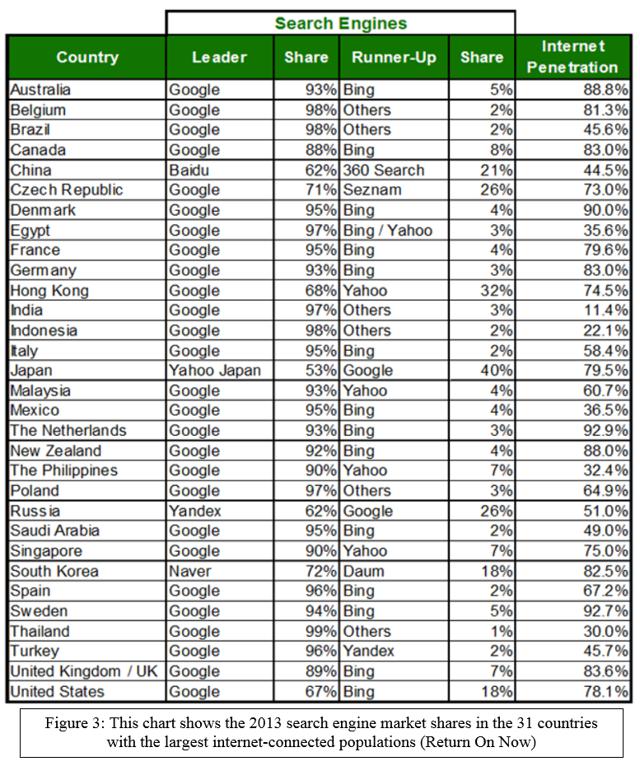 market in nearly all of these locations with the key exceptions of Japan, China, South Korea, Russia, and the United States. Out of these five markets, Japan is the only one where Google has been making strong gains and its search engine actually powers its largest competitor there. It will continue to be hard for Google to gain further market share in the U.S., where it has been stuck with approximately two thirds of the American search market for the past five years, especially as Bing has been gradually ascending (Figure 4). China, Korea, and Russia, whose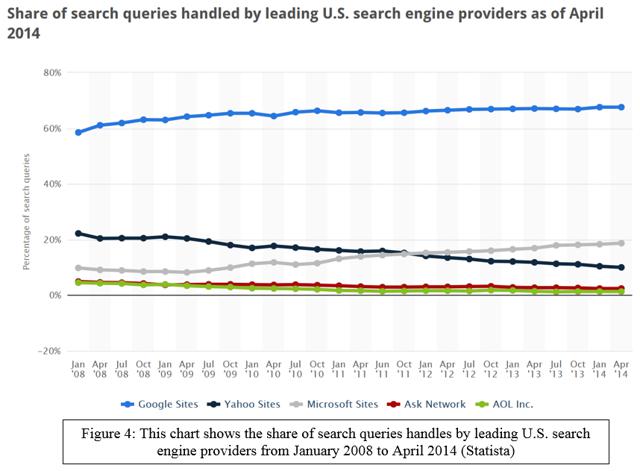 combined populations account for nearly a quarter of the world's total, pose a greater challenge because they each have strong local competitors that appeal to local tastes. Most troubling, Google has actually been losing market share in China over the past five years, as can be seen in Figure 5. Google's future prospects in China look even grimmer considering that it hasn't been able to capitalize on the decrease in market share of China's largest search engine, Baidu, which fell from more than 80% to under 66% in the same time period.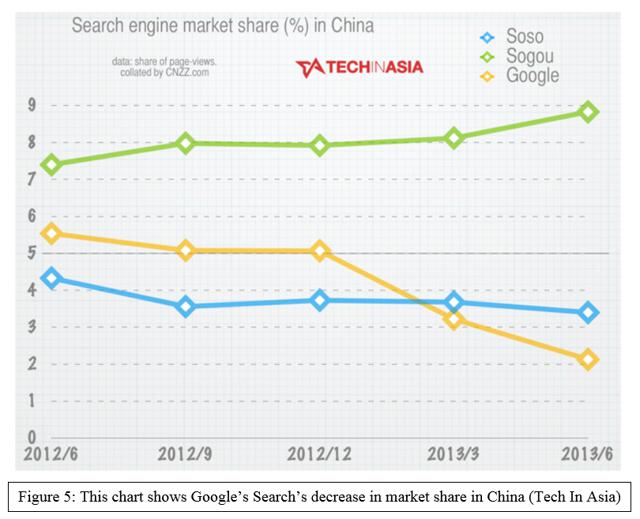 Google's most interesting venture to expand the number of users of its search engine is to increase the number of people who have access to the Internet. According to a Google spokeswoman, "Internet connectivity significantly improves people's lives. Yet two thirds of the world have no access at all." Through its Project Loon, Google hopes to employ satellites, drones, and high-altitude balloons to expand Internet to underdeveloped parts of the world. Although this ambitious plan can drastically increase its users and revenues, Google will only realize these benefits a couple of years down the line at the earliest. Additionally Project Loon can cost up to $20 billion, according to one industry expert, and will face international regulatory hurdles.
Since Google Search has either captured the vast majority of the market share or has been unable to gain further market share in nearly all of its target markets, it should come as no surprise that Google's advertising growth rate has been gradually decreasing worldwide (Figure 6). In fact, in the United States, where it has maintained a relatively unchanging market share for the past five years, Google's revenue growth has been decreasing by the greatest percentage. This trend will have an outsized impact on Google given that the U.S. market accounts for approximately 45% of its total revenue. As the wealthier American market generates higher revenue per user than most other markets, Google will have to increase its user base by a much greater magnitude, especially in emerging markets, if it wants to compensate for slower U.S. growth.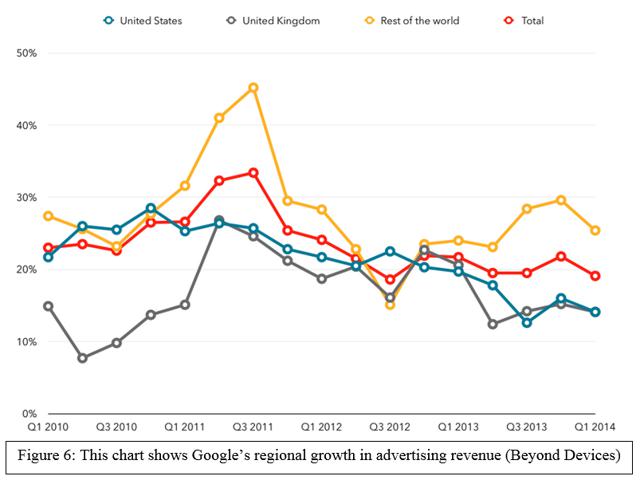 Declining Revenue-Per-Click and Increasing Costs
To maintain its current growth trajectory, Google is struggling not only to increase its user base, but also to retain profit from its existing users. The average revenue that Google receives per clicked-on advertisement has been steadily decreasing since 2011 as Google has been attempting to boost its mobile ad sales and as advertisers employ "smart algorithmic workarounds" to limit their costs. Google's U.S. mobile market share decreased from 82.8% in 2012 to 68.5% in 2013 and is expected to decrease further to 64.2% in 2016. This decline is mainly due to increased competition from niche alternatives such Kayak, Yelp (NYSE:YELP), and Groupon (NASDAQ:GRPN), which all have downloadable apps that bypass Google. Although the total mobile Internet advertisement revue has been rising quickly over the past few years, Google's share of the market has been declining, as budding social media companies have been selling advertisements on their own, without being Google network websites (Figure 7).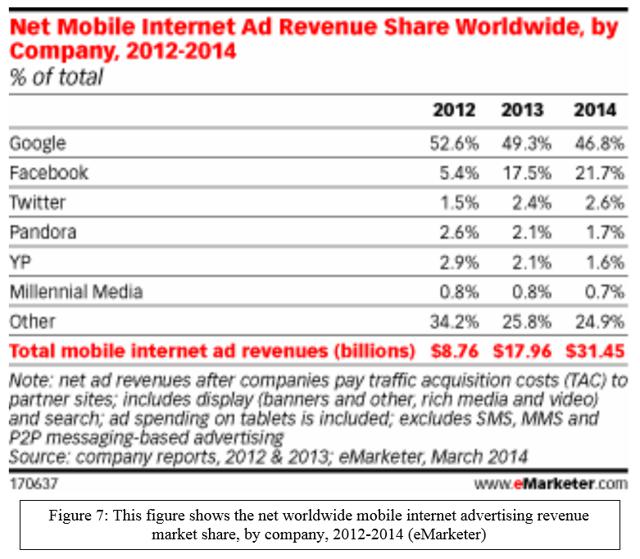 Google's share of advertising revenue derived from its network members' websites has been steadily decreasing (Figure 8) as its revenue growth from such advertisements has been declining. Since Google pockets only about 25% of these advertising revenues due to the high traffic acquisition costs it pays its affiliate websites, it isn't terrible that it is transitioning its advertising focus to its own websites where it keeps most of the revenue. However, Google cannot neglect its AdSense business as Facebook is developing a rival network, which will be enhanced by its vast collection of data on users' habits. Earlier this year Facebook's founder and CEO, Mark Zuckerberg announced that he plans to make Facebook into a pseudo-search engine capable of competing with Google Search in the next decade. Losing its dominance over affiliate advertising to Facebook, might lead to a slippery slope where Google will forfeit some of its search engine's market share as well.

Google's distribution traffic acquisition costs, the fees it pays to companies such as Apple (NASDAQ:AAPL) and Firefox for making Google the default search engine on their Internet browsers, have been rising recently (Figure 9). These increased costs are most likely due to a greater number of people accessing the Internet from Apple devices, most notably iPhones. However, as Bing becomes a more serious competitor in the U.S. market, Google will have to pay higher distribution traffic acquisition costs to maintain its current contracts. Google currently pays Apple about $1 billion dollars to be the default search engine on its various platforms; however, Apple seems determined to curb its relationship with Google as many of its products directly compete with Google's. In 2010, Apple snubbed Google by allowing Bing to be a search option on its iPhone 4, last year it made Bing the default search engine powering Siri on its iOS 7 mobile operating system, and earlier this month it announced that it will use Bing to power a new version of Spotlight in its Yosemite and iOS 8 operating systems. This trend is especially troubling for Google considering that a huge percentage of its phone-search revenue comes from Apple products. In fact, in 2012 about 80% of Google's mobile advertising income came from Apple users who tend to be more lucrative advertising targets. Although Apple's dominance has since been seriously challenged by the Android mobile operating system, as its percent of mobile traffic has declined from 44.53% to 38.17%, Apple still captures 52.7% of the total mobile revenue. Google will likely have to pay Apple significantly more to renew its contract making Google Search the default search engine for Apple's Internet browser, Safari. Otherwise, Google risks losing a huge portion of its advertising revenue with lower distribution traffic acquisition costs.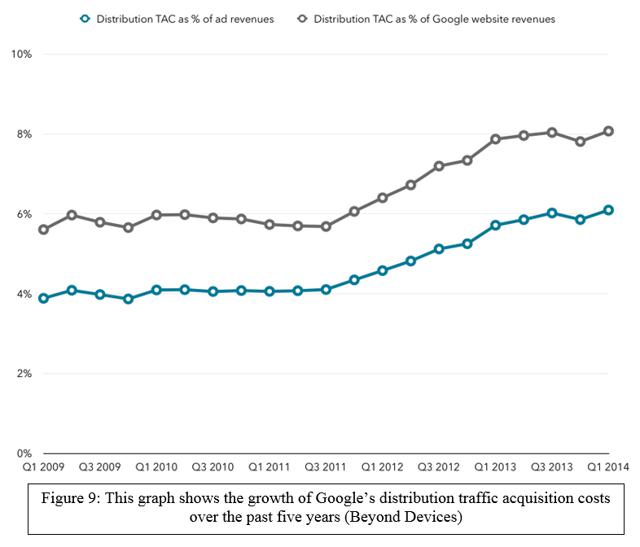 Although Google will benefit from a larger domestic mobile advertising market, as it is still the largest player in the mobile advertising industry, it will need to invest much more money and effort to capitalize on this growth. The mobile advertising and search markets are not only relatively young and rapidly changing, but they are also home to many atypical competitors that offer services that Google doesn't yet provide. Additionally, the increase in mobile searchers will likely come at the expense of traditional desktop searchers, which will hurt Google's profits as mobile advertisements are less popular to advertisers and on average generate lower cost-per-click rates. Google will also have to pay more distribution traffic acquisition costs, as it will rely more heavily on third parties to direct search traffic its way.
In the past few years, Google's growth in search revenue can be almost entirely attributed to a stable increase in the number of paid clicks (Figure 10). However, as Google struggles to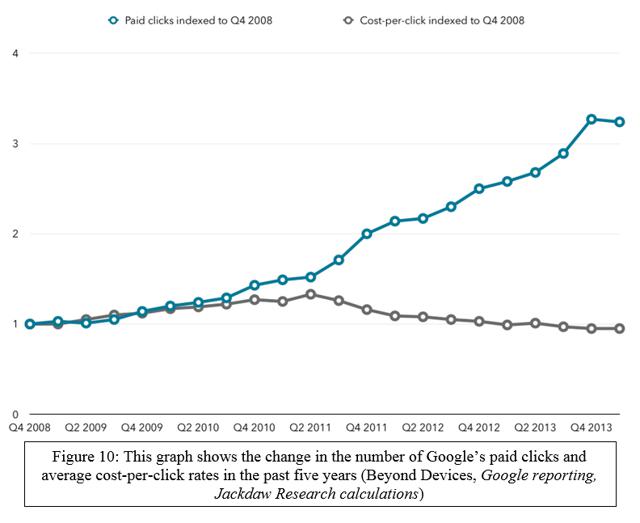 gain more market share and as its competitors gain ground in the mobile arena, this trend may not continue at a fast enough pace to compensate for lower cost-per-click rates and lower revenue from its network members. Additionally, Google's number of paid advertisement clicks would decrease if more users used the Adblock Plus add-on to avoid ads completely, although, according to Figure 11, the number of downloaders and daily users of Adblock Plus has been relatively stagnant. Overall, the number of catalysts that can push down Google's advertisement revenue growth rate seem to vastly outnumber those that can pull it up.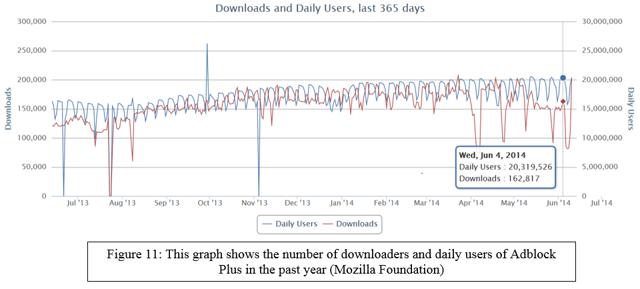 Possible Legal Impediments
Most of Google's major legal battles have already been settled without causing Google undue harm and are unlikely to resurface in the future. However, some issues like privacy infringement could play an important role in the future. The anti-trust lawsuits against Google in the U.S. and Europe resulted in relatively lenient penalties. The American Federal Trade Commission concluded that Google is not a trust as it didn't obtain its vast market share through anticompetitive practices and that its dominant position wasn't making consumers worse off. In Europe, Google was forced to distinguish its own services from its competitors' to prevent it from surreptitiously promoting its properties. Google's rivals argued, however, that this concession would have little to no effect as Google is still permitted "promote" its products and services with prime placement and attractive graphics. Google also deftly ended its high profile and costly smartphone patent war with Apple earlier this year when it agreed to settle all outstanding litigation.
Although, Google has resolved or settled most of its major lawsuits, it still has to deal with growing privacy violation complaints. Last month the European Parliament forced companies not based in the EU to conform to its stricter data protection rules and the European Court of Justice allowed people to force search engines to refrain from linking to certain websites that want to be "forgotten." Google has specifically been targeted for violating its users' privacy and selling their preferences to advertisers and has been charged the largest civil penalty in F.T.C. history for tracking users' search histories. Google hasn't faced any significant privacy lawsuits yet, but it is possible that it may be targeted in the future, which could saddle it with hefty legal fees and alienate its users.
Google's Non-Advertising Ventures
Although Google has always generated at least 90% of its revenue from advertising, it has spent billions of dollars developing and improving a large portfolio of ancillary programs and services. Some of these complementary services, such as Gmail and Chrome, indirectly supplement advertisement sales while others attempt to forge their own markets in the technology sphere. As Google Search approached global domination with little room to grow, Google realized that it would need other sources of revenue to maintain its robust growth rate and has since been developing and marketing various other products including, online marketplaces, smartphones, and even Internet-connected glasses. Ultimately Google hopes that it can eventually generate a significant portion of its revenue from alternative sources to diversify away from advertising.
Complementary Services
Google has pioneered the art of offering useful digital services to the public for free in order to build brand loyalty and proliferate its higher-profit advertisements. Google has invested heavily in improving these services as it earns much more advertising revenue from users who visit its own websites than from those who visit its affiliates' websites. Google Maps, Google Calendar, Google Docs, Google Finance, Google Plus, and Google Translate are just a few examples of the 100+ valuable services that Google provides to the public for free.
Google's three most popular free products, Chrome, Android, and Gmail have been steadily gaining market share in their respective sectors and have substantially contributed to Google's ubiquitous presence (Figures 12, 13, and 14). Its web browser, Chrome, uses Google Search as its default search engine and allows Google to avoid paying distribution transaction fees. Its mobile operating system, Android, also uses Google as its default search engine and connects users to other Google products such as Google Play. And its webmail provider, Gmail, allows Google to analyze users' information to tailor advertisements toward their preferences.
Other less traditional complementary segments of Google include its project to employ high-altitude balloons and satellites to provide Internet connections to the developing world and its project to provide faster and better quality Internet to various American cities. These projects may be as successful as Chrome, Android, and Gmail at expanding Google Search's supremacy, but their benefits are unlikely to be realized in the near future.
Other Products and Services
Google has recently begun to profit from its strong software portfolio by converting some of its complementary services, such as Google Drive and Google Play, into freemium products. Google has been leveraging its large pocketbook and expertise to launch services that can compete with established file sharing sites and digital distribution platforms. Google has been mildly successful at usurping some of Microsoft's business software market share through its Google Apps and Google Docs platforms. And it has effectively leveraged its Android mobile operating system to capture some of Apple's digital marketplace traffic through its Google Play platform, whose revenues increased 311% in 2013.
Google has also ventured into sectors that are only tenuously related to its core advertising business. Some of these divisions, such as its smartphone business, don't offer particularly novel products and are therefore struggling to differentiate themselves in a crowded field in which Google has very little expertise. Google has a better chance to succeed with its niche ventures, such as its smart thermostat business, which are unlikely to face much competition. Lastly, Google's self-described "moonshots" developed at Google X, such as a space elevator, may ultimately prove to be wildly profitable, but it won't bring in any profits anytime soon.
Google's strategy of pouring money into R&D will inevitably lead to novel products and help it diversify away from its advertising business; however, it hasn't always chosen the wisest industries to enter. Instead of competing in the cutthroat hardware manufacturing industry with its low profit margins and extremely fickle customer base, Google should instead focus its efforts on building its cloud computing network and taking a leadership role in ushering in the "Internet of everything" - a $19 trillion opportunity according to Cisco CEO, John Chambers. Google's decision to spin off its smartphone unit, Motorola Mobility is a good step in this direction and its investments in innovative self-driving automotive technology and next generation cable and Internet connections can help Google become a leader in nascent industries.
However, to become a pioneer in the "Internet of things," Google will have to continue to pour money into projects that may take years to achieve profitability and wait patiently for sufficient market demand to amass to make manufacturing such products profitable.
I Know First's Algorithmic Forecast for Google
I Know First is a financial startup that provides daily investment foresight based on an advanced self-learning algorithm. The financial algorithm is based on artificial intelligence and machine learning and also incorporates elements of artificial neural networks and genetic algorithms. This unique financial market-forecasting algorithm analyzes, models, and predicts over 1,400 markets in the short, medium, and long-term time horizons. I Know First's forecasts cover stocks, ETFs, world indices, commodities, currencies, and interest rates. I Know First specializes in longer-term algotrading, a market neutral strategy that is suitable for most investors. Its algorithm analyzes the structure and trends of the market, finds predicable patterns, and recommends trades based upon its machine-derived forecasts. Algorithms objectively value stocks and protect investors against irrational psychological pressures, volatility, risks, and high transaction costs.
I Know First's algorithm indicates that Google is currently overvalued and likely to fall in the short, medium, and long-term time horizons, as shown in Figure 15. The dark red hues indicate "strongly bearish" sentiments and the pinkish hues indicate "moderately bearish" sentiments. The negative number in the middle of the box labeled GOOG is the stock's signal that represents the direction and magnitude the algorithm believes the stock will move. The decimal number on the bottom of that box is the stock's predictability quotient, a relative indicator of how likely the stock will move in the predicted direction. When analyzing a stock's signal and predictability it is important to compare its present signal and predictability to its own historical signals and predictabilities and then track their daily changes.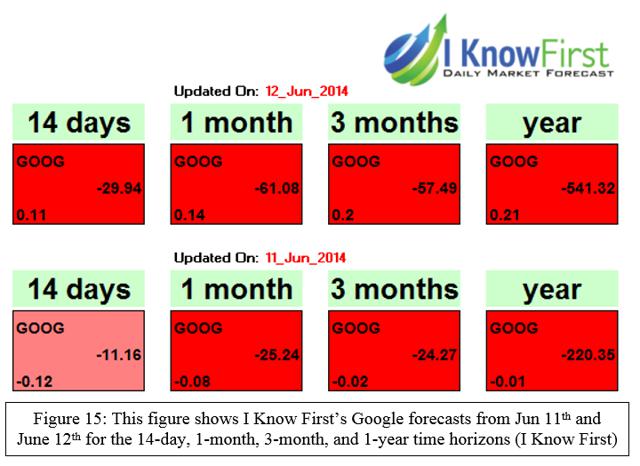 Conclusion
Google's fundamental advertising business and its many complementary free services have made it the world's most valuable brand and second largest technology. Nevertheless, Google is still predominantly an advertising company and overwhelmingly reliant on its advertising division to drive revenue growth. This reliance on its advertising division may have been viable in the past, but now that Google Search has little room left to grow in its core markets and is struggling to make significant inroads into its historically low-presence markets, Google will need to reconsider its strategy. Google's lack of advertising growth opportunities is exacerbated by its declining revenue-per-click, its rising distribution traffic acquisition costs, and challenges from both traditional search engines and specialized information providers. All things considered, Google seems to have more impediments to advertising growth than opportunities.
Google has acknowledged the limitations of relying too heavily on advertisement growth to boost its revenues and has been heavily investing in alternative revenue sources. Google has sagaciously used its strong Internet services network and experience to challenge the current frontrunners in many software-related businesses. Google has also wisely spun off its burdensome smartphone division to focus on its long-term goal of becoming a pioneer in the "Internet of things." Although this strategy may prove to be extraordinarily successful and profitable in the future, Google is unlikely to realize enough revenue from its non-core businesses to compensate for its slowing advertising growth. Google is about to enter a period of limbo when it's too soon to derive any profits from its "Internet of things" projects and it's too late to continue growing its advertising revenue at its impressive historical rate. I believe that once investors realize the full extent of Google's tenuous situation, they will no longer value Google at such high multiples and will sell their Google stock to pursue more promising equities.
Business relationship disclosure: I Know First Research is the analytic branch of I Know First, a financial startup company that specializes in quantitatively predicting the stock market. This article was written by Ethan Fried (Harvard College '16) one of our analysts. We did not receive compensation for this article (other than from Seeking Alpha), and we have no business relationship with any company whose stock is mentioned in this article.
20
Disclosure: The author has no positions in any stocks mentioned, and no plans to initiate any positions within the next 72 hours. The author wrote this article themselves, and it expresses their own opinions. The author is not receiving compensation for it (other than from Seeking Alpha). The author has no business relationship with any company whose stock is mentioned in this article.