Below is a picture of Susan Peterson.
Q. Who is Susan Peterson?
Susan Peterson is a Member of Herbalife's (NYSE:HLF) Founder's Circle and has been their #1 distributor in the world.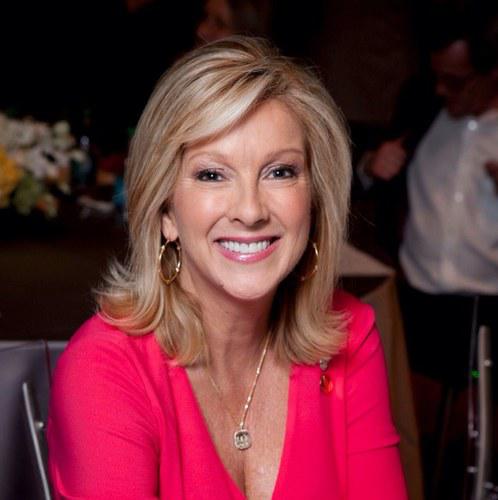 Here is another picture of Susan Peterson posing in a photo opportunity with George W. Bush.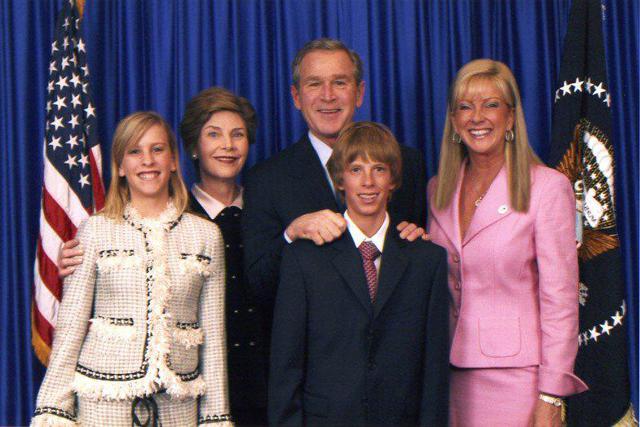 Here is another picture promoting Susan as a Speaker at a Herbalife event in 2003. Note her Credentials and the Theme of the Seminar.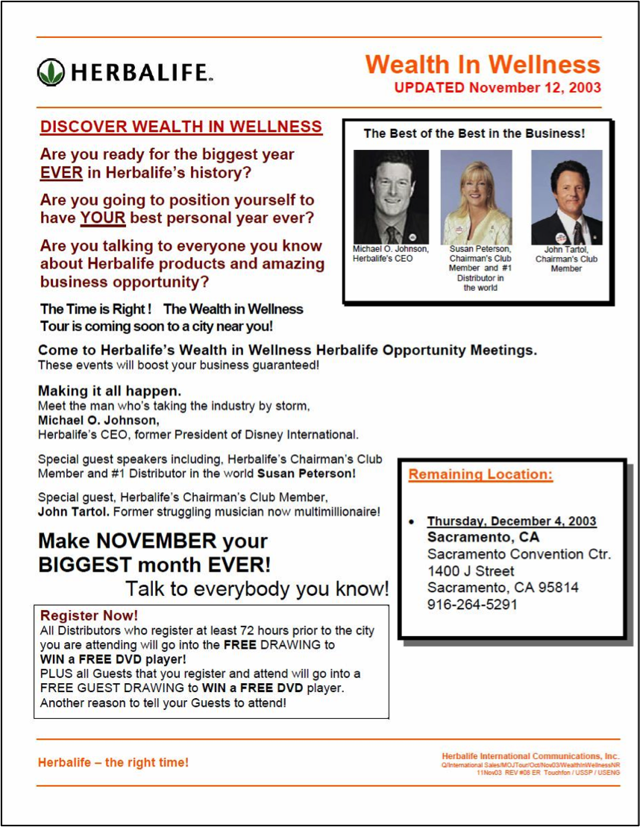 Famous American heroine Susan B. Anthony dedicated her life to social justice. In contrast, Susan Peterson dedicates her life to recruiting new Herbalife distributors into her downline.
One of the things I love about Herbalife's most senior recruiters is the fact that they leave a trail of evidence in their wake. If we want to know whether or not Herbalife's distributors focus their efforts on selling product to retail customers or recruiting people into the business opportunity, fortunately we have people like Susan to give us the answer.
Here is a video of Susan indoctrinating distributors at a Herbalife Extravaganza. In less than 10 minutes, Susan tells us all exactly how Herbalife works. At the 7:50 mark, you will see fellow Herbalife recruiter Michael Burton jumping for joy in the front row. You remember Michael, he is the guy who suggests people buy SUPERVISORSHIPS on their credit card.
Have you ever wondered whether or not Herbalife targets affinity groups like Latinos? Watch the tape from the 8:00 minute mark to the 8:30 mark.
Is Herbalife a pyramid scheme that focuses on recruiting business opportunity seekers vs. retail customers?
I am going to let Susan speak for us all on this point. By now, the answer should be obvious. If it isn't obvious. Susan clears the matter up.
Q. Should Susan be out posing for pictures with George W. Bush or should Susan be arrested for promoting fraud?
Ultimately, the FBI and DOJ will make that decision.
In the interim, what else can we tell you about Susan Peterson?
Did you know that it was Susan's idea to introduce the Qualified Producer Level into the Marketing Plan? It seems that coming out of the recession of 2007, Herbalife recruiters were having trouble selling SUPERVISORSHIPS at $3,000 a pop. You know, these are the things that cause recruits to inventory load and allow recruiters to earn recruiting commissions up front without regard for actual retail sell-through.
Here is the video where Mike Johnson introduces Susan as the thinker behind this brainchild to help recruiters find another way to get recruits to inventory load and stay with the program longer.
Qualified Producer lowered the Volume Purchase threshold required for Distributors to earn a 42% discount. Presto, a new, lower rung on the inventory loading hierarchy was born. Today, recruiters have the option of getting newbies to load-up on stock at SUPERVISOR, QUALIFIED PRODUCER or SUCCESS BUILDER.
As Capital One (or Susan) says: "What's in your wallet?"
How's life for Susan these days?
Check out this video here. I will let you draw your own conclusions.
Certainly, she is one of the many beneficiaries of a global pyramid scheme that transfers money $500 - 3,000 at a time from low-income dreamers to the deceptive high rollers who perpetuate their "Rags to Riches" recruiting stories year in and year out around the globe.
Will Orange be the New Black for Susan one day? Will the FBI hand down some Colorado Justice (Susan's from Colorado)?
After all - Herbalife is a Recruiting Scam that focuses on selling an Income Opportunity first and retail product last. Trouble is, the Income Opportunity Ain't Real and so that's Fraud.
At the center of the confidence game lies the company's Top Recruiters. Ms. Peterson is just one of those people. There are many others like her; e.g., check out Leslie Stanford's modest Colorado home located here.
Q. Won't the only way a new Herbalife recruit be able to own part of a home like this be if the government confiscates it as a proceed of criminal activity?
Q. Why are the profiles of Herbalife's Top Recruiters found at herbalifepyramidscheme.com so important? Why do Top Recruiters like Susan Peterson matter?
A. Absent their willingness to exaggerate income claims and perpetuate wire fraud through their private sideline business development activities, Herbalife simply could not survive.
Mr. Ackman thinks that these folks may be targeted first in a criminal prosecution by the DOJ. Would it surprise anyone if he was right?
Herbalife is a global pyramid scheme. The sooner regulators shut it down and bring the likes of Susan to justice the better.
Disclosure: The author is short HLF. The author wrote this article themselves, and it expresses their own opinions. The author is not receiving compensation for it (other than from Seeking Alpha). The author has no business relationship with any company whose stock is mentioned in this article.