Things are as bad as things could possibly be for RadioShack (NYSE:RSH). The electronics retailer is fighting the odds of bankruptcy and didn't make a compelling case for itself when it reported another quarter of disappointing performance results this week. Disappointing is actually quite a positive description for what analysts and investors likely would describe as a cataclysmic quarter.
First quarter results certainly were ugly. For the first quarter the electronics retailer reported:
Traffic declines and weak performance in its mobility segment drove down comparable same store sales by 14% y-o-y. A truly stunning and fear-inducing number.
Total net sales fell approximately 13% y-o-y to $736.7 million.
RadioShack's gross profit fell 21% y-o-y from $340.9 million in Q1 2013 to $268.7 million in Q1 2014. Its gross margin fell from 40.2% in the year ago period to 36.5%.

RadioShack's operating loss widened materially from $10.3 million in Q1 2013 to $81.0 million in the most recent quarter.

RadioShack's net loss came in at $98.3 million ($0.97 per share) vs. $28.0 million ($0.28 per share) in the year ago quarter.

RadioShack also reported liquidity of $423.7 million of which the company holds $61.8 million on its balance sheet as cash/cash equivalents and has access to another $361.9 million under its 2018 Credit Agreement.
Those numbers are hard to digest, I agree. A 13% y-o-y sales decline is substantial and there is no doubt that RadioShack faces some tough decisions going forward. Given its recent troubles with lenders regarding store closures, it is unlikely, for the time being, that RadioShack will indeed close down more than 200 stores in fiscal 2015.
Joseph C. Magnacca, chief executive officer of RadioShack, commented on first quarter results:
Overall, our first quarter performance was challenged by an industry-wide decline in consumer electronics and a soft mobility market which impacted traffic trends throughout the quarter. In particular, our mobility business was weak due to lackluster consumer interest in the current handset assortment and increased promotional activities across the industry including the wireless carriers. This resulted in disappointing sales and gross margin performance.

Even in this environment, we are making progress on our turnaround strategy. We are building the pipeline of new products that will bring differentiation and newness to our stores in the form of high-margin private brand and exclusive items, including those from new partnerships like Quirky and PCH. Our concept stores continue to drive strong sales growth, and we have begun to execute our 100-store remodel program to scale the successful components of our concept stores across our network. We have continued to drive our new 'Do It Together' brand campaign, which highlights one of our greatest strengths, our store associates and the knowledge and solutions they provide to our customers every day.
After RadioShack's first quarter results were digested, analysts updated their outlook on the electronics retailer and that clearly didn't add to the excitement over the stock. Fitch Ratings seems to be predominantly worried about RadioShack's liquidity:
Fitch expects negative free cash flow of $200-$250 million over the balance of 2014, which, together with seasonal inventory build-up of $100-$150 million, would substantially eat into the company's total liquidity of $424 million as of May 13, 2014. This liquidity was comprised of cash of $62 million and revolver availability of $362 million (after $68 million in letters of credit) and was down from liquidity of $554 million at year-end 2013. Management indicated that it drew on its revolver to fund operating losses post quarter-end and that $35 million was outstanding on the revolver as of June 9, 2014.

Fitch believes RadioShack does not have material sources of liquidity beyond its revolver, as virtually all of its assets have been pledged to its credit facilities. Fitch expects excess liquidity to be very tight as we approach peak seasonal borrowings, which could prompt a restructuring before year end.
The situation clearly seems bad enough if Fitch sounds the alarm bells and predicts a restructuring before year end. It can't get any worse than that, or can it?
Equity research house B. Riley certainly thinks it can. The retail analyst covering the retail business slashed his price target from $1.00 to $0.00 and sees bankruptcy odds of over 50%. A price target of $0.00 is not seen too often in the research business. According to B.Riley, RadioShack's remaining equity is practically worthless.
So, what's happening now?
Despite the ugliness of RadioShack's first quarter performance, let's not give in to hopelessness as the analyst above did. I acknowledge there are serious problems at RadioShack, most of which can be traced to massive price competition from online retailers such as Amazon (NASDAQ:AMZN). Best Buy (NYSE:BBY) is also struggling with top-line erosion and negative comparable store sales growth and somehow the retailer as managed a successful turnaround in 2013. I am not necessarily comparing Best Buy with RadioShack, but I am arguing that the company should not declared dead before it is -- it could be an expensive mistake. Given the industry-wide decline of traditional brick-and-mortar retailers, it is easy to give in to despair.
RadioShack's position is difficult and cash burn rates will indeed require RadioShack to come up with a restructuring plan: I estimate that RadioShack will burn through its existing liquidity over the next two to three quarters.
But, to be honest, I don't see bankruptcy just yet. I have been invested in quite some bankruptcy investments over the years and RadioShack is a tough sell, but I have also seen that management teams get creative when standing with the back to the wall. While I don't think RadioShack will see an acquisition offer or a buyout, I could imagine the company to make a secondary offering in order to fight an impending cash shortfall. This would buy RadioShack crucial time to get a tighter grip on its operations and radically downsize its business. Things are not going to be easy and a share offering would dilute current shareholders. I have seen companies in equally bad shape as RadioShack and management could pull off a successful equity offering. The latest example in the retail space, of course, would be J.C. Penney (NYSE:JCP) whose equity offering last year was clearly the turning point.
I think management continues to be in discussions with stakeholders in order to come up with other options to restructure its business; such as a higher number of lender-approved store closures or an additional line of credit as the company tries to pull the cart out of the ditch in a last all-in effort.
Chart picture
RadioShack's share chart looks as nasty as it gets. A consistent erosion of RadioShack's revenue base has been reflected in a steady decline of RadioShack's share price.
Shares of RadioShack have lost 63% over the last twelve months and about 52% since the beginning of the year. The stock also lost 17% of value since RadioShack reported first quarter results on Tuesday.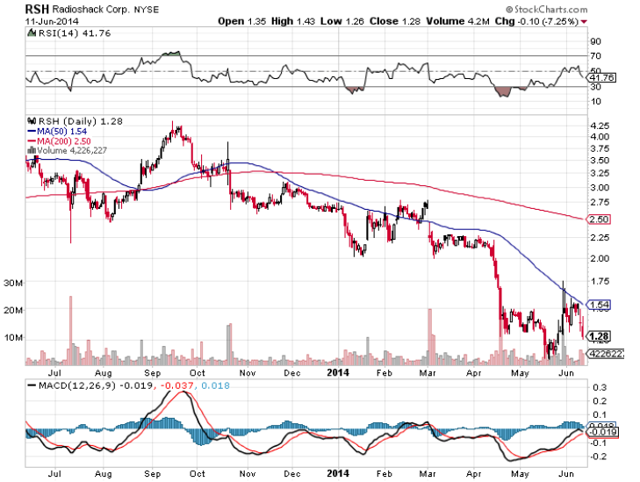 (Source: StockCharts.com)
Final assessment
I am fully aware of the current state of RadioShack. However, when it comes to investing, there is never such a thing as a sure thing. Management might be standing with its back to the wall and will be under pressure over the next months to deliver a credible turnaround concept and, hopefully, present some tangible results in terms of cost controls and unprofitable store closures.
But it is too early to call it quits. I have seen way too often that stakeholders come together and work on a solution that's best for all parties involved (shareholders, debt holders, creditors and customers). If management can work out a credible, alternative restructuring concept over the next few months, the all too likely bankruptcy may be off and vultures will have to call off their feast. RadioShack's stock is very well worth watching until management has created more clarity about its liquidity situation. The condemned always live longer.
Disclosure: The author is long BBY, JCP. The author wrote this article themselves, and it expresses their own opinions. The author is not receiving compensation for it (other than from Seeking Alpha). The author has no business relationship with any company whose stock is mentioned in this article.