Kroger (NYSE:KR): $21.62 on NYSE on September 22, 2010
52 week price range: $24.80 – 19.08
Diluted shares: 639.9 million
Market cap: $13,835 million
Net debt: $6,780 million
Enterprise value: $20,615 million
Annual dividend: $.42 – 1.9% yield
Competition among food retailers is fierce, and for years Wal-Mart (NYSE:WMT), Costco (NASDAQ:COST), and some smaller companies like Trader Joe's have increased their grocery business at the expense of the traditional grocers. However, even though Kroger may not be able to beat Wal-Mart and Costco competitively, it does not need to do so in order to generate good profitability. The company has sufficient scale to where it can price competitively and still generate financial returns well in excess of their cost of capital.
The stock is currently valued at 10.9 times my estimate of EPS for fiscal 2011 of $1.99. My estimate of fair value is $27.83, which is 14.0 times estimated EPS for this forward period.
Competitive Strategy
Kroger's competitive strategy is to operate as a high volume low cost operator that is able to sell at relatively low prices and still generate good financial returns based on their low cost structure. Supporting this is a marketing strategy of focusing on the customer. Kroger refers to this as their "Customer 1st" strategy, which has four elements: people, products, shopping experience, and prices.
While Kroger's focus on people, products, and shopping experience is important; price is the element that is most responsible for the company's success. Their emphasis on being competitive with prices drives sales and results in economies of scale that enable the company to offer lower prices without negatively affecting financial returns. The company seeks to offer prices that are as low or lower than other traditional grocers although not necessarily as low as what is offered by Wal-Mart and Costco. Also, the company cites its use of the data management and customer analysis firm, dunnhumby, as providing a competitive advantage in understanding the needs of customers, which in turn is used to drive higher sales.
Furthermore, Kroger offers the broadest assortment of private label products sold by any of the traditional grocers. In the fourth quarter of last year private label represented 27% of the company's grocery sales and 35% of grocery unit volume. This relatively high proportion of private label sales also contributes to the company's low cost structure.
Kroger's strategy of being a high volume low cost operator has been working well for them. This is borne out by the fact that for the last several years the company has been generating identical store sales, which are notably better than the other two large traditional grocers, Safeway (NYSE:SWY) and SUPERVALU (NYSE:SVU). It is also illustrated by the company financial returns, which are well in excess of their cost of capital. Kroger's relatively large size and economies of scale should enable the company to continue generating strong financial returns.
Valuation
The stock is currently valued at a P/E ratio of 12.2 and 10.9 based on my estimate of EPS for fiscal 2010 and 2011 respectively. Also, enterprise value is 5.4 and 5.2 times my estimate of EBITDA for fiscal 2010 and 2011 respectively.
My estimate of fair value in the near-term is $27.83 per share and is based on an enterprise value to EBITDA multiple of 6.5 applied to the fiscal 2010 earnings. This estimate of fair value is 15.7 and 14.0 times my estimate of EPS for fiscal 2010 and 2011 respectively.
Company Description
Kroger is the largest traditional grocer in the US. The company operates 2,468 supermarkets and multi-department stores in 31 states under two dozen banner names including Kroger, City Market, Dillons, Jay C, Food 4 Less, Fred Meyer, Fry's, King Soopers, QFC, Ralphs, and Smith's. The company also operates 784 convenience stores, 372 fine jewelry stores, 932 supermarket fuel centers, and 40 food processing plants.
click to enlarge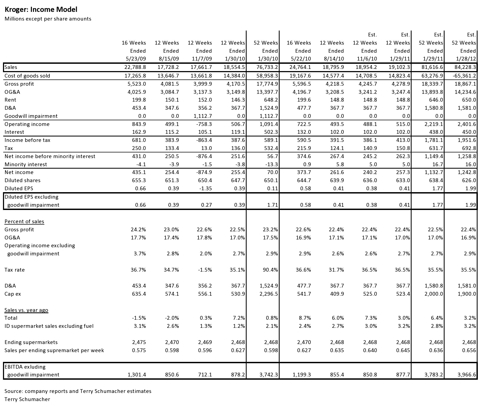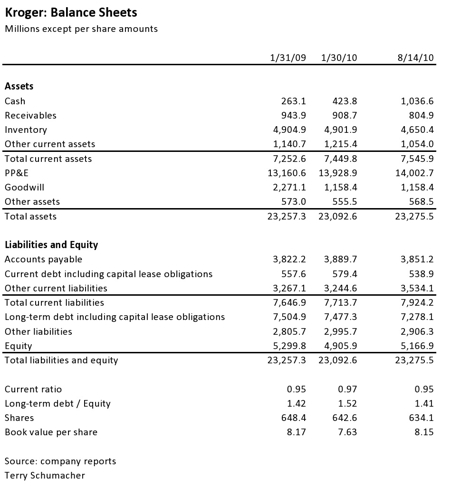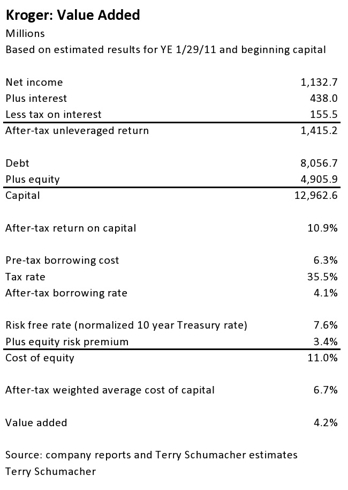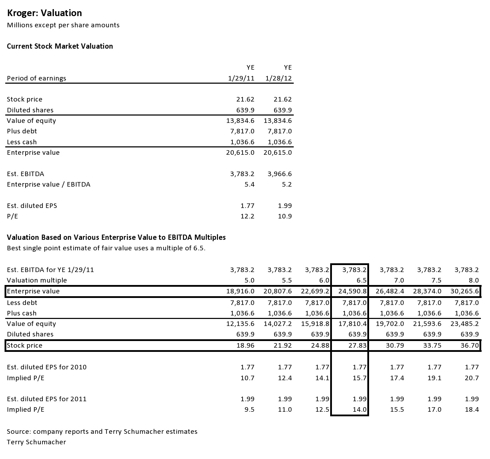 Disclosure: Terry Schumacher owns SWY and SVU but has no position in KR.