Both Coach (NYSE:COH) and Bed, Bath & Beyond (NASDAQ:BBBY) are materially off their all-time highs, with COH down 50% from its April, 2012 high of $79 and change, while BBBY is down 35% from its early January '14 high of $80 per share.
This morning, we took a position in Bed, Bath & Beyond for clients, for the first time in a few years.
While both stocks have underperformed in 2014, along with a lot of retail stocks in the Consumer Discretionary and Consumer staples sectors, we think BBBY offers the better risk / reward (at least at this point in time) although COH is intriguing as well, but COH has a tougher road ahead of it in terms of repositioning the brand.
Here is why we chose BBBY over COH today:
1.) Forward revenue and EPS estimates for BBBY are still growing, with consensus analyst expectations expecting 7% - 8% EPS growth on 4% revenue growth, and is currently trading at 12(x) expected fiscal '15 EPS;
COH is expecting -5% revenue growth and -17% EPS growth in fiscal '14 (ends June 30, '14), and 2% revenue growth and flat EPS growth in 2015.
2.) One of the better metrics for valuing retailers is "price-to-revenues" or in our case, "price-to-4quarter trailing revenues" which for COH is 2.5(x), while BBBY is 1.10(x).
3.) Cash -flow metrics are a little better for BBBY, which we put a lot of weight on, particularly quality of earnings and cash-flow coverage of net income: COH is trading at 12(x) trailing cash-flow with a 7% free-cash-flow yield, and cash-flow coverage of net income has fallen below 1(x) to 0.85(x), while BBBY is trading at 9(x) cash-flow, sports an 8% free-cash-flow yield, and cash-flow covers net income 1.35(x) and has been improving.
COH has been returning 111% of its free-cash-flow to shareholders in terms of dividends and share repurchases while BBBY is returning 125% of free-cash-flow to shareholders.
Neither company has any material long-term debt so both could issue debt to support share repos or dividends if needed.
4.) Being in a luxury business COH sports 74% gross margins, while BBBY has a 40.5% gross margin, and both have been under pressure. There has been less erosion and pressure on BBBY's margins than COH.
5.) In terms of perceived intrinsic value estimates, our internal model (which uses forward earnings as a component) our model values COH at $42 per share, while Morningstar values COH at $54. Our internal model values BBBY at $70, while Morningstar assigns a perceived intrinsic value to BBBY of $73, thus BBBY is trading at a slightly better discount to both model's intrinsic values.
Here is the tough part of this analysis: with a turnaround, COH (for sure) offers a better upside total-return, but I also think that by re-branding the brand to more Men's fashions and a big emphasis on China, they have a tougher road to hoe in terms of a complete turnaround. BBBY in our opinion offers less downside risk, and more upside even in a housing sector that is looking more lethargic every day.
6.) Technically, BBBY's weekly chart looks much better than COH's. (See chart below). BBBY is oversold on the weekly chart looks to be ready to turn higher.
---------------------
There are three element we look for in "brand turn-arounds":
1.) Is the brand fundamentally intact and does the consumer recognize still recognize the brand without holding their nose ?
2.) Is there sufficient cash-flow and a good balance sheet to support investment needed to support a turnaround ?
3.) Is management still focused and taking (what we think) are the right actions ?
We think COH has a tougher job, but that could also mean more opportunity to the upside.
Because of the overbought nature of the general stock market today, we think BBBY offers the best risk/ reward for the next 3 - 6 months.
However we will continue to model both companies and if COH gets into the mid to low $30's I think it could offer tremendous long-term value.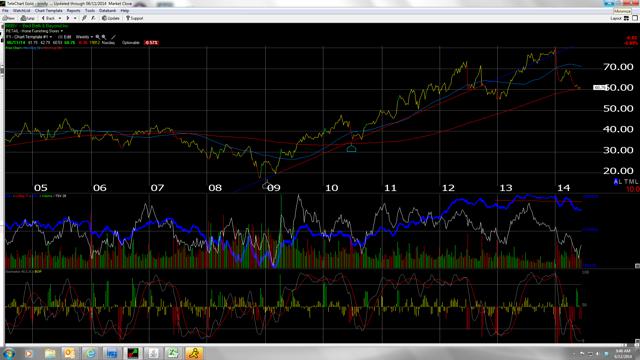 Click to enlarge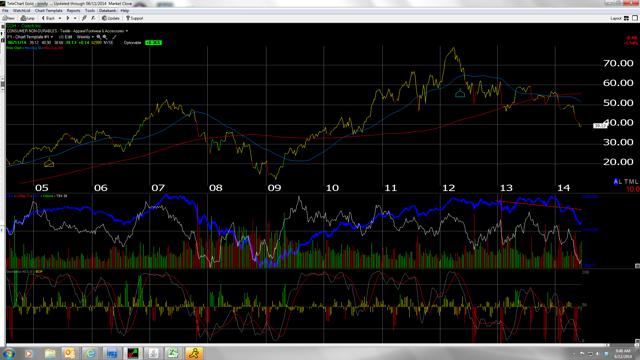 Click to enlarge
If housing-related weakness continues, I don't think that will be a positive for BBBY. The stock could get dragged lower on sector-related selling.
We are not totally negative on COH either: there is an analyst / investor day one week from today, on June 19th, where I expect the company will update fiscal q4 '14 guidance, which ends June 30. I do think COH has a tougher turnaround than BBBY, but each has challenges.
We haven't owned either stock for a while, but this morning we took our first position in BBBY in some time.
Disclosure: The author is long BBBY. The author wrote this article themselves, and it expresses their own opinions. The author is not receiving compensation for it (other than from Seeking Alpha). The author has no business relationship with any company whose stock is mentioned in this article.