By Jeff Bailey
Filling the shoes of a super-successful, long-time CEO can be beyond tough. Just ask Jeffrey Immelt at General Electric (NYSE:GE), who followed the the Jack Welch show; Donald Thompson, still trying to step out from the shadow of his predecessor at McDonald's (NYSE:MCD), miracle worker Jim Skinner; and now poor Ginni Rometty at International Business Machines (NYSE:IBM), left to make good on a 2015 $20 EPS promise her predecessor Sam Palmisano left behind for her.
What Palmisano didn't leave behind was any revenue momentum.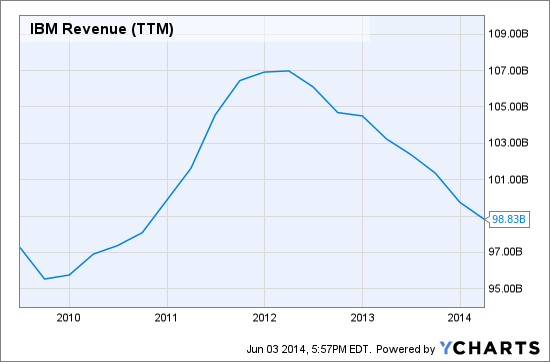 IBM Revenue (TTM) data by YCharts
So Rometty is going to have to squeeze costs and goose the per-share number with liberal use of stock buybacks, which have long been part of the IBM playbook.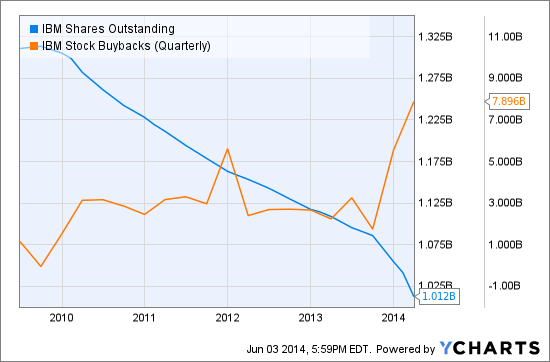 IBM Shares Outstanding data by YCharts
Casting subtlety aside, IBM used up the bulk of its 2014 buyback budget during the first quarter this year, as seen in the above chart, repurchasing $8.1 billion in stock. That will help make the EPS comps a little easier to achieve as the year goes on, with fewer shares outstanding. Buybacks during the remaining three quarters of the year combined should total less than $5.7 billion, calculates Jordan Chalfin, an analyst following IBM for CreditSights. IBM also expects a lower effective tax rate this year, Chalfin noted in a recent report, which will help EPS a bit.
Rometty, in an interview with Barron's published this past weekend, sees IBM's investment in cloud computing, big data analytics and other growth areas paying off soon in terms of revenue growth. That would seem to take pressure off the company's balance sheet, which is bearing some of the brunt of the march toward $20 per share in 2015, and $18 a share (before a charge) in 2014.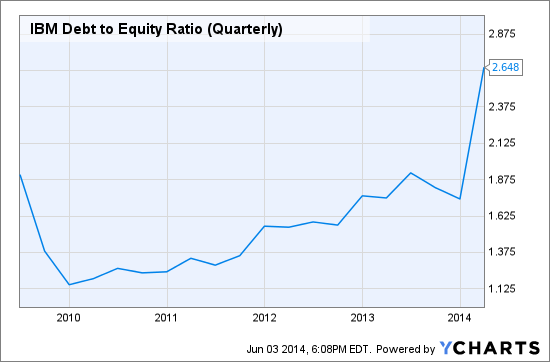 IBM Debt to Equity Ratio (Quarterly) data by YCharts
The shareholder-friendly policies at IBM and well loved, including by major holder Warren Buffett of Berkshire Hathaway (NYSE:BRK.B). But a shrinking company – and its CEO, less than 30 months in the chair – can't keep this up forever.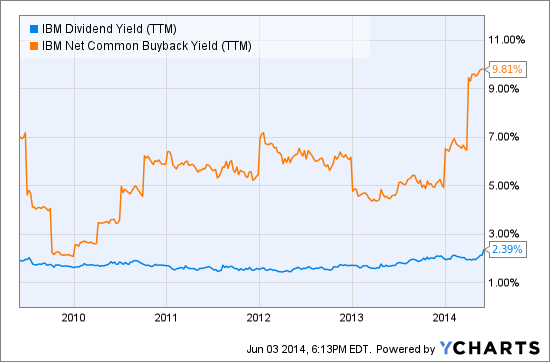 IBM Dividend Yield (TTM) data by YCharts
Disclosure: None