A few days ago, I released an article that covered the newly launched iShares MSCI All UAE Capped ETF (NASDAQ:UAE), and so far, the feedback has been very good (article: Here's Why I'm Investing In The United Arab Emirates And Why You Should Too). I wanted to write a follow-up article to address some of the questions and comments I received after covering the majority of the investment opportunity in the U.A.E. (read my article to get the full inside scoop). Additionally, there were a few articles released over the weekend regarding the "United Arab Emirates' Overheating Real Estate Prices" and how they will impact the stock markets in the country. I will be addressing the overheating markets and some of the commentary issued by senior business leaders in the region on the topic. This article will also shed light on the U.A.E.'s energy production levels and the ETF volatility associated with holding any Middle-Eastern ETFs.
The Overheating United Arab Emirates Housing Market
On June 8th, 2014, Bloomberg published an article titled "U.A.E. Regulator Flags Dubai, Abu Dhabi Property Overheating," highlighting how property prices were exceeding rental property yields, which signaled an "overheating" indicator to regulators. I found this article to be very interesting, and I thought sharing an excerpt was important:
Average sale prices in Abu Dhabi and Dubai have risen faster than rents, and such deviations can be "used to identify imbalances in the housing market," the central bank said in its 2013 financial stability report. The average rental yield in Dubai is about 70 basis points below the historical average and those in Abu Dhabi 130 basis points lower.

While "recovery of rental prices started at least a few months before the sale prices had bottomed, growth rate of rents was significantly lower than the increase in prices," according to the central bank. The discrepancies could indicate an "overheating real estate market," it said,

Home prices in Dubai rose the most in the world last year, according to Knight Frank LLP, raising concern a bubble may be forming five years after the market crashed. Residential property prices rose an average 24 percent in Dubai and 21 percent in Abu Dhabi, the central bank said. The International Monetary Fund in May urged the U.A.E. to enact stronger measures to curb real-estate speculation in Dubai to prevent an "unsustainable" surge in prices.

Source: Bloomberg
The main reasons why I found this interesting was mainly due to the fact that the majority of the home purchases in Dubai and Abu Dhabi were made using substantially more equity than debt, which to me possibly raises a bit of an issue with the way they calculated the expected "rental yield" that they used as their basis to come to the conclusion that their housing market was overheating (are they expecting a higher rental yield by factoring in a heavier equity weighting on house valuations?). The equation they are using, the rental yield to rise of house prices, is a bit of an imperfect calculation, because the U.A.E. housing markets should not be compared/calculated the same way the U.S. housing markets are evaluated, since the debt-to-equity structures are completely different from country to country (the market dynamics are significantly different). Notably, the same exact type of events (lower rental yield vs. rise of housing prices) occurred in the 2008 to 2010 time periods, essentially killing the housing markets in mainly Dubai, and freezing/canceling the construction of a sizable pipeline of projects that EMAAR and Arabtec had plans to build/develop. The published article later gives more detail on the economic factors involved in calculating the rental yield disparity:
While lending for home purchases rose 12 percent or 12.7 billion dirhams ($3.5 billion) last year, less than 30 percent of residential property purchases were funded through bank lending, the central bank said. U.A.E. bank exposure to the real estate sector is less than 23 percent of total loans.

"Bank lending cannot be considered a significant driver of real estate prices," according to the report. "Analysis of banking data support the hypothesis that the current market recovery is mostly driven by equity buyers and or reliance on external funding sources."

Price growth for villas and apartments in Dubai have slowed in the first five months of this year, according to data from property broker Cluttons LLC.

Source: Bloomberg
The most interesting detail I got from the second excerpt was that bank exposures were only at 23% of total loans, which was incredibly surprising to me (surprisingly low). To give some readers some perspective, banks in the United States have more than 45% exposure to the total loan market, and the mortgage industry in the United States is gigantic (the figures are in the multi-trillions of dollars). Another article published by Arabian Business gives a bit more detail on the variance in rental yield and property prices.
Residential rental yields in Dubai and Abu Dhabi could indicate growing imbalances and overheating in the country's real estate sector, the United Arab Emirates central bank said on Sunday, in the first official warning about soaring property prices.

"Current average rental yields in Dubai and Abu Dhabi are approximately 70 and 130 basis points below historical averages, which could indicate growing imbalances - overheating real estate market," it said in an annual financial stability report.

Source: Arabian Business
Interestingly, 70 and 130 basis variances don't seem like "overheating" signals, in my opinion. The real question lies with how the U.A.E. regulator is computing their calculation and with what assumptions. Taking a step back, the U.A.E. must be computing a formula that expects a higher rental yield when making a large equity investment (which is driving house prices up from an enterprise valuation perspective, but not the rental yields). The remainder of the article touches on U.A.E. regulator plans to implement the Basel III framework on U.A.E. banks adopted by western banks, and states how bank financing in 2013 increased significantly to finance real estate properties.
Before readers suggest I am under-reacting to these news headlines, I do want to state that these are serious investment feasibility considerations for the U.A.E. real estate market, but in the long-term investment horizon, this is a drop in the bucket. Market corrections or overheating market environments are normal in the emerging and frontier markets, because that is literally what they are doing, trying to emerge as markets (if every market was 100% efficient and did not veer in random directions, then there would be zero alpha to be made. Additionally, even developed markets overheat, and emerging markets should be expected to overheat more frequently). So, in the short term, a correction is very probable, but the market will come racing back sooner than most anticipate (this isn't a Lehman Brothers scenario). I want to reiterate my Buy signal on the UAE ETF with the above note in mind and the fact that the companies held in the ETF are financially healthy, with the right positioning for growth.
About the United Arab Emirates ETF
For new, first-time readers on the UAE ETF, here is a quick summary: the UAE ETF seeks to track the investment results of the MSCI All UAE Capped Index. The index is designed to measure the equity market in the United Arab Emirates. It consists of equity securities that are classified in the U.A.E. according to the MSCI Global Investable Market Indices methodology, and securities of companies that are headquartered or listed in the U.A.E. and have the majority of their operations based in the U.A.E. The fund generally invests at least 80% of its assets in securities of the underlying index or in depositary receipts representing securities of the underlying index. UAE (the ETF) is significantly concentrated on the U.A.E. (stock exchanges include Abu Dhabi and Dubai), which is significantly concentrated on Banks, Real Estate, and Construction companies. Below is more detail about the ETF. The ETF is composed of 99% U.A.E. stock (stocks trading on the Dubai Financial Market and Abu Dhabi Securities Exchange) and 1% international. The top 10 holdings of the ETF make up 70% of the ETF's holdings, while the remainder is spread across 16 other publicly traded companies.
Top 10 Basket Holdings (Basket Total Holdings: 26)

EMAAR

Emaar Properties PJSC

21.60%

ARTC

Arabtec Holding PJSC

7.59%

DPW

DP World Ltd.

7.49%

ALDAR

Aldar Properties PJSC

7.35%

ADCB

Abu Dhabi Commercial Bank PJSC

4.48%

DFM:DE

Dubai Financial Market PJSC

4.36%

NBAD

National Bank of Abu Dhabi PJSC

4.32%

UNB

Union National Bank PJSC

4.21%

DIB

Dubai Islamic Bank PJSC

4.06%

FGB

First Gulf Bank PJSC

4.03%
Source: Morningstar.com
| | |
| --- | --- |
| | 32.17% |
| | 22.80% |
| | 9.21% |
| | 7.59% |
| | 7.49% |
| | 4.70% |
| | 4.13% |
| | 2.84% |
| | 2.69% |
| | 2.68% |
Source: Morningstar.com
Watching the Dubai Financial Market
Dubai Financial Market General Index is a free-float market capitalization weighted price index comprising stocks of listed companies. The base value of the index is 1000 as on January 1, 2004. YTD 2014, the index is up around 45% and the 1-year is up around 104%.
As a general note, the Dubai Financial Market General Index should not be used to entirely measure performance against the UAE ETF, since the UAE ETF is composed of both Dubai Financial Market and Abu Dhabi Securities Exchange stocks. Another general observation about the index is that it is very volatile (expect +5% or -5% swings on a weekly basis), so expect large swings day to day.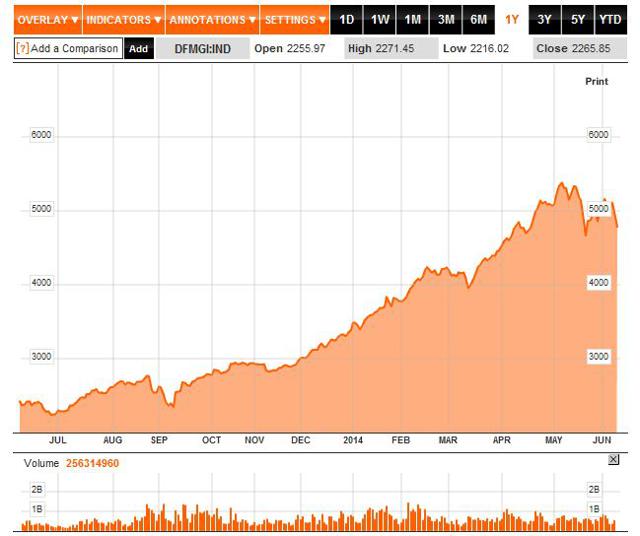 Click to enlarge
Source: Bloomberg
The below chart shows the iShares MSCI Qatar Capped ETF (NASDAQ:QAT), Market Vectors Egypt Index ETF (NYSEARCA:EGPT), iShares MSCI Frontier 100 Index ETF (NYSEARCA:FM), WisdomTree Middle East Dividend ETF (NASDAQ:GULF), and UAE all on one chart, which helps show the differences in volatility in the last three months. The only ETF not plotted is the Market Vectors Gulf States Index ETF (NYSEARCA:MES), which is considered one of the least volatile ETFs of the Middle-Eastern ETF category. Rule of thumb here, day-to-day market swings should not be making material impacts to long-term investment decisions, especially since there will be turnover in the ETF holdings and constantly evolving market conditions in the Middle-Eastern region.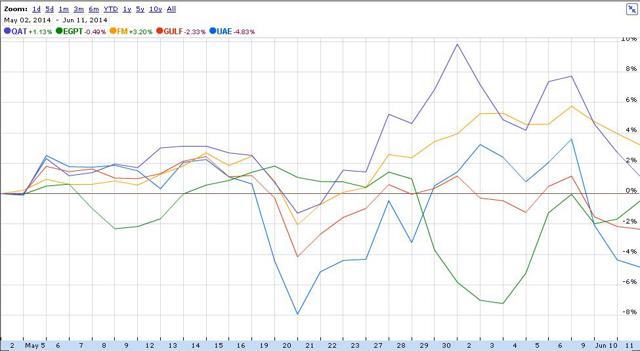 Click to enlarge
Source: Google Finance
Energy Distribution Overview
The United Arab Emirates is one of the 10 largest oil and natural gas producers in the world, and is a member of the Organization of the Petroleum Exporting Countries (OPEC) and the Gas Exporting Countries Forum (GECF). In 2012, the country produced an average of 2.8 million barrels of crude oil per day, the eighth-highest total in the world. The below images can give readers a visual idea on how the UAE is performing from a global energy distribution perspective with energy statistics.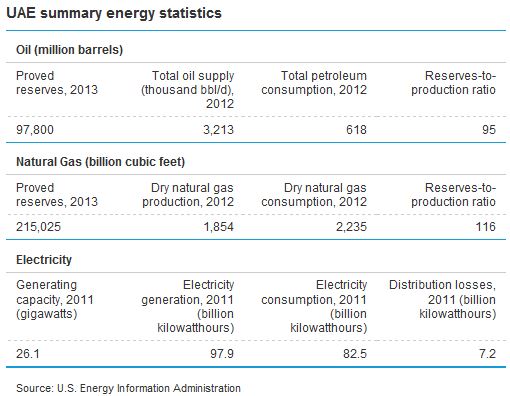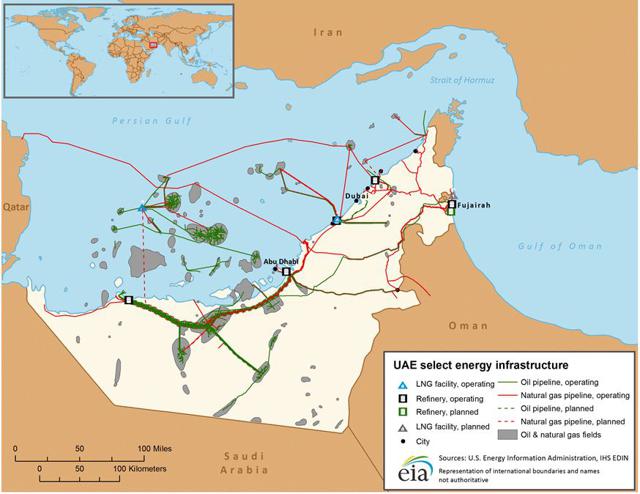 Click to enlarge
Below are the Top 10 charts for global crude oil and natural gas producers. The United Arab Emirates is neither in a leading position nor a lagging one, considering the country is tiny compared to Russia, the United States, China, and others. Overall, the top 10 position looks to be a long-standing one, with at least 100 more years of production in both crude oil and natural gas.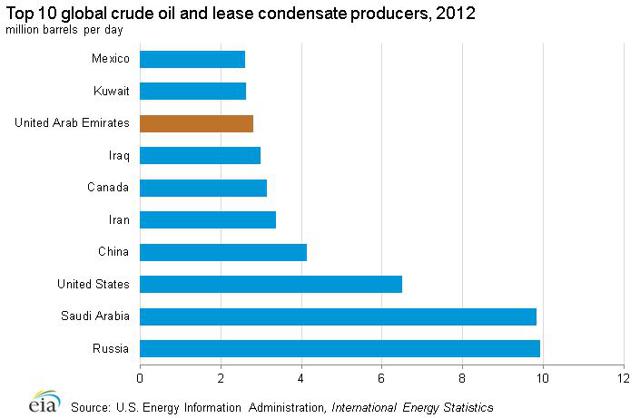 Click to enlarge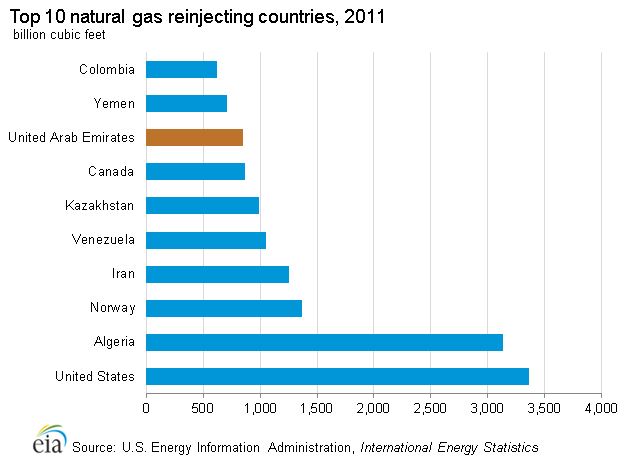 The chart below shows how the United Arab Emirates is a net exporter of crude oil, but an importer of Natural Gas. From a sustainability perspective, the U.A.E. is still a net gainer from a monetary perspective from all energy distribution activity, which is important considering there were several comments in my last article regarding the energy distribution sustainability and its impact on national GDP growth.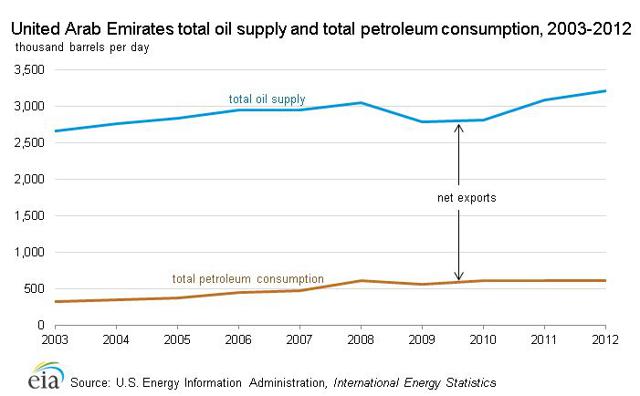 Click to enlarge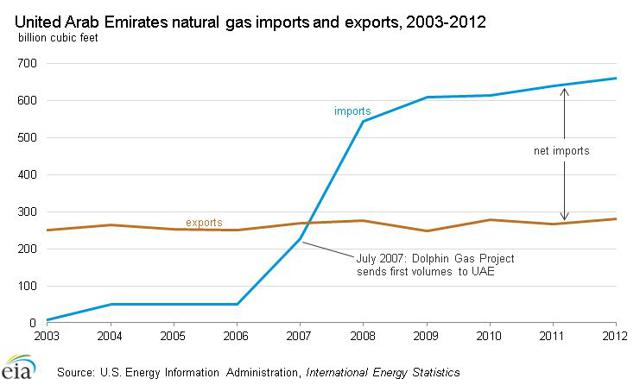 Click to enlarge
Conclusion
Even on a very striking U.A.E. regulator press release, in the short term, market "corrections" may be probable, however, this should not lead to a UAE ETF investor second-guessing themselves, since these are short-term market forces that will be required to achieve the long-term growth discussed in my last UAE ETF article.
The U.A.E. should serve as a long-term portfolio strategy play for any investor, not your short-term one-and-done investment, because even on 100% return in any period of time, the U.A.E. has a very long way to go, and it will take patience and vision to see the upside involved in the U.A.E.'s growth. I want to reiterate my Buy call from my last article, even on an overheating United Arab Emirates real estate market warning.
Disclosure: The author is long MES, GULF, UAE, QAT. The author wrote this article themselves, and it expresses their own opinions. The author is not receiving compensation for it (other than from Seeking Alpha). The author has no business relationship with any company whose stock is mentioned in this article.