Background: Oracle Corporation (NASDAQ:ORCL) is a $190 billion database and middleware software, applications software, and hardware systems. The company's shares trade an average of 12 million shares per day.
52-Week Range: $29.86 to $42.88
Book Value: $9.97
Price To Book: 4.3
Oracle is anticipated to report good fiscal fourth-quarter earnings after the market closes on June 19, 2014. The consensus estimate is currently 96 cents a share, an improvement of 9 cents (9.4%) from 87 cents during the same period last year.
96 cents is 28 cents higher sequentially, although fiscal fourth-quarter is traditionally the strongest for Oracle. Analysts are estimating as low as 93 cents per share, up to the most optimistic estimate of 97 cents per share.
Oracle has a mixed record of meeting or beating estimates. During the last three years, the company failed to live up to expectations about 25% of the time. That said, I believe shareholders will be rewarded with a beat by at least two cents based on whisper numbers I've reviewed and historical results.
Last quarter's 68 cents per share earnings, a miss by 2 cents, was met with an immediate, albeit small 2.7% decline in the closing share price from the previous day. The stock quickly recovered, so if the results are close, don't allow yourself to get shaken out of your position without allowing for a day or two to see if the stock bounces back.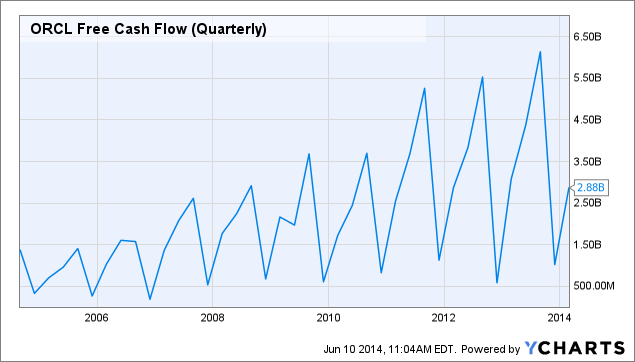 Over half the analysts covering Oracle rate it as a buy or strong buy. 41 analysts cover Oracle, and 22 of them rate it as a buy. 16 analysts rate it a hold, and 3 recommend selling.
The company competes in the same space as IBM (NYSE:IBM), Microsoft (NASDAQ:MSFT), and SAP AG (NYSE:SAP). Microsoft is among my favorite dividend paying stocks, and I've written several articles during the last two years touting my bullish bias.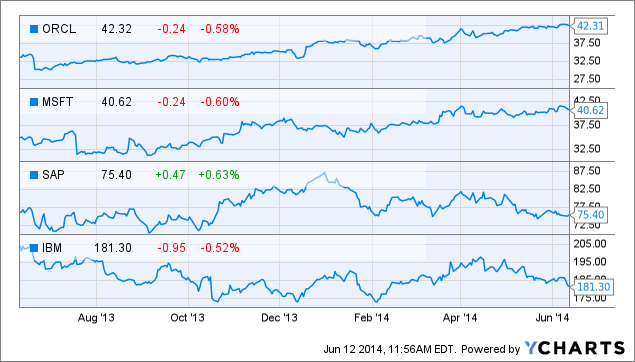 ORCL data by YCharts
Microsoft's SQL server directly competes with Oracle's database software, but Microsoft competes in several spaces, making it difficult to directly compare the two. If choosing between the four, I think Microsoft is the most attractive investment.
IBM and SAP are closer comparisons if for no other reason than the enterprise solutions focus. Oracle trumps the relatively stagnant IBM and SAP shares during the previous two years. Only Oracle and Microsoft have outperformed the overall market in the last 12- and 24-month periods.
Wall Street will focus on growth and whether Oracle can maintain its pace. Hardware grew 10%, software 30%, and engineered systems blazed an increase of over 30% last quarter compared to the same period year-over-year.
The company is using its $40 billion war chest to repurchase shares, and the number of outstanding shares declined about 20% since 2006. CFO Safra Catz talked about the repurchase program during the last conference call. Expect further guidance during the upcoming call. Most of the cash flow is used between repurchases and dividend payments.
| | | | | |
| --- | --- | --- | --- | --- |
| | $ORCL | $IBM | $MSFT | $SAP |
| Strong Buy | 7 | 2 | 5 | 3 |
| Moderate Buy Buy | 15 | 2 | 6 | 3 |
| Hold | 16 | 20 | 20 | 9 |
| Moderate Sell Ratings | 0 | 0 | 0 | 0 |
| Strong Sell Ratings | 3 | 2 | 3 | 1 |
| Avg Analyst Price Target | $42.51 | $194.48 | $41.87 | $64.13 |
| Revenue | $38.44 billion | $97.40 billion | $86.26 billion | $17.55 billion |
| Est Low EPS | 0.93 | 4.07 | 0.53 | 0.73 |
| Est High EPS | 0.97 | 4.39 | 0.65 | 0.84 |
| 1 Year Stock Price Change | 25.40% | -9.17% | 16.35% | -3.24% |
Oracle pays 48 cents annually in dividend payments for a yield of about 1.1%. Microsoft is over double that at 2.7%. SAP and IBM are 1.3% and 2.4%, respectively. If the dividend continues increasing at the current pace (20 cents per year as recently as 2009), the stock could become attractive to yield seekers.
Oracle is the first of the group to report earnings, so we're unable to look at Microsoft, IBM or SAP for guidance. That said, diving deep into Oracle's results may offer clues on what we can expect with the others. The other three report next month.
Based on my technical analysis reading, Oracle is slightly overbought but firmly in a bull trend. Overbought doesn't mean finished, and it has the legs to continue higher if the company can deliver next week Thursday.
Disclosure: The author has no positions in any stocks mentioned, and no plans to initiate any positions within the next 72 hours. The author wrote this article themselves, and it expresses their own opinions. The author is not receiving compensation for it (other than from Seeking Alpha). The author has no business relationship with any company whose stock is mentioned in this article.