By Carla Fried
Procter & Gamble (NYSE:PG) landed the 31st slot in this year's Fortune 500 ranking of America's biggest corporations. That's down from 20th in 2009. In an industry where revenue growth has been muted, Procter & Gamble has been near radio silent, bring up the rear when compared to Unilever (NYSE:UN), Clorox (NYSE:CLX) and Kimberly-Clark (NYSE:KMB):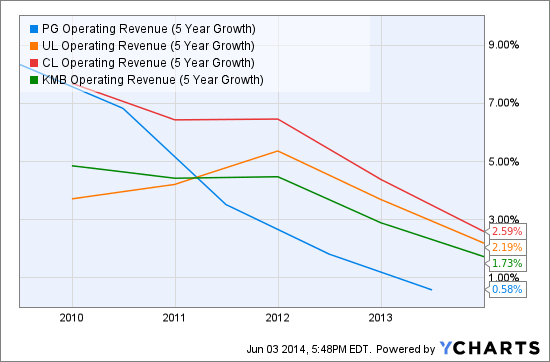 PG Operating Revenue (5 Year Growth) data by YCharts
Not surprisingly that translates to an equally uninspiring showing for investors. Among the largest companies in the S&P 500 index, only Exxon Mobil (NYSE:XOM) has had a weaker price gain since the beginning of this bull market in March 2009.
Ever since the financial crisis, Procter & Gamble's skew toward higher-priced goods has been out of sync with consumers tightening their household budgets here and abroad. Long known for innovation - who knew we needed a Swiffer till they arrived? - Procter & Gamble's pipeline has also been slow to generate the next big thing.
But Procter & Gamble is beginning to show signs it is operationally turning the corner one full year after A.G. Lafley came out of retirement to return as CEO, replacing embattled Bob McDonald who lasted just five years.
While there is still some serious ground to be made up, profit margins have stabilized and operating income is well above its 2012 low: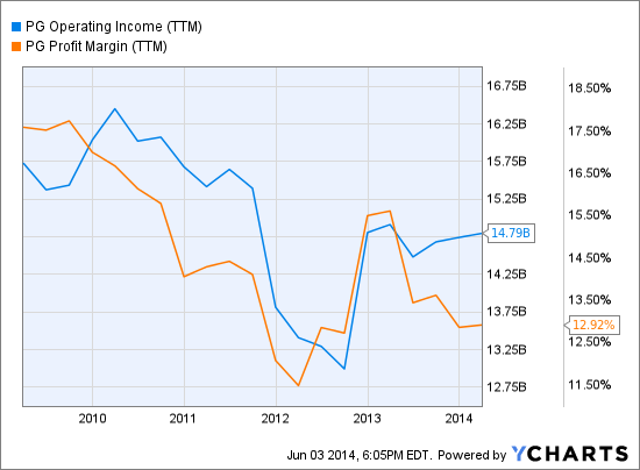 PG Operating Income (TTM) data by YCharts
In the first quarter of this year activist hedgie Bill Ackman closed out the remaining dregs of his Procter & Gamble stake, which at one point in 2012 made him the 10th largest P&G shareholder with a 1% stake. The shorts have also retreated, with Procter & Gamble short interest down more than 20% over the past year.
While Procter & Gamble didn't exactly chase the shorts to cover -- the stock price is barely up the past year -- there's just less to suggest more relative downside.
In its fiscal year third quarter earnings release (through March) Procter & Gamble announced organic revenue growth of 3%. While not exactly robust, a check of the first chart shows it is nonetheless much healthier than the longer-term trend. Earnings per share advanced 5%, pushed higher by continued cost cutting that is expected to trim $10 billion by 2016.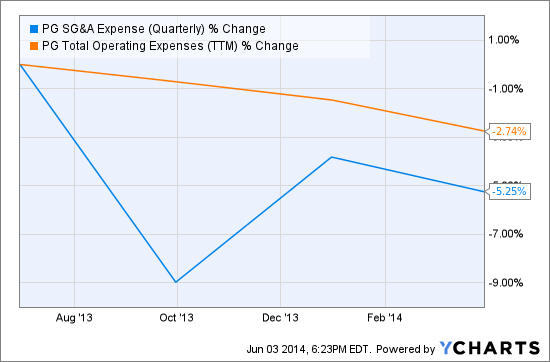 PG SG&A Expense (Quarterly) data by YCharts
That includes some serious staff downsizing, which in turn is nudging revenue per employee in the right direction: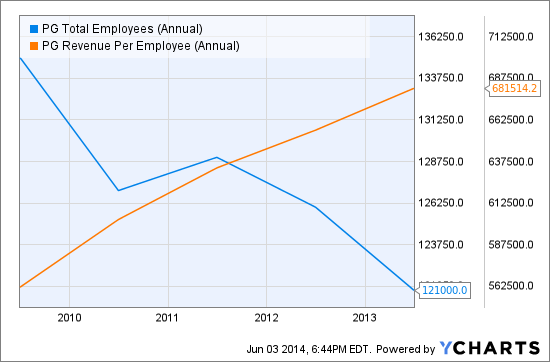 PG Total Employees (Annual) data by YCharts
In the first quarter some stellar active managers were adding to or initiating positions in Procter & Gamble. The $11.9 billion Yacktman Focused fund added another 5% to its shares - Procter & Gamble is now the second largest position in the fund accounting for more than 7% of total assets. PepsiCo (NYSE:PEP) is the largest holding. Some GMO funds (Jeremy Grantham land) picked up some Procter & Gamble as did T. Rowe Price Equity Income.
Valuation isn't cheap, but that's the norm in the consumer defensive sector. The forward PE ratio estimate for S&P 500 consumer discretionary stocks is 18.9. And that's pretty much where Procter & Gamble sits, which historically is pricey territory.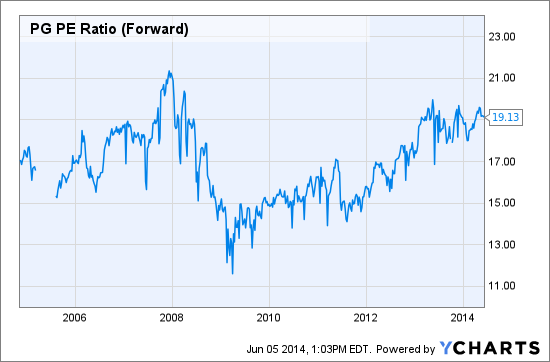 PG PE Ratio (Forward) data by YCharts
The $3.16 billion in free cash flow last quarter is still well below the March 2010 peak of $4.2 billion, but the most recent quarter represents a 12% gain over the past year. There's also nearly $10 billion in cash and short-term reserves, up from $5.9 billion a year ago. That will likely increase as in mid April Procter & Gamble announced it will sell off most of its pet food division for $2.9 billion to Mars.
That should help provide some breathing room for the dividend. Procter & Gamble is one of the Aristocrats. It has paid a dividend for more than a century and has a streak of 58 years of annual dividend growth. But something's gotta give if your earnings growth slows to a snail's pace and you still dole out big dividend hikes to keep the investing natives calm-ish.
Last year Procter & Gamble spent more than $6.5 billion on dividend payouts. That dollar commitment has pushed its payout ratio from below 40% five years ago - considered a level where strong dividend growth can easily be accommodated - to more than 60% today.
Absent an earnings pick up or more aggressive asset sales to increase the coffers, the level of future growth may have to slow from the most recent 7% boost. That said, the near six-decade long streak of annual increases makes it a good bet that management will do just about anything to keep the increases coming, if at a slower rate. For income investors that's a compelling set up, as Procter & Gamble currently yields more than 3%.
Disclosure: None.