Overview
Burdened by mortgage-related lawsuits, capital issues, excessive oversight, negative press, and low interest rates, Bank of America (NYSE:BAC), unlike other banking conglomerations, has yet to fully recover from the consequences of the financial crisis. While most of the current press on BAC relates to mortgage-related litigation fines and, more recently, capital issues, less attention has been focused on BAC's intrinsic conditions. Many would be surprised just how stable and profitable BAC is and will be.
Implications of Monetary Policy on BAC
Extensive liquidity provisions conducted by the Federal Reserve such as open market purchases of long-term treasury bonds and mortgage-backed securities has drastically increased the amount of excess reserves on the balance sheet of financial conglomerations such as BAC. Looking below, the amount of cash on BAC balance sheet has grown from 33 billion in 2008 to a shocking 131 billion in 2013. Intended to stimulate investment spending, the large scale asset purchases have instead provided excess liquidity in the banking system, in the form of large cash piles held by large financial institutions that cannot be lent out. So what are the implications of large amounts of cash held by banks?

Click to enlarge
Image source: Bloomberg
Commercial Banking/ Profitability
Below, I have included back-to-back graphs depicting BAC's profitability margins as well as its business segmentations. It is evident that BAC's largest business segment, consumer & commercial banking, has been severely reduced since the financial crisis. The decreased revenue in commercial banking is largely due to decreasing net interest margins, or the difference between interest made on loans and interest paid to depositors. Commercial banks can generally claim a higher net interest spread when interest rates are slightly higher. Reduced interest income as well as reduced appetite for loans have greatly contributed to BAC's decreased earnings on the commercial side. On a positive note, BAC's other business segments are expanding largely due to Merrill Lynch's exposure to capital markets, which have seen large inflows as a byproduct of lower interest rates.

Click to enlargeImage source: Factset

Click to enlargeImage source: Factset
Interest Rates/Net Interest Margin
The graphs below illustrate the federal funds rate, or the rate at which banks lend excess reserves to each other, over BAC's net interest margin. This decade-long chart clearly manifests a direct correlation between interest rates and NIM. As you can see from the chart above, average net interest margins have decreased from around 3.3% in 2004 to about 2.5% in 2013. When interest rates eventually start to increase as liquidity is dried up in the banking system and consumer/business appetite for loans starts to increase, BAC should regain much of its lost revenue on low interest spreads.

Image source: Federal Reserve Bank of St. Louis

Image source: Bloomberg
The chart below shows the effects of the Fed's aggressive monetary policy and the general lack of loan demand on net interest income. The gap between interest income on loans and interest expense has shrunk, resulting in lower net interest income.

Click to enlarge
Image source: Factset
Mortgage/Capital Issues
Besides being heavily affected on the commercial side, BAC has sustained large losses over the past few years from mortgage-related lawsuits following its acquisition of Countrywide Financial. Bank of America has already paid out about $40 billion in financial settlements due to illicit mortgage practices, and it is scheduled to pay out more than $12 billion more to the DOJ. While it seems as if BAC is involved in settlement after settlement, it is very possible that BAC is following in JPMorgan's footsteps in that the $>12 billion to the DOJ will be the last major fine. Another issue that many people have heard about is BAC's mistake in calculating the amount of capital on its balance sheet. While the street panicked, which resulted in the stock selling off about 6% that day, most realized how trivial the issue really was. Below the settlement graph, I included a chart showing the tier 1 capital targets and buffers of America's largest banks. It can be noted that BAC has a buffer of .94% above the Basel minimum requirement. When BAC's new capital plan is approved by the Fed sometime in August (I do not see why it will not), shareholders should see a dividend increase and potentially a share repurchase plan.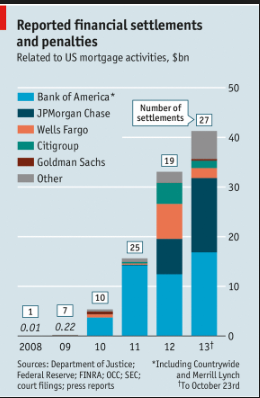 Image source: Department of Justice

Chart source: Forbes
Price-Multiple/Technical Analysis
I have constructed seven graphs to determine where BAC is trading relative to its earnings, book value, cash flows, and moving-averages. As seen in the P/E chart, it is clear that BAC's P/E ratio has decreased on a 1 and 3 year scale. P/E looks better on a 1-year scale. BAC's P/B ratio is especially attractive. While many banks such as JPMorgan, Wells Fargo, and Bank of New York Mellon trade above their book values, BAC has yet to do so. In my opinion, BAC deserves to at least trade on par with its book value, or the price at which shareholders would be paid off in the event of liquidation. BAC is currently trading at about 73% of its book value. P/FCF also makes BAC look pretty attractive, where BAC is trading at around 1.9x FCF. Jumping down to the moving-averages chart, it is noteworthy that BAC is currently breaking out of its 50 & 200 day moving averages.
1-Year (left side) 3-Year (right side)
Price/Earnings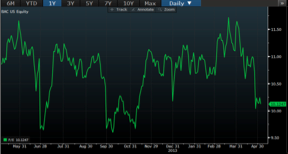 Image source: Bloomberg
Price/Book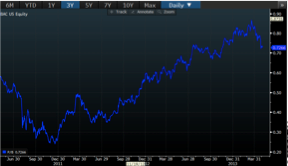 Image source: Bloomberg
Price/Free Cash Flow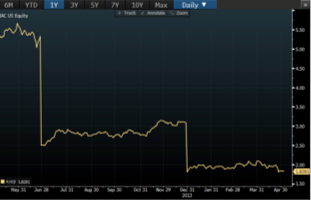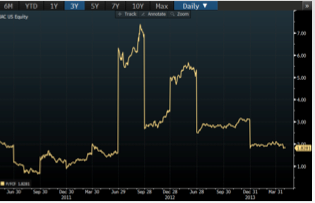 Image source: Bloomberg
BAC vs. 50 & 200 Moving Average

Click to enlarge
Image source: Bloomberg
Conclusion:
I am long BAC through call options. I own January 2016 strike $12 calls, and the more speculative January 2015 strike $20 calls. With macroeconomic conditions improving, a bull market that seems to not want to give way and BAC's own internal conditions improving, I think the stock has room to run. I would be surprised if the stock price did not move up to at least $21/22 by the end of 2014. I hope you enjoyed my analysis.
Disclosure: The author is long BAC. The author wrote this article themselves, and it expresses their own opinions. The author is not receiving compensation for it (other than from Seeking Alpha). The author has no business relationship with any company whose stock is mentioned in this article.