The European Central Bank (ECB) took action last week to increase bank liquidity and lending with hopes of stimulating the economy and fighting deflation. There were a couple of key points from Mario Draghi's comments that investors should be aware of:
The ECB cut rates on all three policy rates and became one of the first major central banks to have a negative deposit rate. This means that banks, which are keeping excess cash at the ECB, will have to pay them to do so.
Short-Term and Long-Term liquidity will remain high given the new Targeted Long-Term Refinancing Option (TLTRO) and the fixed rate full allotment procedure. These are in place to support bank lending to households and non-financial corporations
The ECB stated that they are preparing for quantitative easing with a potential purchase program of Asset backed Securities (NYSE:ABS).
In 2013 we saw countries that had heavy stimulus and central bank activity provide the strongest equity market returns. While the ECB continues and prepares to take more action, we think that certain countries within in the EU provide a much more meaningful return opportunity than taking an indexed approach to the entire region. Europe ETFs have already attracted more than $10 billion this year. That's more than 20 percent of all inflows going into a category that makes up 3 percent of all ETF assets. According to Bloomberg, European ETFs have attracted $27 billion over the last 12 months. As news of the ECB actions work their way into investment portfolios, we think that a second round of flows into Europe will follow.
Price momentum should be reviewed carefully
The flow to European ETFs picked up significant momentum in the second half of 2013 following a spike in performance. As we look over the last 12 months of returns from EU countries, it is important to note that Spain (NYSEARCA:EWP) and Italy (NYSEARCA:EWI) have significantly outperformed the rest of the EU, while. Austria (NYSEARCA:EWO) and Poland (NYSEARCA:EPOL) have been the biggest laggards.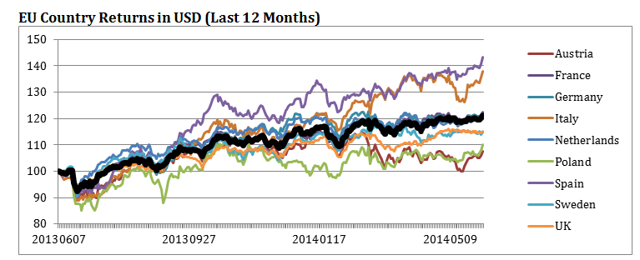 Valuations and Fundamentals need to be considered
I hear from a lot of investors that Europe still offers a good 'value' opportunity. While it is true that the EU trades at a slight discount to the MSCI ACWI Index and the MSCI USA Index, each country within the region is not a good 'value' opportunity. As a result of great performance, Italy is the most expensive country we rank in the EU. In addition to a rich valuation, the country has significantly weaker fundamentals than the region as a whole. In the chart below (sorted by performance over the last 12 months), it is easy to visualize both the disparity in returns, as well as PE and ROE within the region.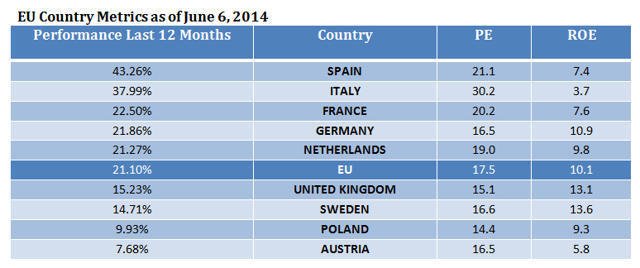 Investment Implications
Given the differences on a country by country basis, we believe that taking a single-county approach offers investors the best way to access the EU. Taking the multi-factor approach used in David Garff's whitepaper helps us determine which countries offer the best relative attractiveness. The June rankings of the EU countries are below, while the full rankings are available here. Based on the current rankings we think that Spain, Sweden (NYSEARCA:EWD), and the United Kingdom (NASDAQ:FKU) (NYSEARCA:EWU) have the most potential to benefit from ongoing ECB actions and potential QE. Furthermore, it is important to note that, of these top 3 ECB member countries, Spain is the only one that is Euro-based.

Disclosures
This article is strictly informational and should be used for research use only. This article should not be construed as advertising material. The opinions expressed are not intended to provide investing or other advice or guidance with respect to the matters addressed in this brochure. All relevant facts, including individual circumstances, need to be considered by the reader to arrive at investment conclusions to comply with matters addressed in this article. Charts and information are sourced from Accuvest Global Advisors and the MSCI, unless otherwise noted. Remember that investing involves risks, as the value of your investment will fluctuate over time and you may gain or lose money. You should seek advice from your financial adviser before making investment decisions. Investment risks are borne solely by the investor and not by AGA. AGA is an independent investment advisor registered with the SEC. All disclosures, marketing brochures, and supplemental firm sheets are available upon request.
Disclosure: The author is long EWP, EWU, EWD, FKU, EWI, EWO.
Business relationship disclosure: Accuvest Global Advisors is a registered investment advisor located in the San Francisco Bay Area. This article was written by David Allen, one of our portfolio managers. We are not receiving compensation to write this article and have no business relationship with any company mentioned in this article.