Intel (NASDAQ:INTC) is now showing its spurs. Today's upbeat forecast raising guidance will be the first of quite a few, in my opinion, and the stock is on the way to $40 over a year or two. The $700 million upward move in Q2 guidance reflects stronger demand for processors for personal computers, consistent with my often-repeated view that the personal computer market has bottomed and that users who want mobility and long battery life combined with real processing power will chuck their iPads in the bin of cute ideas and get a real computer powered by an Intel processor.
The bottom is in for Intel revenue as I see it, and investors can look forward to growth for the next few years. One contributor to that growth will be the very attractive Microsoft (NASDAQ:MSFT) Surface 3 tablet, which will begin to ship in the next few weeks. This is a real computer with a full range of Intel Core processors that combine excellent performance and low power consumption contributing to long battery life. I ordered a Core i5 version, and really can't wait to get my hands on it. I use the original Surface Pro daily and love the device, but a larger screen, longer battery life and lighter weight make up a compelling reason to upgrade.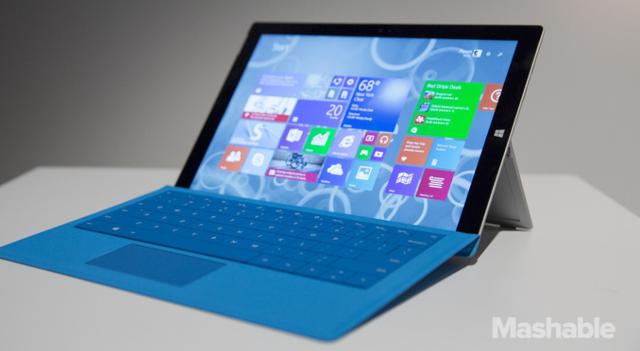 Source: Mashable
Look for Microsoft to move several million of these units before year-end, giving a nice boost to Intel and likely a bit of an elbow to iPad sales, which may feel the pinch more than most expect. Anyone who prefers the iPad to a Surface Pro 3 either has too much time on their hands with no real work to do, or can't muster the purchase price for the Surface device, at least as I see it.
At the same time, Intel is moving ahead relentlessly in the Android tablet space, with a spate of design wins with Asian assemblers and a creative deal with Rockchip to produce SoCs with integrated radios at very low prices for both tablets and smartphones. The deal follows a strategic alliance with Cloudera to penetrate the "big data" space, where the raw power of Intel processors provides unparalleled functionality, in my opinion. These aggressive steps are part of a new Intel under the dynamic leadership of CEO Brian Krzanich, who has already shown that he can lead, motivate and focus the giant company on key goals and make sure the company meets them.
I am upgrading my 2014 forecast for Intel somewhat, and now see $56 billion in revenues and $2.17 per share in net income.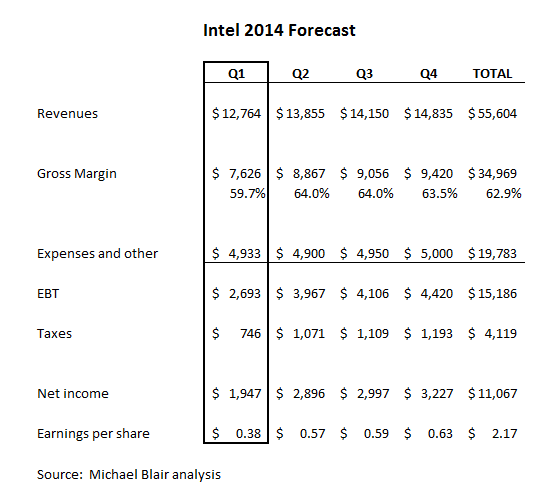 If I am correct, the stock should trend through $30 in the short term, and as the company reports continued progress in successive quarters and the market's confidence in Intel grows, I can see the stock moving into the $40s over time.
I have no current holding in Intel, but may re-enter the stock on any weakness.
Disclosure: The author has no positions in any stocks mentioned, but may initiate a long position in INTC, MSFT over the next 72 hours. The author wrote this article themselves, and it expresses their own opinions. The author is not receiving compensation for it (other than from Seeking Alpha). The author has no business relationship with any company whose stock is mentioned in this article.