By Sumit Roy
Natural gas was last trading up by more than 5 percent to $4.75/mmbtu after the Energy Information Administration reported that operators injected 107 billion cubic feet into storage last week, below the 110 to 113 bcf most analysts were expecting.
The latest injection was above last year's build of 95 bcf and above the five-year average build of 89 bcf.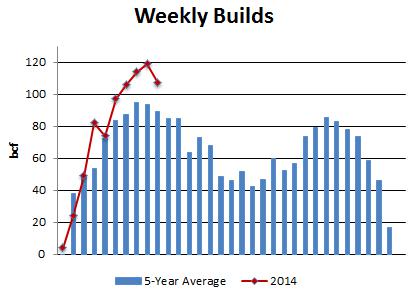 In turn, inventories now stand at 1,606 bcf, which is 741 bcf below the year-ago level and 869 bcf below the five-year average (calculated using a slightly different methodology than the EIA).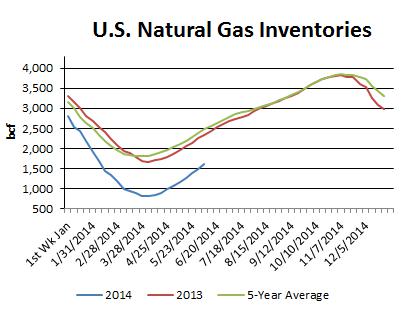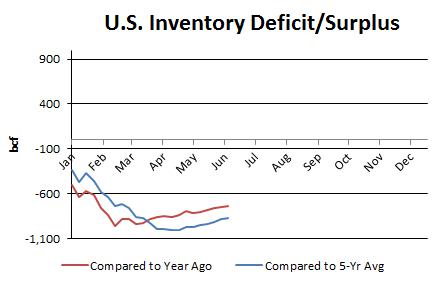 The weather last week was close to seasonal norms.
According to the Edison Electric Institute, utilities generated 79,562 GWh in the week ending June 7, up 4.6 percent from a year ago.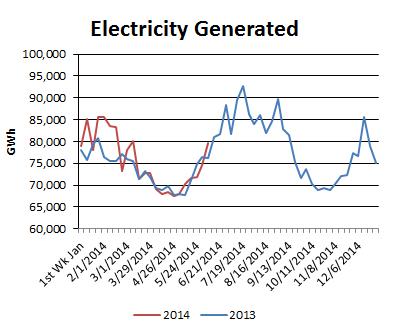 Looking forward, the NOAA's 6- to 10-day outlook calls for mixed weather across the country.
NOAA 6- TO 10-DAY OUTLOOK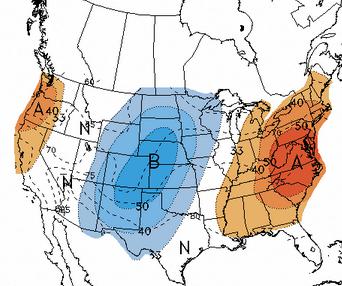 Meanwhile, Baker Hughes reported that the number of rigs drilling for natural gas in the U.S. fell by six to 320 last week.
Natural Gas Rig Count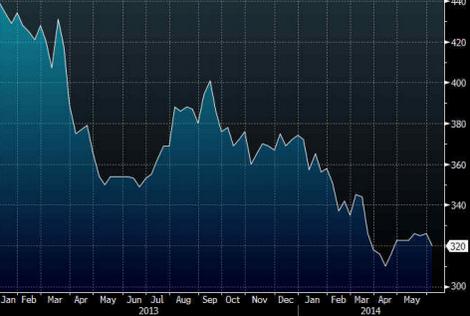 Natural Gas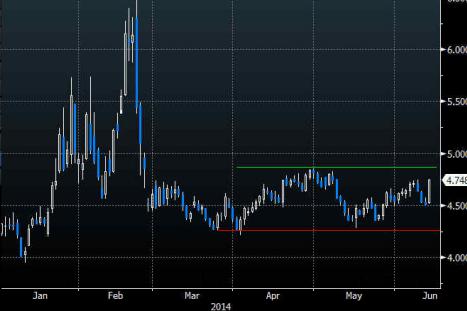 Bottom Line: The latest inventory data from the EIA were bullish, as the inventory deficit against the five-year average fell from 887 to 869 bcf and the deficit against last year fell from 753 to 741 bcf.
The latest build marks the fourth-straight weekly inventory increase exceeding 100 bcf (excluding the adjusted 105 bcf build reported in the week ending May 9). That's the longest stretch of triple-digit injections since a five-week period in the spring of 2009.
Clearly, the market is a bit looser than normal from a daily supply and demand perspective. However, it's not as loose as the bears may think. For example, this week's 107 bcf build was only 12 bcf more than the comparable week in 2013. Similarly, last week's 119 bcf build was only 8 bcf more than the comparable week in 2013.
Additional supply of 8 or 12 bcf per week is not enough to make up the massive 741 bcf inventory deficit. In that context, any bullish impetus can send prices spiking, just as we saw today.
From a technical perspective, natural gas is creeping up toward the important short-term resistance level at $4.80/mmbtu. We expect that any period of hotter-than-normal temperatures during the peak summer months of July and August will be enough to send prices through that barrier and above $5.