Thursday, when Intel (NASDAQ:INTC) raised its guidance, I had a feeling of "dejá vu". I had seen this story before. So I went back and dug up whatever instances I could find of Intel raising guidance in the last few years, particularly when Intel raised guidance between earnings reports.
What you are about to see will stun you. Even in a market where direction is dictated by your friendly central banker, the doubt that comes from seeing a stock seemingly always guessing the news leaves a mark.
As I said, the stock is Intel, and the news, of course, are the events where Intel raises guidance. What if someone knows about the news beforehand? Indeed, what if it seems that every time Intel raises guidance, someone always seems to know beforehand? Perhaps analysts just do an awesome job when covering Intel, but the fact is that I went back and checked 5 "raised guidance" events since 2005, and they all looked similar. This is what I found (Source for the charts: Yahoo Finance):
June 10, 2005 - Intel raises revenue forecast as global chip sales surge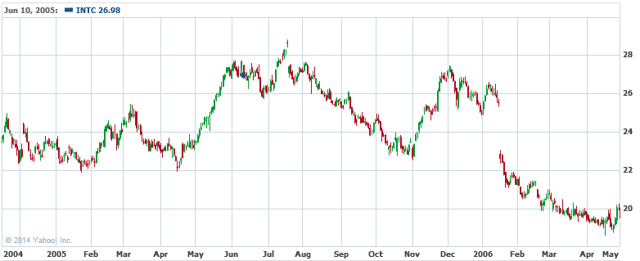 September 10, 2007 - Intel raises 3Q sales outlook by $200M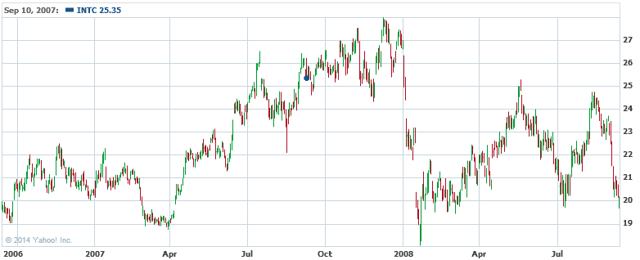 August 31, 2009 - Intel raises Q3 revenue guidance on increased demand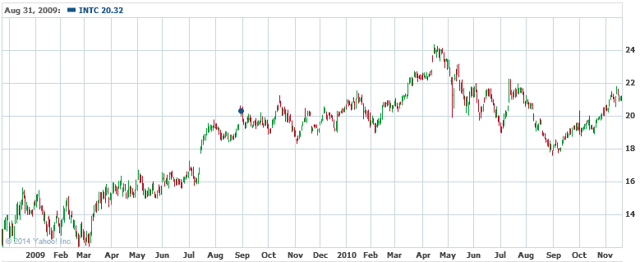 April 14, 2010 - Intel profit soars, raises guidance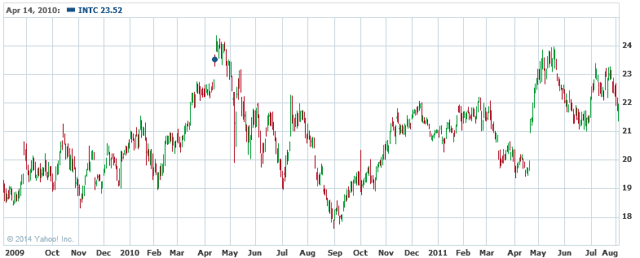 Thursday - Intel lifts revenue forecasts on business PC sales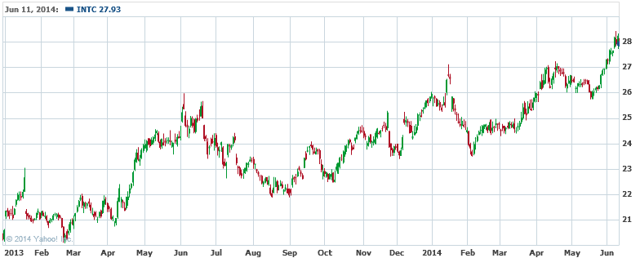 Conclusion
As can be seen, in every instance Intel rallied powerfully into the "unexpected" news. It makes one wonder if Intel isn't leaky or something.
The rally into the news has been so powerful that in every instance the stock stagnated or fell right after the news. Such consistent reaction does not bode well for yesterday's news. While a gap up tomorrow seems a certainty (given after-hours trading), the past pattern is for Intel to stagnate, or even more often, to drop quickly in the months ahead.
In short, be aware that historically Intel seems to have anticipated raised guidance to such an extent that no excess return remains after the initial reaction to the news. Indeed, if anything negative returns seem to expect those who react positively to raised guidance when it comes to Intel (which is in stark contrast to how positive surprises work, where the initial reaction usually doesn't fully discount the entire surprise).
Disclosure: The author has no positions in any stocks mentioned, and no plans to initiate any positions within the next 72 hours. The author wrote this article themselves, and it expresses their own opinions. The author is not receiving compensation for it (other than from Seeking Alpha). The author has no business relationship with any company whose stock is mentioned in this article.