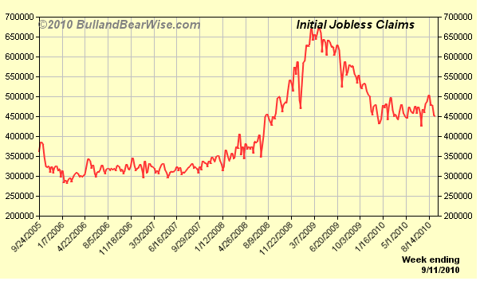 Click to enlargeThe market appears to be in some trouble to start the day as jobless claims came out higher than expected. This is okay for us. We are going to exit Bed, Bath, and Beyond (NASDAQ:BBBY) this morning. The stock is trading up over 4%. It has been pulled down some from the claims news, but 4% is nothing to be upset about at all. The news should also help pave the way for our Nabors (NYSE:NBR) position. We are looking to exit this one at 18.09 and below. Finally, our position in KB Homes (NYSE:KBH) looks as though it is going to suffer. I am going to start the morning by also DD on this one at the open. I am still very confident in home sales and do believe the stock will get a boost from them and its earnings.
Let's take a look at another new position for today…

Buy Pick of the Day: Novell Inc. (NASDAQ:NOVL)
Analysis: One stock this morning that is taking a serious plunge is Novell Inc. (NOVL). The company is facing a 7%+ drop to start the day after a week and a half of jumping over 15%. The company was hit hard by a combination of the weakness in the market and news that the company cannot find the buyer they want yet for their Netware division. The stock has been on a rise ever since the company announced that VMWare wanted to buy part of the company. It does not want to sell just its Linux part, however, and so it looks as though for the time being it has no complete buyer.
The drop though may be somewhat mitigated by the fact that the company' s rival Red Hat Inc. (NYSE:RHT) reported very solid earnings this morning with a 0.19 EPS vs 0.18 estimate and raised its quarterly forecast. The company is citing strength in the application software industry, and it should help to pull up companies in the industry. Further, the market is set to open at its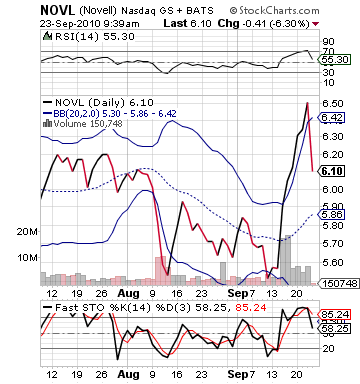 lowest level in weeks. The bulls should definitely see this as a buying opportunity for many stocks and a chance to rally again. No one wants to miss these rallies.
I am still confident in the housing news, which should also help the market. A 7%+ drop or rise is a big deal for any stock on any news, and it is typically met with some resistance at various levels. The stock's 20 day moving average is right at 5.90, and I think the stock should meet a lot of resistance around this level. If it can hold here, then it will be good for 2-3%. If it breaks through, it may not be able to hold this area very well. My thoughts are that despite the poor news the company is still a strong company with good fundamentals.
Technically, the stock had been flying very high as of late, and this pullback of 7% seems like the proper place to move to given the moving averages. The question is whether it will decline more or investors will see this as a buying opportunity. The stock was heavily overbought before today, so my guess is investors move right back into this one.
Try to get in early here.
Entry: We are looking to enter at 5.85 - 5.95.
Exit: We are looking exit on a 2-3% gain.
Stop Loss: 3% on bottom.