The prodigious spread of e-commerce in the past few years is remarkable. This shift in consumer buying habits has led to the prosperity of companies such as Amazon (NASDAQ:AMZN) and eBay (NASDAQ:EBAY). In the same vein, retailers have been some of the hardest hit and this has led to an extreme anathema by Wall Street. It has become a foregone conclusion that these companies will soon all fail. This sentiment has led to a decline in the stock prices of all these retailers. Although it is true that many turnaround plans by these frail companies are not working such as with RadioShack (NYSE:RSH), investors should not repudiate every company in this industry.
Best Buy (NYSE:BBY) is proof that a retailer can excel in this environment categorized by the ubiquitous use of the internet. This company was able to staunch losses in 2013 and the stock rose from a low of $11 a share to eclipse $40 by year-end. Further evidence of its success is shown by its increased dividend announced earlier this week.
E-commerce bulls have vociferously purported that retailers will not be able to compete on prices which will lead to their demise. This obtuse view does not consider the recent legislative changes. Websites such as Amazon no longer are exempt from sales tax, so the prices between these websites and brick and mortar stores are comparable. Further, the rising shipping costs provide a headwind to e-commerce companies.
With that being said, we will now consider the turnaround prospects of Office Depot Inc. (NYSE:ODP) which trades at just a fraction of what it did a few years ago, currently in the mid-$5 range.
About Office Depot
Office Depot is a global supplier of office products and services. The company operates in three business segments: North American Retail Division, North American Business Solutions Division, and an International Division. The company operates a network of distribution centers, crossdocks, and combination facilities across the United States. In November of 2013, the company merged with OfficeMax Inc. The combined company has annual sales of approximately $17 billion, more than 60,000 associates and serves customers in 58 countries with more than 2,000 retail stores.
Creating a Lean Enterprise
In the past few years, the company faced stagnant revenue growth, with increasing costs, which produced many quarters of losses. However, management has implemented a cost cutting plan that has resulted in a profitable, lean enterprise. With the merger with OfficeMax, the company is positioned to benefit from a series of synergies. Management expects more than $675 million in annualized cost synergies by 2016. Overall, in 2014 alone, savings from synergies are expected to be $180 million - $50 million from purchasing synergies and $130 million from SG&A expense reduction. Additionally, the company holds tax loss benefits that will mitigate taxes in the coming quarters.
Operating Results
The first quarter in which the two companies, Office Depot and OfficeMax, were merged resulted in profits. It is clear that the realization of synergies and turnaround plan that management has initiated is working. Overall, adjusted operating income rose to $72 million compared to the $54 million pro forma in Q1 of 2013. However, the profitability of this company is not being recognized by Wall Street as there were a number of one-time expenses that made the quarter look unprofitable on a GAAP reconciliation. Merger costs of $101 million, and several asset impairments of $50 million, related to the merger made the quarter seem unprofitable. These charges will not occur again, and investors will soon recognize this company for what it is, lean and profitable.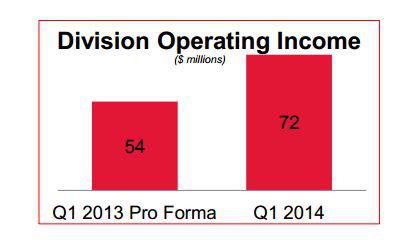 Source: Investor Presentation
Strong Balance Sheet
Office Depot has a strong balance sheet. The current ratio stands at a solid 1.56, and overall, from Q4 of 2013 to Q1 of 2014, total liabilities declined by nearly $300 million. Inventories, which can provide significant impairment expenses to a company, also declined over the quarter, which is a positive signal. With a return to profitability, the balance sheet is set to further improve.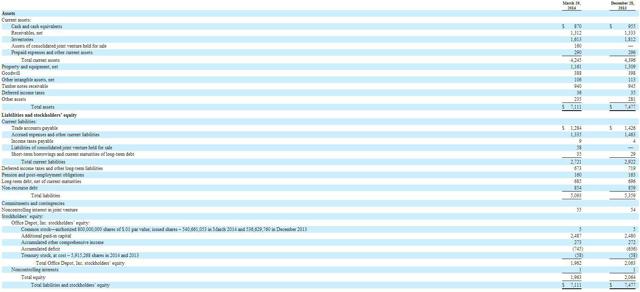 Source: 10Q
Trading Level Compared to Assets
Office Depot is significantly undervalued when compared to the actual assets of the company. As of the most recent quarter, Office Depot held roughly $7 billion in total assets. When compared to its market capitalization, ODP trades at merely 0.41x its assets.
Since some of those assets aren't that liquid, we will take a look at ODP's trading level with respect to just its most liquid assets. ODP trades at just 0.68x its current assets. It is worth mentioning that none of its property is considered in current assets. Inventories which aren't extremely liquid are included in that calculation, so we will remove them. When just its most liquid assets are considered, ODP still only trades at 1.1x that level.
The most telling figure that represents the true value of this company is the trading level compared to its cash. Even as a profitable company, Office Depot only trades at 3.35x its cash position. To put that into perspective, Amazon trades at more than 18x its cash position, and only had around 30% more net income (on a non-GAAP basis). Although the companies are vastly different, and it is comparing apples to oranges, it does give you some indication of the value found in Office Depot.
With positive cash flow expected with a return to profitability, this trading level is absurd.
Trading Level Compared to Peers
The peers that we will compare Office Depot to are Staples (NASDAQ:SPLS) and Best Buy. Due to one-time charges, on a GAAP basis, Office Depot had a negative quarter, so the price to earnings ratio will not be comparable across this group. For that reason, we will use price to sales to get a picture of comparative value. On this basis, ODP is egregiously undervalued versus the peer group. Based on Staples' trading range, nearly 70% upside should be expected. This ratio alone does not justify an investment. Office Depot's business could be in worse condition than the comparison companies, and the discount could be warranted, so we must dive deeper.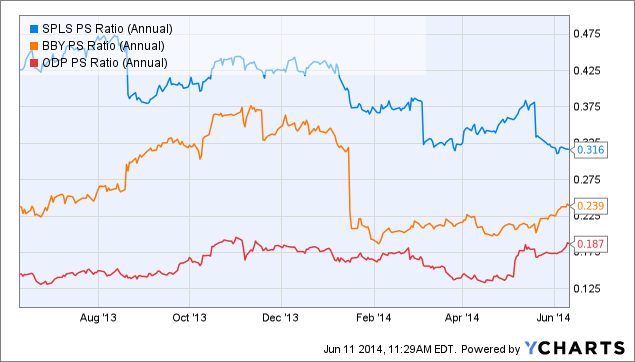 Now we will examine the health of each business, and determine if the discount is rational. The first ratio we will turn to is the gross profit margin. Based on this metric, ODP is right in line with the peer group. Although gross profit margin does not give the entire picture, net profit margin ultimately flows from it, so they are paramount. Further, management expects to improve upon this as the combined buying power from this larger company will result in a lower cost of goods sold.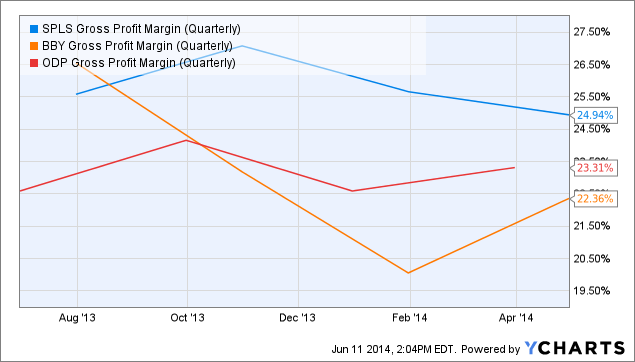 Even though the margins are comparable and steady, revenue could be falling, which would be a red flag. However, upon reviewing the data, this is not the case, and in fact, ODP is the only one in the peer group to have rising revenue. This revenue increase is driven by the merger with OfficeMax, but with gross profit margin expansion, it is certainly a positive. The synergies are allowing the entity to boost its buying power and decrease its cost of goods sold. The reason net profit margins are not compared is because one-time expenses held down profitability, and those ratios would not give a valid indication of the condition of the business. But with the return to profitability, if one-time charges are excluded, it is clear that the synergies are leading to improving net profit margins. The acquisition is certainly accretive.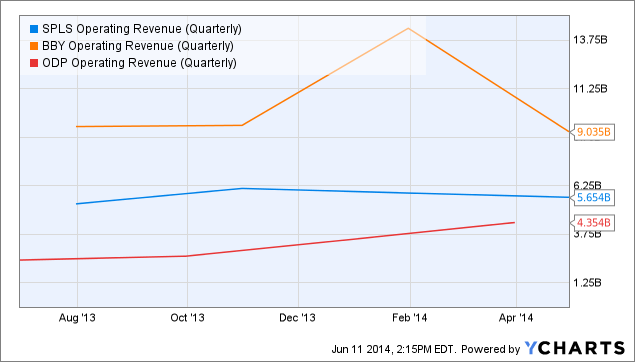 Another method of overviewing the health of a retailer is to examine its inventory turnover ratio. This ratio is essential because a slowing inventory turnover ratio could indicate a bad product assortment. Office Depot has a superior inventory turnover to its peer group, and has experienced an uptick in recent quarters.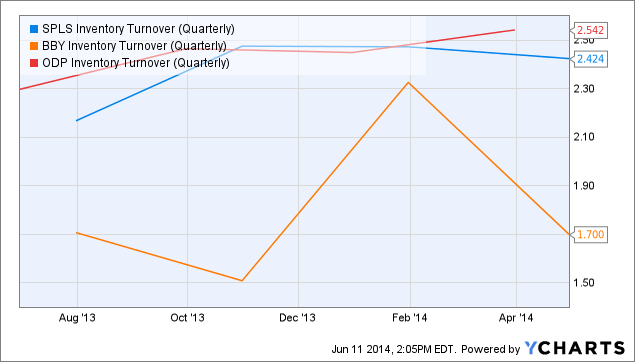 So after reviewing the strength of each respective business, it is clear that Office Depot does not warrant a discount, and its business is actually improving relative to competitors. So now we will determine if there is an inherent risk associated with this investment due to a large debt level that it must service. Nonetheless, ODP actually has a higher quick ratio than each component of the peer group, and there is no reason for Office Depot trading at this discount.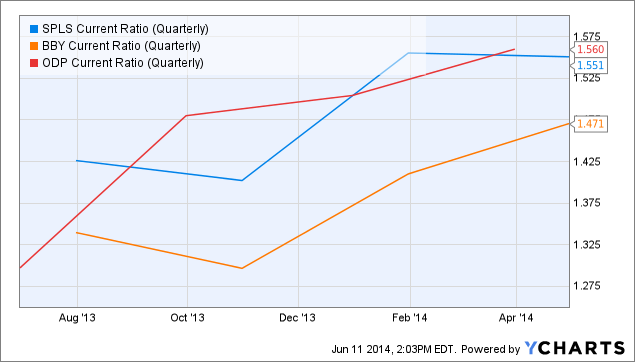 Other Notable Positive Catalysts
There are innumerable reasons for "insiders" to sell shares in their company. However, there is only one reason for them to purchase shares - they think the shares are undervalued. In mid-March, six directors, along with the CEO & Chairman, bought a significant amount of shares. Those purchases should speak volumes about Office Depot's future outlook. Another positive worth mentioning is the recent upgrade by Goldman Sachs. They increased their price target to $7 and cited the merger as the catalyst.
"We see a significant opportunity for ODP to deliver impressive earnings growth in 2014-2016 from the merger integration and a broader cost- cutting initiative, off an exceptionally low margin base."

Source: Street Insider
Final Remarks
The retail industry has experienced a veritable price decline in retailers' stock prices. Many of these companies deserve this pessimistic outlook, but as with most heuristics, there are errors and outliers. Wall Street recognized Best Buy as an aberration and it is set to do the same with Office Depot. The merger with OfficeMax has returned this company to profitability, and soon Wall Street will realize this egregiously low valuation.
Disclosure: The author is long ODP. The author wrote this article themselves, and it expresses their own opinions. The author is not receiving compensation for it (other than from Seeking Alpha). The author has no business relationship with any company whose stock is mentioned in this article.