There was a recent article on SA that compelled me to download the list of the S&P 500 Dividend Aristocrats. On this list are companies in the index that have paid consistent and increasing dividends over the last 25 years. There are currently 54 companies on the list.
In the past couple of years, there have been numerous articles on SA extolling the virtues of dividend growth investing (DGI). Under this investment theory, one buys a stock that is fundamentally secure, fairly priced (or undervalued), expected to grow earnings and, most important of all, pays a dividend that is expected to grow. Many DGIers then reinvest these dividends into the same stock compounding their (hopeful) returns. Proponents of DGI have written some of the most successful articles on SA, with some ideas on stocks that, if bought today, will give investors long-term growth and supply income for retirement.
This surge in DGI has caused a significant price increase in the stocks that fit the DGI bill, which can be seen by looking at the current Aristocrat list. The average P/E ratio for the list is currently 22. If you take a closer look at the individual stocks, you will find that many of these stocks are selling at P/Es higher than their historical average. This may be an indication that prices for these "blue chips" are being bid up higher than their intrinsic value. In Security Analysis Benjamin Graham warns against buying stocks above 20x earnings (2nd ed. page 532-534).
In 1938, after the Great Depression, many investors were doing exactly what today's DGIers are trying to do. Investors were buying well-known stocks that were proven to have a great track record of earnings and dividends. Graham points out that, by buying these stocks, the public had bid them up to prices that no longer made them investments; instead they entered the speculative realm. Here is a table that Graham gives readers -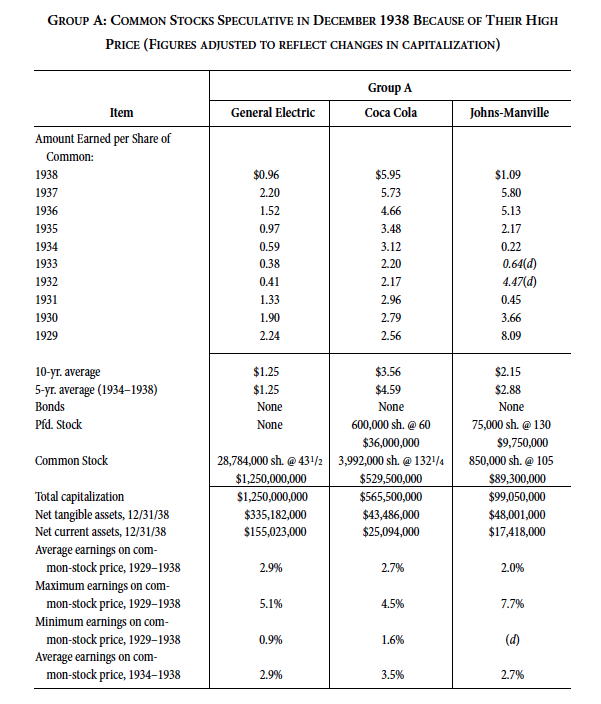 From the table you can see that Coca-Cola (NYSE:KO) was selling quite high compared to its earnings. In fact, in 1938, it had a P/E of 22, not much higher than today. You can also see that KO was priced very high compared to its average earnings. Because of these factors, Graham said that KO was speculative, despite its strong fundamentals and being known as a "conservative" investment.
Readers shouldn't take this to mean that I think KO is a bad investment at this time. (Coke's P/E on its 5 and 10 yr. averages in 1938 were significantly higher than they are today.) Nor should readers think that I oppose the DGI theory. In fact, I rather like the theory; I too enjoy collecting dividends. Further, if those dividends grow to give me an even greater yield to my cost, that would be great. The only part I disagree with is when DGIers don't look at the price. It's fine to try to pick stocks that pay dividends that you think will grow, but investors must keep in mind that price is paramount.
With that said, I would like to explore the 6 stocks in the Aristocrat list that have P/E ratios below 15. The question is are these stocks undervalued, both on an individual basis and relative to peers, or do their low P/E ratios reflect fundamental weaknesses? The point of contention is whether these stocks would be a good investment or if they are the rejects of the Aristocrats for a legitimate reason. I will not be doing an in-depth analysis on these stocks. Instead, I will be taking a quick look at each of these six to determine if any of them deserve a closer look.
The six stocks that currently have P/Es below 15 are:
Aflac (NYSE:AFL), AT&T (NYSE:T), Chevron (NYSE:CVX), Chubb Corp (NYSE:CB), Con. Ed. (NYSE:ED) and Exxon Mobil (NYSE:XOM).
As this chart shows, these 6 stocks have underperformed since 2012 relative to the S&P 500.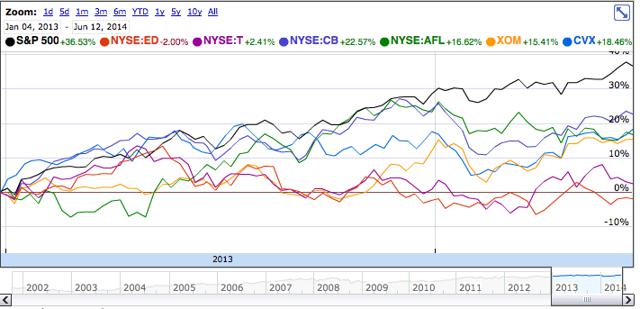 Let's start with Exxon and Chevron:
CVX and XOM - Both are great companies. At first glance the reason for their low P/E ratios compared to the other Aristocrats is due to their historical P/E. They are both currently trading at a multiple higher than their 10 yr. averages. This logic falls away when one realizes that many of the other Aristocrats are above their historical average ratios as well. Obviously both stocks are sporting lower P/E ratios due to some other reason.
The most logical reason is that both companies reported a large dip in earnings in 2013 compared to 2012 without their shares taking a hit. This would explain why both stocks are at high P/Es compared to their history yet at low P/Es compared to other Aristocrats.
Another reason XOM may have a low P/E is due to its low dividend yield compared to other oil & gas companies (see here).
Either way you look at it, both CVX and XOM are great companies that have strong fundamentals and would make good long-term investments.
Up next are Aflac and Chubb. Both companies are insurers but on different ends of the spectrum.
While Aflac's P/E is quite low, even relative to its peers, Chubb's is about average with other property & casualty stocks. What is most similar about both stocks is that they are selling well above their book value, much higher than their competitors, which may explain why investors are hesitant to bid the price up even further. (In the financial sector investments make up the bulk of the assets and are marked-to-market. This results in investors keeping prices close to the companies' book value since it is a real indicator of the enterprises' fair value.) Both insurers seem to have an underwriting profit, something that is difficult to achieve. This fact gives their earnings a stability that many other insurers don't have.
There have been numerous articles on SA extolling the attractiveness of AFL for the long term, but the best one I've seen is here. An article showing why CB may currently be a good buy can be found here.
That leaves AT&T and Con Ed:
These two have nothing in common. While ED is a utility, I like to look at it as a delivery service. They deliver utilities to customers regardless of who the customer buys the actual electricity from. AT&T is a telecommunications company that is all about building a network that will work better, faster and cheaper than their competitors. Actually, after writing these last sentences I guess they do have something in common. They are both about building tangible infrastructures that deliver a product to the end user, whether that product is content or electricity.
AT&T is a puzzle for investors. Stiff competition, rising debt, and acquiring DirectTV has put pressure on the stock, causing it to sport a 5.25% dividend yield. A great article on the pros and cons of AT&T can be found here.
ED is a personal favorite of mine, even though I don't own any shares. I believe that due to the regulatory nature and barriers to entry around utilities, ED is going to be here for many years to come; along with its very nice dividend yield of 4.59% (and rising). During the financial crises, investors scrambled for defensive stocks and the shares of ED soared. However, since 2012 it's down 15%, even though nothing about the business has changed. The only bad thing that I can point to in ED is its erratic FCF. Due to the high cost of infrastructure, this is something that can't be avoided. However, Con Ed is allowed to pass on these costs to the consumer, so there is no fear of not recouping the CapEx. One of the best parts of ED is that over time it is guaranteed to have an ROE close to 10% due to the regulatory nature of the business.
Conclusion
Of course, the P/E ratio shouldn't be the only metric that investors look at when investing but it is a good way to screen for stocks. While each of these stocks has a legitimate reason for underperforming and having low P/Es, I think that some of them are good options for long-term investors. My choices would be CVX, AFL and ED (perhaps I will try to do something more in-depth on these in future). They are all great stocks to own for the following 3 reasons:
Great future prospects for any of these enterprises.
Great companies selling at fair price or better.
Great dividend yield and history of raising their dividends each year.
If you are a DGI or an investor who likes capital gains while collecting dividends, I would suggest taking a closer look at any of these six stocks.
Good luck!
Disclosure: The author is long CVX. The author wrote this article themselves, and it expresses their own opinions. The author is not receiving compensation for it (other than from Seeking Alpha). The author has no business relationship with any company whose stock is mentioned in this article.
Additional disclosure: I may initiate a position in ED and AFL over the next 72 hours.