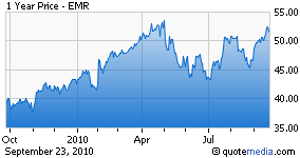 Emerson Electric (EMR) was founded in 1890 and started working on becoming an S&P 500 Dividend Aristocrat in 1956. 2010 is the 54th consecutive year that the annual dividend has been increased, a record very few companies can match. During that stretch, EPS increased in almost all years (I'm using a company graph as the source). There were 2 EPS setbacks in this decade (last year was the major one). But there were no setbacks in dividends. EMR is a diversified global technology company engaged in designing and supplying product technology with over 60 businesses that operate through 5 business segments.
The recession in 2009 hit EMR very hard, worse than the company's most pessimistic scenarios. EPS declined 26% to $2.27 on a 16% decline in sales. In FY2010, the company is rebounding. Q3 sales rose 11% to $5.6 billion and EPS jumped 51% (off a depressed level) to 77¢. Gross profit margin increased from 36.1% to 39.2% and operating profit margins increased to 18.0% versus 14.7% last year. Pretax margin improved from 10.9% to 15.7%. Below are division results for FY2010:
Nine Months Ended June 30 (millions of dollars):

.........................................2009.......2010

Sales
Process Management__$4,512__$4,321
Industrial Automation___2,876__2,699
Network Power________4,095__4,150
Climate Technologies___2,284___2,798
Appliance and Tools____2,269___2,341
16,036 16,309

Earnings
Process Management___$776____$768
Industrial Automation____313_____301
Network Power_________397_____545
Climate Technologies____258_____497
Appliance and Tools_____248_____396
$1,992 $2,507
After Q3 results were reported, management raised guidance for FY2010 EPS to $2.60-2.70 (comparable to 2008 EPS but below the record results of $3.11 last year). EMR said "We delivered substantial improvements in sales, profits and margins during the quarter (Q3) and have positive momentum globally as we finish out our fiscal year." Analysts are estimating EPS will rise 20% to $3.23 in FY2011, good enough for a new record. The company added that economic recovery is slower than in previous economic cycles and a steady recovery may continue for the next several years. EMR is committed to 5-7% underlying sales growth over for the long term.
Financials are strong. Long term debt is half of equity. Operating cash flow for the 9 months in FY2010 was $2 billion, up 17%, primarily driven by increased earnings. The company made a substantial increase in short term borrowings to buy Chloride Group, Britain's biggest maker of gear to protect against power outages, for $1½ billion. EMR buys treasury stock although in the first 3 quarters of FY2010 reduced its stock purchases to $71 million (90% below the prior year) because of the acquisition.
A very long track record of increasing dividends and EPS growth with only minimal pauses is impressive. In all fairness, the dividend streak does not guarantee the future. Last year, prominent Dividend Aristocrats such as General Electric (GE), Pfizer (PFE) and Masco (MAS) ended very long streaks. But strong finances of EMR and the ability to limit damage done by a severe recession let the company increase the dividend modestly in 2009. After FY2010 results are reported, the dividend increase will be announced in Q4. Until EPS reaches new record levels, annual increases should be limited to 2c or 4c.
EMR has a direct investment program, allowing new investors to purchase their first shares in the company and for reinvesting dividends. EMR publishes an old fashioned annual with 54 pages. I like that because it helps explain what the company does, and, for these businesses, is needed. The yield for EMR has fallen below 3% with its rising stock price. Dividend Aristocrats with higher yields, such as Johnson & Johnson (JNJ) and McDonald's (MCD), have an immediate advantage. But a pullback in the stock price of EMR will raise the yield, making for a more attractive entry point.
Disclosure: No positions