Chesapeake Energy (NYSE:CHK) is a former mostly natural gas E&P that has in the last few years converted itself into a major US liquids (oil and NGLs) producer. As part of that process, it has journeyed back from the brink of financial disaster to be a strong firm that is nearing investment grade credit. On May 20, 2014 CHK received its latest credit rating upgrade from Moody's of its Corporate Family Rating (CFR) to Ba1 from Ba2. CHK's senior unsecured notes ratings were upgraded from Ba3 to Ba1. Ba1 is the highest non-investment grade corporate bond rating Moody's gives. This raise is very positive for CHK's credit and its stock price. CHK's financing costs have fallen more than 20% since 2012E. Its weighted average cost of debt has fallen from 5.9% to 5.1%. This is incredibly positive; and it is saving CHK literally hundreds of millions of dollars per year (about $250 million).
Of course, the above cited credit improvement has resulted from strong performance by CHK, and that is continuing. Even in the week between the release of the Q1 2014 earnings results and the Analyst Day a week later, CHK substantially raised its FY2014 production outlook, while simultaneously announcing its intent to sell some producing assets. To clarify, the growth is relative to the adjusted growth of FY2013 (adjusted for asset sales). The table below summarizes these raises to production guidance for FY2014.

These increases are quite substantial; and they should add significantly to CHK's near term and long term income increases. For instance, the oil adjustment amounted to approximately 1 million barrels of oil for FY2014 utilizing the midpoint of both ranges (the prior range and the new Analyst Day range). At roughly $100/barrel, that's $100 million in added income from the raise in oil production guidance alone. The raise in NGLs production guidance was approximately 5% compared to the approximately 3% raise in oil production guidance. This would bring the increase in revenue to roughly +$140 million just for that intervening week. FY2014E production is now expected to be 239-246 million Boe in adjusted production with liquids expected to be approximately 30% of production.
During the same period, CHK expects to decrease debt by about 10% and net leverage by about 30% (about -$6.2B in the last two years). CHK also decreased total CapEx for FY2014 simultaneously to a $5B-$5.4B range. Unfortunately, Operating Cash Flow fell by a midpoint of $250 million due to expected asset sales. Still this seems like a small price to pay, especially since it will essentially be regained longer term as production increases later in the year. When you consider total CapEx was down by 53% year over year in Q1 2014 (and supposed to go down further in FY2014), these results are fantastic.
Further the expected asset sales were clarified on Analyst Day. CHK now expects to have approximately $4B in asset sales in FY2014. It had $925 million in sales by the end of Q1 2014. It will add a number of further sales that should not only lead to lower debt, but they will get rid of complexity in CHK's financial structure.
The spin-off of Chesapeake oilfield services is expected to be tax free to stockholders. It is expected to reduce consolidated debt by $1.1B. About $400 million will be applied to repay intercompany debt. The sale of CHK Cleveland Tonkawa LLC, East Texas, South Texas, and SW Oklahoma will lead to a $1.0B reduction in subsidiary preferred (NCI) and elimination of about $160 million ORRI obligation. It will transfer VPPs (Volumetric Production Payments) #5 and #6 with the South Texas and East Texas assets. It will bring in net cash proceeds of $225 million. Finally the sale of 28,000 acres of non-core acreage in Southwest PA and Northern PRB will bring in proceeds of $290 million. Analysts should like the decrease in debt and decrease in complexity very much; and that may mean they will like CHK more.
One of the most impressive charts of CHK performance I have seen is the following one of Return on Capital Employed (ROCE).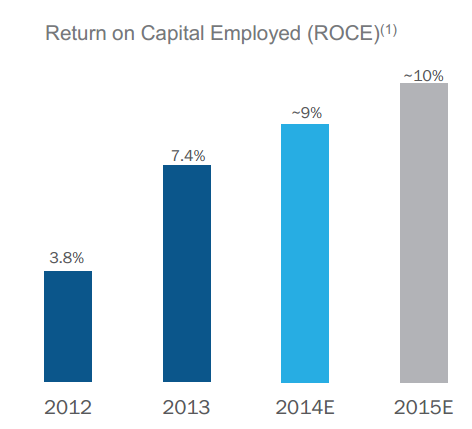 The growth in this area seems sure to push CHK into the investment grade debt category soon.
Now with the latest events in Ukraine and Iraq world oil prices are rising. The latest trouble in Iraq is recently being called Iraq War III. Hundreds of thousands of civilians have fled their homes. Mosul is a ghost town; and it is Iraq's second largest city. Between June 6 and 9, 2014 the city of 1.8 million people was overrun by the Islamic State of Iraq and al-Sham (ISIS) - an al Qaeda affiliate. ISIS forces seized the Baiji refinery, the main refinery of Iraq. It is easy to see which way this war is being directed.
To add to these troubles, Russian tanks crossed into Ukraine on June 12, 2014. It is unclear where exactly all of this is heading, but Putin does not seem to be backing down at all. What remains true is that each new imperialist action seems to spur oil prices upward. This situation along with the Iraq War III may see oil prices rise considerably. Those prices may stay high for most of 2014. Natural gas prices and NGLs prices may rise in sympathy. If this happens CHK stands to benefit greatly.
CHK has 64% of its natural gas hedged for 2014. It has 70% of its oil production hedged for 2013. That leaves 36% and 30% respectively that are unhedged. These production items' revenues would go straight up along with US and world prices. If prices go up 10% to 20% for an appreciable amount of time, this could mean hundreds of millions in added revenues for CHK. If you add the approximately $140 million in extra revenue from the Analyst Day guidance revisions, you might end up with another $500 million or so in unexpected revenues. That could push the stock price up another 10% or more. That makes CHK a buy, if it wasn't already.
The two year chart of CHK provides some technical direction for this trade.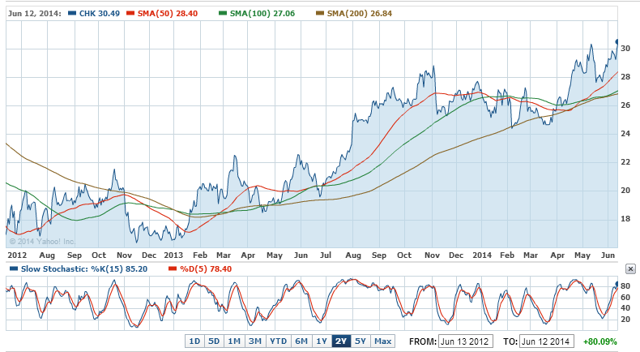 The slow stochastic sub chart shows that CHK is at overbought levels. The main chart shows that CHK is in an uptrend. The Q1 earnings report, the Analyst Day raise in guidance, and the problems in Ukraine and Iraq that are pushing oil prices upward, are all positive for CHK's stock price. Extra unexpected revenues may even lead to CHK doing more development faster due to the extra money. This would be even more positive. Further the company is a long-term buy. It has tremendous assets that should pay off as they are developed. The stock price may be a bit overextended at this time; but it may also be at a breakout point. The news has all been positive for this US oil and gas producer. Companies with assets in Iraq may need to worry; but CHK should just benefit from that worry. CHK is a buy both short term and long term. I especially like it with a long term horizon.
Insiders like CHK too. They have bought +5.8% more stock over the last 6 months. Analysts give it a next 5 years EPS growth estimate per annum of 35.03%. That makes its current PE of 23.97 more than reasonable. In fact in a good market investors could easily see that rise to 35 to match the long-term growth rate. CHK is a buy. CAPS agrees with a four star rating (a buy).
NOTE: Some of the above fundamental financial information is from Yahoo Finance.
Good Luck Trading.
Disclosure: The author has no positions in any stocks mentioned, but may initiate a long position in CHK over the next 72 hours. The author wrote this article themselves, and it expresses their own opinions. The author is not receiving compensation for it (other than from Seeking Alpha). The author has no business relationship with any company whose stock is mentioned in this article.