Mike Norman, anchor, HardAssetsInvestor.com (Norman): Hello everybody, and welcome back to HardAssetsInvestor.com. I'm Mike Norman, your host, here with the second part of my interview with Matt McCall, president of Penn Financial Group.
Well, last time we spoke, we talked about the metals: gold, silver. Let's talk a little bit about the soft commodities: agriculture. How are those doing? What's your outlook for those?
Matt McCall, president, Penn Financial Group (McCall): Actually, my outlook is probably even a little better for them, because they're not as popular, so you don't have the individual investor really piling into buying cotton.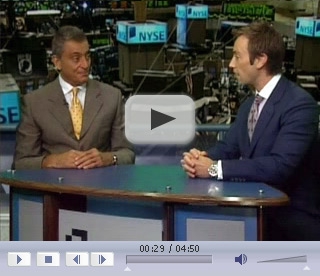 But, believe it or not, there's an ETF out there – BAL is the symbol. You can buy cotton futures. It's been on a tear. I mean, it's been going crazy.
Norman: Really?
McCall: Cotton's been going up. You take a look at coffee: The symbol JO has been doing very well also; some of the agriculture – wheat, corn, soybeans, you name it. There's actually a story behind this, too. It's not just this gold frenzy. A lot of these commodities have stories behind them, where we've been hit by such crazy weather all around this world. Just this last summer in Russia, one of the worst droughts we have had – heat waves – crushed the wheat supply. Two years ago, the worst drought in a century in Australia, ruined the wheat supply. We see that here in the US too. So, you have this supply issue. But, at the same time, demand's picking up as the middle class grows around this world, especially in the emerging markets. So this is actually, again, fundamentally sound supply/demand, and simple economics tells us, prices will move higher.
Norman: Now, you do a lot of ETFs. And I think there is one element of the ETF structure that a lot of people don't understand. And that's, if it's based on a commodity where you have a positive curve in the term structure, in other words, a contango, where spot prices are lower than futures prices, that ETF is going to have what's called a roll cost because they're buying the front month. And every month, they have to roll in. But that's at a higher price. So, while the commodity might be going up, people are thinking, "Oh, this is great," they're watching their ETF. And it's not doing anything because it's incurring that roll cost. How do you look for that? How do you avoid getting into that situation?
McCall: Well, it's tough for, let's say, the BAL to cotton. I mean, it plays a front-month future. So, it has to roll out. UNG, the natural gas ETF that ran into a lot of problems. Last year when natural gas was going up, this ETF was going sideways, for that reason. It was a major contango. There is a new ETF that hit the markets in the last month. USCI is the symbol on it. And what they do is they take 27 commodities, all different types of areas. Each month they reallocate to 14. So, you're not having the contango issue because you may have coffee in allocation one month, but it's not the next month.
It's based on two professors from Yale that started this about 10 years ago. And you backtest it, and it's blown away every index, from equities to commodities. So, to me, it's going to change the landscape of investing commodities through ETFs. And, for an investor who says, "I want to have exposure to maybe some sugar or some gold," this is the best way to do it; they do it for you. It's not a black box, but they use something that's proven to pick those ETFs for you, or pick the commodities for you.
Norman: The whole universe of ETFs has just exploded. There is something like, what, 7,000 or more?
McCall: Well, there's over 1,000 now. And there's just as many in registration now, coming in.
Norman: What's the best way, if somebody is interested – and you gave some great examples – if somebody wants to go out there and research and look for commodity-specific ETFs; how do they go about doing it?
McCall: That's the problem. There's really no good free Web site out there right now. They have Web sites for each company: SPDRs, iShares, Van Eck. They'll give you information on their ETFs. But if you want to look outside of that, it's really very difficult. I mean, you can go to all the local financial … Yahoo (YHOO), Google (GOOG) – that type of stuff. But for somebody to really determine which commodity ETF is the best for you, that's why my firm's in place, to be honest with you. I hate to pump my firm, but we'll go through the commodity ETFs. And there's probably 50 of them out there right now. And you have to look at fees; you have to look at, like you said, Mike, is it just front-month contracts, or do they have four months of contracts?
Norman: Right.
McCall: And the individual investor doesn't know. They think they're investing in cotton. But really, that one-month future, they can get screwed. So it's very difficult, but they're booming. And what's nice is, instead of having to go open a futures account, you can actually do this for $9, whatever you pay to buy an ETF.
Norman: Right. It's a great way to get exposure. And I should mention that Van Eck is a sponsor of this show. So, we definitely want to let people know that. I want to thank Matt McCall, my guest, president of Penn Financial. If you want to find out some more about the products his firm offers, please look him up.
Disclosure: No positions