Shares of NQ Mobile (NYSE:NQ) slid Wednesday after fake tweets surfaced that NQ's auditor, PricewaterhouseCoopers ("PwC"), had resigned. Skevaboy, posted an image on Stocktwits of an email exchange from Kim Titus who is the Senior Director of Corporate Communication at NQ Mobile. Titus confirmed the tweets were indeed bogus and fake.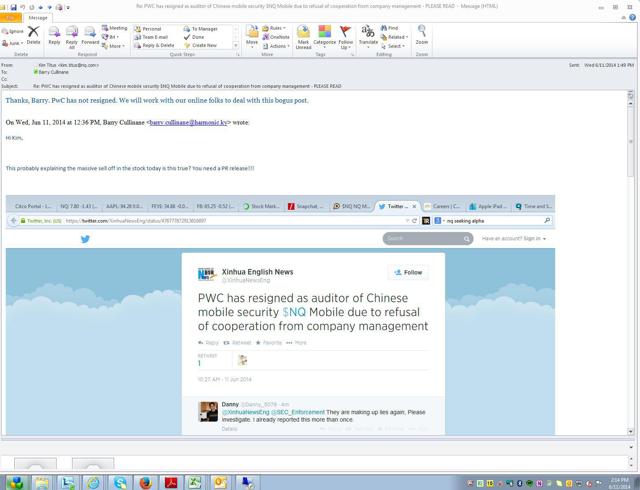 Click to enlarge
Although long investors would have liked to avoid Wednesday's terrible price action, the fake tweet provided a way for management to briefly talk with investors about the state of the 20-F filing, which we all know is of most importance.
On that note, I believe there were a couple of significant things that investors can take away from what happened Wednesday. So without further ado, here they are:
1) Fake Tweets - If investors have not heard of "short and distort" before, now is a good time as any to learn. Short and distort is an illegal practice employed by unethical investors. These "investors" spread all kinds of lies, false rumors and allegations in an attempt to drive down the price of shares and realize a profit.
In order to prevent yourself from being a victim, investors should always do their own due diligence and be critical of the authenticity of news from unidentified or unverified sources.
Has this happened before to NQ Mobile and did this just happen once again? Yes and Yes! That is why investors should always double check sources to make sure they are not being jerked around.
2) PwC Has Not Resigned - Over the last couple of days, shorts have been laying it on thick, saying things such as, "PwC has probably already resigned since it has taken this long." You don't have to take my word for it, here is an exact quote; "I'm getting more confident that my hunch was right and PwC already resigned however NQ just hasn't announced it."
Luckily for longs, management has clearly stated that PwC has not resigned and that they are working closely with them in order to get the 20-F out as quickly as possible. This of course destroys another short thesis and brings me to my next point.
3) 20-F, "No Timeline" - The Special Independent Committee's findings comprised of Shearman & Sterling LLP, an international law firm, as well as Deloitte & Touche, one of the "Big Four" Financial Advisory firms, found that no fraud was committed by NQ Mobile. This report sent shares soaring for the time being, until the news wore off and all eyes went back to focusing on the 20-F report and whether or not PwC gives the Company their seal of approval.
One thing that I believe the market is overreacting to at the moment, is the part of which NQ Mobile reported that it still has no timetable for filing its annual report. Investors therefore speculated that the report still has a long ways to go.
It makes sense for management to not issue a date for its annual report because it's out of their hands. Even though the Company is working closely with PwC, PwC has no timetable of when it has to report its findings. Management may have an idea of when the report will come out, but they would just be speculating and I think they learned their lesson the last time they tried to do that. This is why I don't believe the no timeline comments made by the Company is as big of an issue as some people are making it out to be.
Conclusion
With so much of the he said she said talk going on, there are two things that investors can all agree on. First, after seven months, nothing has been decided (fraud or no fraud), which means unfortunately for shareholders, the waiting game will continue to press on. Nevertheless, with no timetable set, news could come out at any point of time, which is why investors need to be on their toes.
Second, SA contributor Joe Williams put it nicely in his article when he said, "Both longs and shorts have had their reasons to "ignore & discredit" the things on one side and "believe & excuse" all things on the other side. I think one thing could be agreed on by both parties, which is that this has been going on long enough and both sides are short on patience."
Some will say that holding shares one way or another is pure gambling, and to a certain extent they are right. But at the same time, this is what the stock market is. Investors do their research and they bet on probabilities. Seeing as how none of Muddy Waters' claims has come to pass so far, the odds seem to be in the favor of longs at this point in time.
With no resignations from auditors or from management itself after seven months, I firmly believe that the probabilities of a positive outcome for NQ Mobile are far greater than not.
As always, I'm providing you with my track record and other particular stocks that I recommend. The link provided will show you all of my picks, how they have fared, and where I think they will be going in the near future. I think you will find my track record to be very impressive and useful.
Disclaimer: Investors are always reminded that before making any investment, you should do your own proper due diligence on any stock mentioned in this article. On that note, have a great day and as always, I look forward to hearing your thoughts or questions that you might have.
Disclosure: The author is long NQ. The author wrote this article themselves, and it expresses their own opinions. The author is not receiving compensation for it (other than from Seeking Alpha). The author has no business relationship with any company whose stock is mentioned in this article.