By Jeff Bailey
One of the cool things about Netflix (NASDAQ:NFLX) CEO Reed Hastings' regular letters to shareholders is his casual discussion of other big players in the television business.
Comcast (NASDAQ:CMCSA) is doing a great job for Netflix subscribers in terms of broadband performance, we're told in Hastings' latest missive, issued April 21 with the release of first-quarter earnings. But Hastings opposes Comcast's proposed $70 billion acquisition of Time Warner Cable (TWC), he explains, because the combination would be too powerful, with dominion over 60% of U.S. households getting broadband.
Hastings dings the quality of AT&T (NYSE:T) broadband delivery of Netflix content and provides a link to the telephone company's website comments board where people can, and do, weigh in on the topic. (He draws a sharp and well-reasoned retort from an AT&T executive.)
And perhaps most unusually, he openly gauges Netflix's progress by comparing it to a specific competitor: "We are approaching 50 million global members, but that is far short of HBO's 130 million. We are eager to close the gap."
With that last bit, Hastings signs off, and it's an apt thought to leave investors with. With its 130 million subscribers, HBO, a unit of Time Warner (NYSE:TWX), brought in about $4.9 billion in revenue last year ($38 or so per subscriber based on end-of-year subscriber count). Operating profit for HBO, before taxes and corporate overhead and such, was $1.8 billion, a stupendous 37% operating margin. Thanks to Game of Thrones and other popular programming, HBO is a cash machine.
Yes, indeed, Hastings should want investors making the comparison, so let's. Netflix is about to overtake HBO in terms of revenue, reporting $4.4 billion in 2013, and growing far more rapidly. It brings in closer to $90 a year from a subscriber, so 130 million Netflix'rs would throw off in the neighborhood of $12 billion in revenue.
Now, growing rapidly requires huge marketing and upfront costs to acquire content, so Netflix earns a relative pittance on its revenue, $112.4 million, or $1.85 a diluted share, for 2013. But if Hastings can get investors to believe his company can approach HBO-like margins, well, then Netflix's current stock price doesn't look so pricey. To finish the fantasy, pre-tax profit of more than $4 billion, so say $3 billion after-tax (and now we're really guessing, aren't we?), which is about $50 a share, and a mature Netflix trading at Time Warner's humdrum forward PE ratio of about 18, and you've got a $900 stock.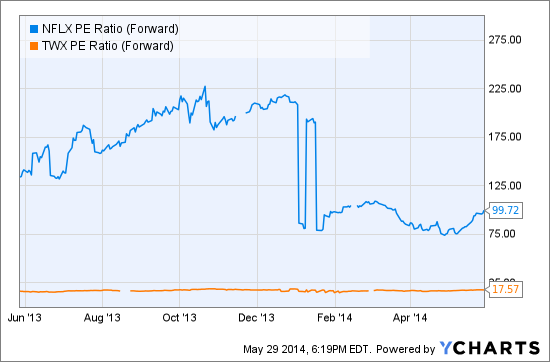 NFLX PE Ratio (Forward) data by YCharts
Even if Netflix only gets halfway there, say to 90 million subscribers, achieving HBO-like margins would make it a hugely profitable company and could reward investors even from the exalted price its shares are now fetching.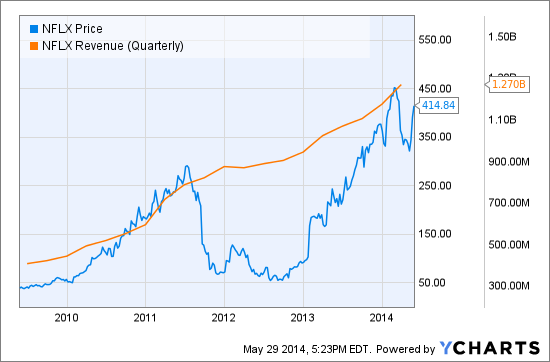 NFLX data by YCharts
Analysts, of course, do a far more credible job of the math required to justify Netflix's stock price, though I'd guess that many investors don't look much beyond revenue growth and subscriber growth. For many, it's a momentum stock. There are plenty of growth companies with head-scratching valuations, and some priced reasonably, and the difference is often in the eye of the beholder. Here, for your gut reaction, is a chart of forward PE ratios of other well-loved growth stocks, Facebook (NASDAQ:FB), Amazon (NASDAQ:AMZN) and Google (NASDAQ:GOOG) (NASDAQ:GOOGL). We leave off LinkedIn (NYSE:LNKD) because its valuation is so high the chart becomes unreadable for the others.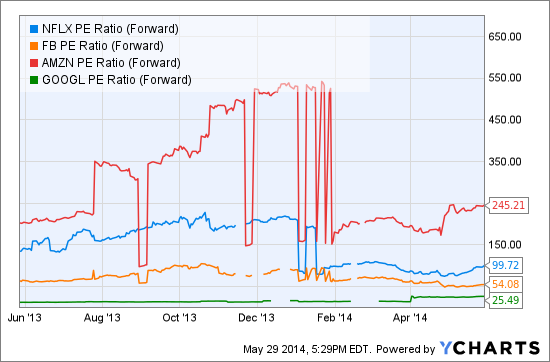 NFLX PE Ratio (Forward) data by YCharts
For Netflix, what could go wrong? Plenty, of course. Comcast, AT&T and whoever else ends up operating the broadband networks here and abroad could squeeze content streamers financially, making the business less profitable. That, of course, is exactly what the broadband companies intend to do and why Netflix is such a visible presence in the net-neutrality debate. It seems unlikely that Netflix and its subscribers would be able to continue to hog the pipeline and pay so little for the privilege.
At the other end of the business, of course, Netflix licenses content from companies that produce and distribute movies and television shows, companies like Time Warner. Many of the people who run these companies probably wish they invented Netflix, but it's doubtful they are afraid of it. If you think Netflix will achieve the kind of domination over streaming content that Amazon has in books, betting on Netflix to extract better and better deals from Hollywood going forward might be a wise thing. But if streaming content looks to you like it will accommodate multiple big players, then the Hollywood types would at a minimum maintain their current negotiating power, and maybe they'd even gain leverage.
Within the streaming business, Netflix has built an impressive franchise, even as it competes with more deep-pocketed companies like Amazon and Apple (NASDAQ:AAPL). But a particularly elegant advance in technology could upend all of the current players, a third major threat to Netflix investors.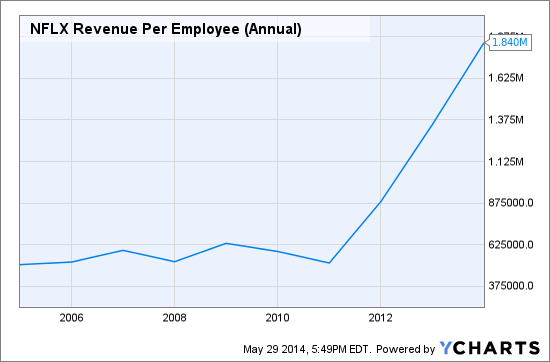 NFLX Revenue Per Employee (Annual) data by YCharts
For now, Netflix is making fabulous progress. It is spending heavily to expand into Europe and other foreign markets, and expects international revenues to surpass domestic results in coming years. Its old DVDs-by-mail business is shrinking slowly, but magnificently profitable, helping to fund the expansion of streaming. And it is clearly a technology company with benefits of scale, employing just 2,022 full-time employees at year-end.
There are multiple mathematical arguments that will justify the Netflix share price. Whether Reed Hastings can make any of them come true remains to be seen.
Disclosure: None