"The point is, ladies and gentleman, that greed, for lack of a better word, is good." - Gordon Gekko
"Investors should remember that excitement and expenses are their enemies. And if they insist on trying to time their participation in equities, they should try to be fearful when others are greedy and greedy when others are fearful." - Warren Buffett
Greed may have been good for Gordon Gekko (at least for a while), but in the investment world it rarely is as Warren Buffett is famous for saying.
Investors are unequivocally greedy today, and with some perspective it is hard to blame them. After all, the S&P 500 (NYSEARCA:SPY) is at an all-time high and the Federal Reserve continues to encourage risk taking with the most expansionary monetary policy in history. Risk has become a thing of the past as it feels like an eternity since we've experienced a real correction. Volatility is also near record lows, which further engenders confidence in the belief that buying equities here is a risk-free transaction.
Why is any of this a problem? Isn't confidence a good thing which will only lead more and more people to buy in, aka the "greater fool"? It certainly can be in the short-run and most of the time sentiment data is just noise. However, we have now moved past the noise level to an extreme in one of the longest running sentiment polls: Investors Intelligence. Last week's poll showed 62.2% Bulls and only 17.4% Bears. The spread between Bulls and Bears of 44.8% is higher than 94% of historical readings and at a level from which further equity gains were much harder to come by.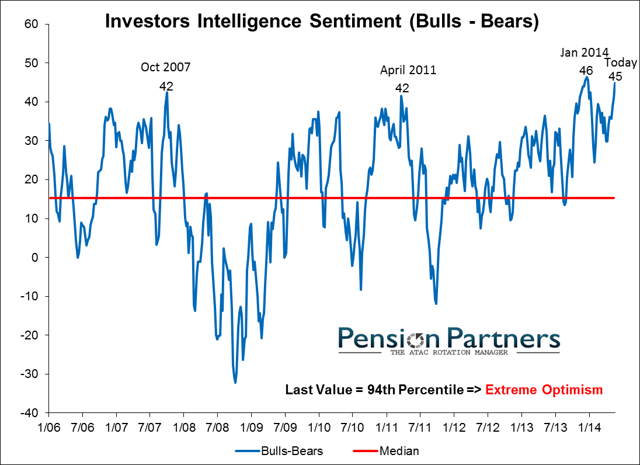 Click to enlarge
Let's have a look at the data. As you can see from the tables below, the forward S&P 500 returns following a Bull-Bear spread of greater than 40% are significantly below average. The average 26-week (6-month) and 52-week (1-year) S&P returns following such extreme readings are only 1.2% and 1.6% respectively. This compares to average 6-month and 1-year returns of 4.0% and 8.3% in all time periods.

Click to enlarge

Click to enlarge
You'll correctly note that while below average, these returns are still positive. This is true as the equity market has a strong upward bias over time and there are few indicators (not subject to data mining) that actually point to negative average forward returns. From my perspective, significantly below average is about as close as it gets to a negative reading. Also, being close to 0% average returns implies that nearly half of the forward returns are negative, which is actually the case.

Click to enlarge
What are the odds that what happens next will mirror the sharp declines following extreme readings seen in April 2011 and October 2007? Not very high, as sharp declines are indeed quite rare. Buffett instructs investors to be "fearful" when others are greedy, not to "sell short" when others are greedy as markets tend to rise over time and picking exact tops is an impossible task. Also, investors can remain greedy for long periods of time.
What we can say, though, is that the odds of below average returns going forward are certainly higher today than if we saw a more muted level of optimism among investors. We have seen this first hand in 2014 following the extreme sentiment readings witnessed at the end of last year. We're now five months into the year and the average stock as reflected by the Russell 2000 is flat on the year, while defensive areas like Utilities (NYSEARCA:XLU) and long duration Treasuries (NYSEARCA:TLT) are significantly outperforming. Despite the constant barrage of headlines on "new all-time highs," it has cost you nothing in 2014 to respect the sentiment extremes entering the year and act in a more "fearful" manner.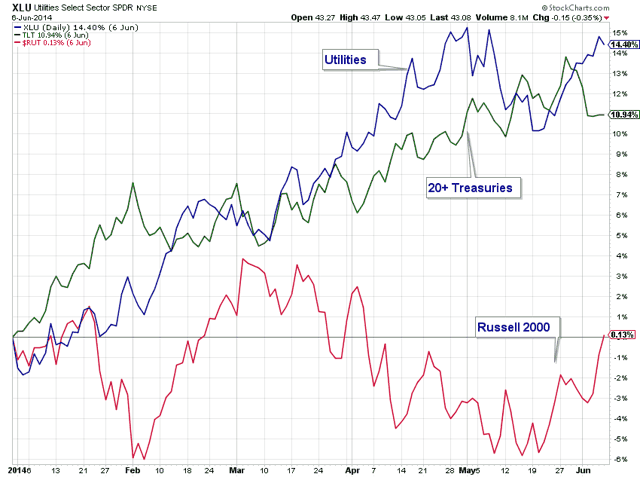 Click to enlarge
Overall, as Buffett instructs, if you are going to try to time your participation to equities (which is not advisable for most as they are more inclined to buy high and sell low), you would be wise to start showing some level of fear here in the face of extreme greed by the crowd. The crowd can be right for a long time, but they are rarely right at extremes. While this time may be different, the probabilities suggest that at the very least it will be a more difficult environment for equities going forward.
As a final note on today's sentiment, I'll leave you with an excerpt from a Wall Street Journal piece covering the latest from Dennis Gartman, author of the widely circulated Gartman Letter. Gartman made headlines last week as he finally capitulated from his bearish calls for a correction. We all need to ask: what does it say when a newsletter writer who makes his living in part by making market calls, including calls for corrections, is no longer willing to do so?
Mr. Gartman, publisher of an eponymous daily investment newsletter, had been one of those folks calling for such a pullback. But now, he's throwing in the towel on such a prediction.
"Simply put, we've been wrong…badly…to have expected the market to correct," Mr. Gartman wrote Tuesday morning.
"It's so silly for me to think I can call a correction," Mr. Gartman said. "The market will correct when it corrects. That's what I've learned in my 40 years in the business."
This writing is for informational purposes only and does not constitute an offer to sell, a solicitation to buy, or a recommendation regarding any securities transaction, or as an offer to provide advisory or other services by Pension Partners, LLC in any jurisdiction in which such offer, solicitation, purchase or sale would be unlawful under the securities laws of such jurisdiction. The information contained in this writing should not be construed as financial or investment advice on any subject matter. Pension Partners, LLC expressly disclaims all liability in respect to actions taken based on any or all of the information on this writing.
Disclosure: The author has no positions in any stocks mentioned, and no plans to initiate any positions within the next 72 hours. The author wrote this article themselves, and it expresses their own opinions. The author is not receiving compensation for it. The author has no business relationship with any company whose stock is mentioned in this article.