By Stuart McPhee
Gold for Friday, June 13, 2014
Over the last week gold has done very well to repair some damage and return to the key $1275 level. After moving so little for an extended period, gold dropped sharply from above the well established support level at $1275 as it completely shattered this level falling to a four month low around $1240. It remained around support at $1240 for several days before its recent rally higher. The $1275 level is now likely to play a role again providing some measure of resistance as gold will try to continues its rally higher. Prior to the fall gold had remain fixated on the $1293 level and had done very little as volatility has dried up completely resulting in gold moving very little. It pushed down towards $1280 before sling shotting back and also had an excursion above $1300 for a short period before moving quickly back to the $1293 area again. Over the last few weeks gold has eased back from around $1315 to establish its recent narrow trading range below $1295 before its recent slump.
Over the last couple of months the $1275 level has established itself as a level of support and on several occasions has propped up the price of gold after reasonable falls. Throughout the second half of March gold fell heavily from resistance around $1400 back down to a several week low near support at $1275. Both these levels remain relevant as $1275 continues to offer support and the $1400 level is likely to play a role again should gold move up higher. Through the first couple of months of this year, gold moved very well from a longer term support level around $1200 up towards a six month higher near $1400 before returning to its present trading levels closer to $1300.
Gold settled at its highest level in nearly three weeks on Thursday after both U.S. retail sales and jobless claims came in below expectations, weighing on the dollar and equities. Retail sales rose 0.3 percent in May, half of the growth rate that had been expected, while the number of Americans filing new claims for unemployment benefits unexpectedly rose last week. U.S. gold futures for August delivery ended $12.80 higher, up 1 percent on the day, at $1,274.00 an ounce, their highest close since May 23. Spot gold, meanwhile, added 1 percent to $1,273 an ounce.
(Daily chart / 4 hourly chart below)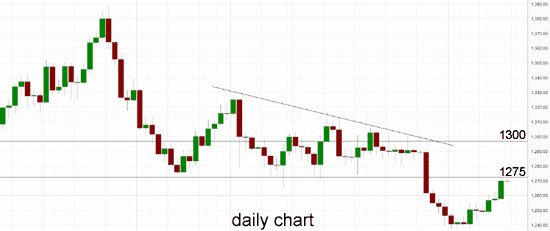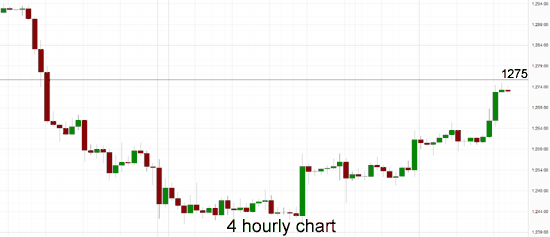 Gold June 13 at 01:50 GMT 1272.6 H: 1274.4 L: 1272.1
Gold Technical
| | | | | | |
| --- | --- | --- | --- | --- | --- |
| S3 | S2 | S1 | R1 | R2 | R3 |
| 1240 | --- | --- | 1315 | 1330 | --- |
During the early hours of the Asian trading session on Friday, Gold is just easing back a little from the key $1275 level after surging so well over the last week. Current range: trading just below $1275 around $1273.
Further levels in both directions:
• Below: 1240.
• Above: 1275, 1315 and 1330.
OANDA's Open Position Ratios

(Shows the ratio of long vs. short positions held for Gold among all OANDA clients. The left percentage (blue) shows long positions; the right percentage (orange) shows short positions.)
The long position ratio for Gold has moved back below 70% again as gold has rallied well over the last week back to the key $1275 level. The trader sentiment remains in favour of long positions.
Economic Releases
04:30 JP Capacity Utilisation (Apr)
04:30 JP Industrial Production (Final) (Apr)
09:00 EU Employment (Q1)
09:00 EU Trade Balance (Apr)
12:30 CA Manufacturing sales (Apr)
12:30 US PPI (May)
13:55 US Univ of Mich Sent. (Prelim.) (Jun)
JP BoJ MPC - Overnight Rate (Jun)
*All release times are GMT
This article is for general information purposes only. It is not investment advice or a solution to buy or sell securities. Opinions are the authors; not necessarily that of OANDA Corporation or any of its affiliates, subsidiaries, officers or directors. Leveraged trading is high risk and not suitable for all. You could lose all of your deposited funds.