Recently, Avigilon's (OTCPK:AIOCF) stock fell by 45 percent from its high after it was disclosed that the CFO was no longer with the company. There was concern that there might be deeper problems at the company after it became known that there have been a number of executives that have been asked to leave in the last year. After significant due diligence, I came away believing that this situation is more of a management cultural/leadership style than it is an accounting concern. I believe that AIOCF is a hard charging performance driven culture no different than that at GE during Jack Welch's tenure. The strong get promoted and the weak get asked to leave. While this management style may not be appealing to some, it is hard to argue with the tremendous results that AIOCF has delivered since going public a couple of years ago. The company grew 75% Y/Y last quarter and re-sellers I have spoken to continue to say that the company's technology has only gotten stronger with its analytical capabilities and zoom functionality with its cameras. The company has publicly stated that they expect to reach $500m in a revenue run-rate by 2016. I think this is conservative based on our checks.
One of the under recognized aspects to AIOCF's business is the leverage they have in sales and marketing. For example, much of their business comes from taking market share from older legacy providers in the market. As they increase market share and convert customers to their platform, their sales and marketing spend will decline over time, as these customers renew and expand their products over time. I think AIOCF can achieve 30% operating margins at scale. I also believe there is a large market at stake and AIOCF should be a $1B revenue company within 4 years. I believe that the company can do $2 in EPS and given the growth rate at this point (30%+), be worth $50-60 by 2016.
Company Background
AIOCF is a provider of digital solutions for the surveillance market. The company manufactures and develops network-based end to end hardware and software solutions across the entire market.
Approximately 75% of AIOCF's revenues are derived from hardware sales. AIOCF's hardware products consist of HD cameras, video recorders, encoders, and accessories. They provide the broadest range of cameras, from entry level 1MP to an industry leading 29MP. The network recorders support these cameras with up to 21TB of storage, and their encoders are able to convert feeds from legacy analog cameras into digital.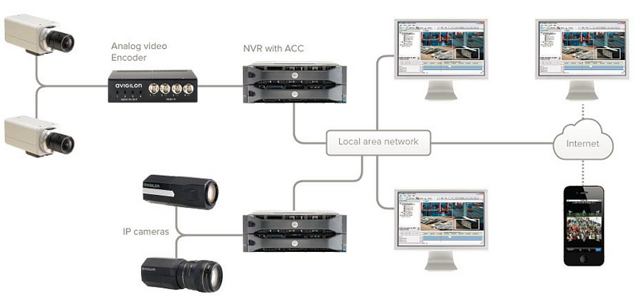 The remainder of the business is derived from software revenue. The main solution is the Avigilon Control Center ("ACC"), which uses patented technology to provide an end to end software platform. AIOCF has a software solution called High-Definition Stream Management ("HDSM") which allows it to maintain high image quality while not bottlenecking bandwidth. The software/hardware combination also allows for remote zoom and control, support for mobile Android/Apple devices, and integration with other hardware brands and legacy equipment. I find the last point very important, given that most of the customer wins result from AIOCF replacing a legacy solution rather than a greenfield opportunity.
Market Size
The digital surveillance market is expected to grow at a 25% CAGR between 2013 and 2018, and the overall surveillance market is expected to be in the $25-$35 billion range in the next 5 years (source: IHS, MarketsandMarkets). This growth has been spurred by the conversion cycle from analog to digital cameras, which provide superior image quality, backwards compatibility, remote controls, better scalability, and increased analytic capability.
The market seems to still be relatively fragmented, with the top 15 players accounting for under 50% market share. The largest names in this space include Axis, Panasonic System Networks (OTCPK:PCRFF), Samsung Techwin, and Hikvision.
Thesis
1. Technological lead in developing a platform solution
Avigilon was the first to market with a fully digital, end-to-end security solution. The surveillance industry, which primarily still uses analog solutions, is still in the early innings of a conversion cycle to digital and higher quality surveillance solutions. AIOCF's cameras are not only able to pick up better images, but are also benefit from complementary software products, easier integration, universal compatibility, and greater functionality. Although a majority of AIOCF's revenues are derived from hardware (discussed later), the company's true competitive advantage is its software platform. The company has developed the proprietary HDSM technology which allows very high image quality feeds while mitigating bandwidth stress. This technology, combined with its ACC (my channel checks suggest that it's one of the most user friendly systems to use) gives the user an advanced suite of camera control and analytics. Users are not only able to monitor real-time surveillance video, but also link videos with transaction data, share feeds through multiple users, and index and export data. More importantly, the software suite is compatible with third-party and other vendor equipment, both analog and digital. A quick forum search shows that many customers are now using AIOCF's ACC software in cooperation with their existing hardware. AIOCF is able to develop this lead because it understood the future market evolution years before its competitors and was willing to invest significantly in R&D. As the company continues to grow, they're stressed that they will be able to continue to invest in the company while also remaining profitable.
2. Breadth of hardware opening up new opportunities
Although AIOCF does not like to consider itself to be camera manufacturing company (they prefer "security solution provider"), the company still ranks near the top in this category as compared to its peers. AIOCF offers an unprecedented breadth of cameras, ranging from 1 to 29 megapixels. I looked at some of the other leading manufacturers (Axis, Hikvision) and discovered that these companies, which tout their next generation HD cameras, only go up to 5 megapixels. Furthermore, they are also still focused on selling legacy analog solutions as well. While I don't expect AIOCF to be selling truckloads of their top of the line cameras compared to the cheaper and smaller cameras, larger cameras do position AIOCF to capture more of the large enterprise market. Historically, the company has focused on solutions for the small to medium businesses, which comprises 80% of the total market. These customers are typically schools, companies, hospitals, and larger residential buildings that purchase up to 50 cameras and generate 5 figure revenues. As AIOCF moves into higher capacity cameras, the company provides a great value proposition for the large players in the space - mega casinos, airports, and universities. If one of these customers want to convert to digital, it could save costs if they replace 50+ analog cameras with just one HD camera. Furthermore, these deals could be as large as 7 figures. Although enterprise customers only comprise approximately 20% of the market, they comprise less than 10% of AIOCF's revenues. As AIOCF continues to develop their products and extend their lead, I believe that this will be a significant source of growth.
3. Differentiated business model through channel partners
Selling through channel partners has been wildly successful for the company. Given AIOCF's relatively small revenue base ($178m in 2013) and global reach, they sell 100% of their products through resellers, installers, and integrators. Products are shipped directly from AIOCF to the partners, cutting out costs of a distribution network. This takes the strain off developing and ramping a quota carrying sales force, which takes time and incremental costs. Also, products are sold on a license basis, which seems to be the preferred purchase method in this industry, as opposed to a subscription model.
4. New technologies that aren't being valued
Tuck in acquisitions that not only boost the technology portfolio, but can drive growth as well. Management believes that they can reach the $500m run rate through organic growth alone. However, the company has been strategically acquiring technologies that strengthen the product portfolio which they don't factor into projections. For example, the recent acquisition of VideoIQ gives AIOCF a real-time intelligent analytics platform. Combining this with their internally developed pattern modeling is moving the company towards products that proactively assess threats before it occurs. It might not be as effective as seen in Minority Report, but it definitely could become more powerful than the current system of humans staring at tens, if not hundreds, of video feeds for hours on end.
5. CFO departure risk is overblown and has created a significant buying opportunity
The stock took over a 30% hit last month as the CFO left for "health issues." The market viewed this as a huge risk to the business, but after digging around, it seems like most analysts believe that this was completely overblown. The CFO was more likely fired and given a respectable exit. The CEO was the founder of AIOCF and was successful prior to AIOCF in founding and eventually selling another company. Also, the prior CFO, who worked from 2004 to 2012, has stepped back into his original role. I think that this has created a unique situation to buy the stock at an artificially depressed price.
6. Strong financial performance and balance sheet
Avigilon has been growing at over a 100% CAGR over the last 5 years, and is expected to grow at 40% for the next four years. The company's publicly stated goal is a $500m revenue run rate by the end of 2016. This will primarily be driven by continued investment in sales, marketing, and R&D. Although I typically try to stay away from companies who have to "buy" revenues, AIOCF seems to not fall into this category. The company has shown that they have actually been able to expand operating margins even as they increase expenses as a percentage of revenues, and really invest because of the large opportunity ahead. This is primarily driven through gross margin expansion as they scale, which should continue as they grow (their current facility, based in British Columbia, can support $500m of revenues). As the operating leverage kicks in, I would expect the company to continue to grow the bottom line faster than the top line. The company also has a healthy balance sheet, with $160m in net cash.
Valuation
I believe that with continued investment in the business and accretion from current and future tuck in acquisitions, AIOCF can achieve $500m in revenues in 2016, slightly faster than management's expectations. At 25% EBITDA margins, the company will be generating $125m in EBITDA. At a 20x 2016 EV/EBITDA multiple (which is arguably low given the 30%+ growth and continuing operating leverage going into 2016) and ignoring any future cash generation, the stock is worth $50-60, or over double today's price.
Disclosure: The author has no positions in any stocks mentioned, and no plans to initiate any positions within the next 72 hours. The author wrote this article themselves, and it expresses their own opinions. The author is not receiving compensation for it (other than from Seeking Alpha). The author has no business relationship with any company whose stock is mentioned in this article.