Crude Oil Spikes Up on Iraq Tensions
That the Isis rebels are advancing on Baghdad has sent shudders through the crude oil market, with Brent Crude oil prices breaking above their 9-month trading range to hit over $113/barrel today (Figure 1).
1. Brent Crude Oil futures head back to the 2013 highs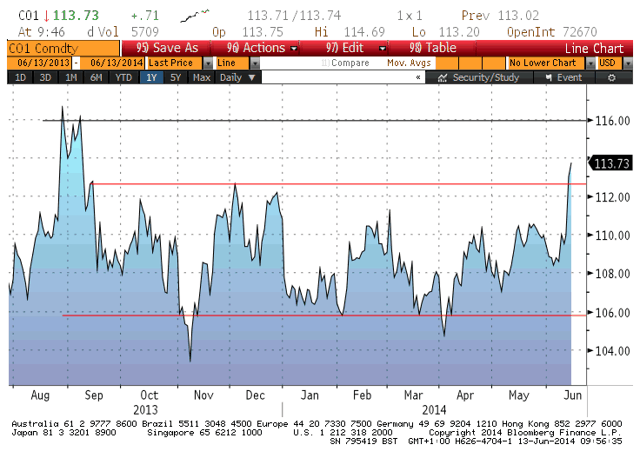 Source: Bloomberg
Iraq is projected to be 11% of OPEC output this year
With OPEC representing over 40% of global crude oil production, and Iraq forecast to produce 11% of OPEC's crude output this year, any long-lasting disruption to Iraqi oil production could keep crude oil prices higher than expected, in spite of the burgeoning production of oil and gas from US shale deposits.
2. Iraq is projected to produce 11% of OPEC's Oil Output This Year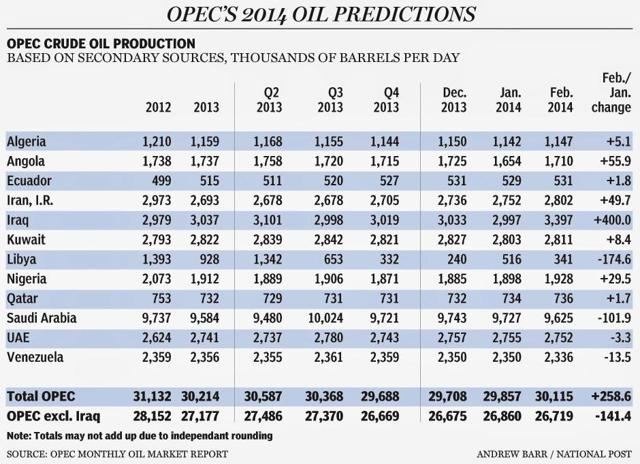 Source: OPEC
UK, European, US Oil Companies Outperforming
At a time when global stock markets could finally be stalling in the short-term after breaking new all-time highs, the oil & gas sectors on both sides of the Atlantic have maintained strong upwards momentum thanks in part to this geopolitical boost, comfortably outstripping the wider benchmark stock indices. Oil Services in particular (e.g. IEZ) have performed particularly well of late.
3. European and US Energy Sector Gains in the Double-Digits This Year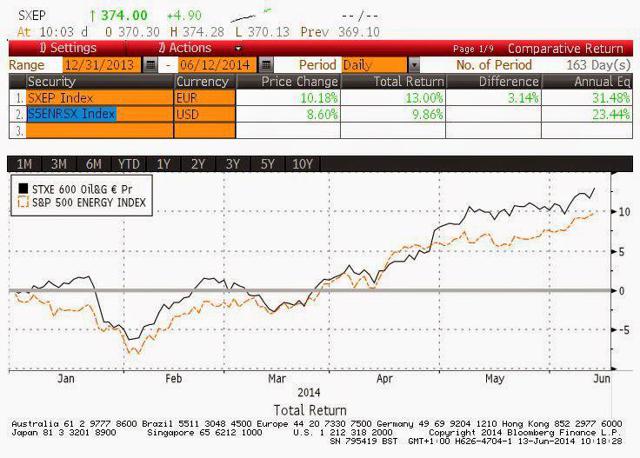 Source: Bloomberg
So Which Oil Stocks Look Particularly Attractive Right Now?
In the US, my attention has been drawn to oil-related stocks that have under-performed up to now, but which are starting to rebound sharply. Noble Corporation (NYSE:NE) is one such company, an offshore drilling contractor which is very cheap at 9.5x forward P/E, 0.9x price/book and offers a tempting 4.3% dividend yield (more than twice that offered by the S&P 500 index).
4. Noble Corporation An Attractive US Value-Momentum Play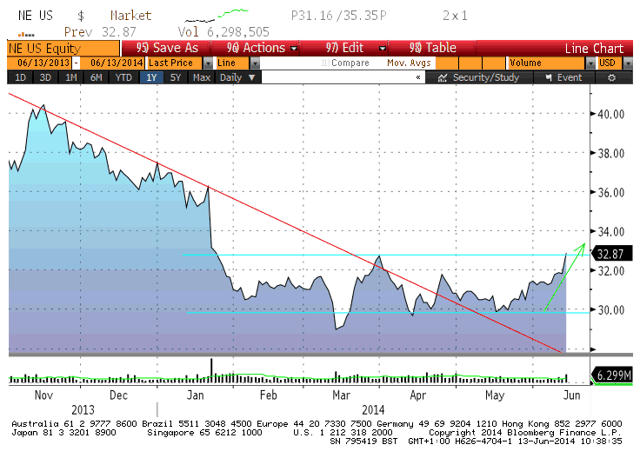 Source: Bloomberg
But what could you look at in Europe (and the UK)?
A Russian oil stock that comes out high on Stockopedia's QVM (Quality-Value-Momentum) combined StockRank is Rosneft (OTC:OJSCY; LON Int: ROSN in the UK) (Figure 4), with a combined StockRank of 97, a Value rank of 98 and Quality rank of 95. The dividend yield of 4.3% also pays an investor to be patient.
4. Rosneft Near the Top of the Stockopedia QVM StockRank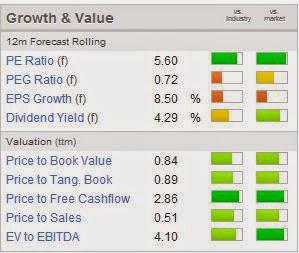 Source: www.stockopedia.com
Oil Services Still My Favourite: AMEC, Wood Group
Otherwise, I am still a big fan of Oil Service companies given the Shale Oil & Gas investment theme. The key to remember is this: that shale oil and gas producers need to continue to drill a huge number of new wells not only to keep up production growth, but even to maintain existing levels of production! With shale oil, well depletion rates are far higher than with conventional oil wells, hence there is correspondingly more business for oil service companies helping them to get the oil out of the ground, process it and then transport it!
I continue to favour both AMEC (OTC:AMCBF; UK code LON: AMEC) and Wood Group (OTCPK:WDGJF; LON: WG) as they both come at or near the top of the combined QVM StockRank within the Oil & Gas sector, AMEC with a near-maximum combined StockRank of 99, and Wood Group with a high 85 StockRank (Figures 5, 6).
5. AMEC Top of the StockRanks!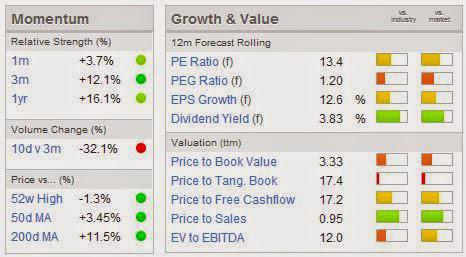 6. Wood Group: Good Value, Momentum to be Had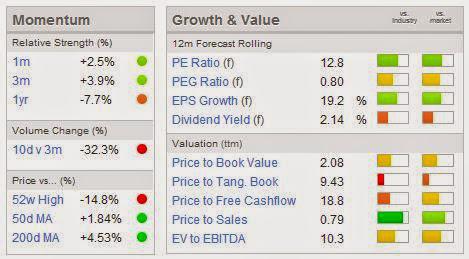 Source: www.stockopedia.com
Have fun "drilling down" on these oil stock ideas!
Edmund
idleinvestor@idleinvestor.com
Disclosure: The author is long NE. The author wrote this article themselves, and it expresses their own opinions. The author is not receiving compensation for it. The author has no business relationship with any company whose stock is mentioned in this article.