There are currently 23 computer services companies in the Forbes 2000 list and each year the number gets higher as obsolete technologies like coal and newspapers are replaced by new inventions like Nest Labs, which was acquired for $3.2 billion on January 14, 2014 by Google (NASDAQ:GOOG) (NASDAQ:GOOGL) or Oculus VR, which was acquired for $2 billion two months later by Facebook (NASDAQ:FB). Google surpassed Exxon (NYSE:XOM) this year as No. 2 in the world measured by market cap sitting around $395 billion in February.
In a few decades, this category will include 46 companies and if you can pick the future members of this popular and respected list you can make millions.
Not everybody has enough money to invest in 23 companies and you cannot invest all your money in the same industry.
IBM is currently the 35th largest company in the world according to Forbes and very few companies make more money than them.
In fact, I could only find 22 companies in the entire world.
Not even Wal-Mart (NYSE:WMT), Royal Dutch Shell (RDS.A, RDS.B) or Sinopec-China Petroleum (NYSE:SNP), which are currently the largest three companies in the world by sales, can make more money than IBM.
Source: Forbes 2000 List 2014
IBM (NYSE:IBM) has a total revenue of almost $100 billion each year. They have a market value of over $180 billion. They have more than $100 billion in assets including the goodwill associated with the IBM brand and they made $16.5 billion in profits last year. Further IBM is raising more cash with the sale of its chip-making unit to Globalfoundries in the coming weeks.
All those amazing numbers lure a lot of individual investors from all over the world.
IBM has been the King of the World in the computer services category for a long time.
Google currently has a market value of more than $300 billion, which makes Google more than twice as expensive as IBM.
Is Google overvalued or is IBM a bargain? Let's find out.
How big is Google?
Google is currently the second largest computer services company by annual sales, annual profits and assets in the world.
With massive annual profits of $12.2 billion, you would need to combine the next six computer services companies in the Forbes 2000 list to make that amount of cash.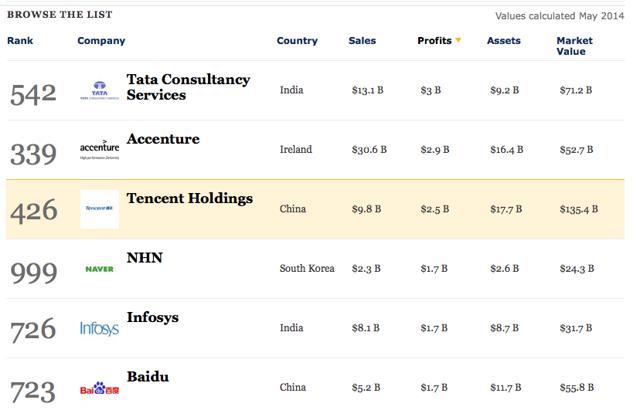 Source: Forbes (All values are in billions, sorted by profits and calculated May 2014)
Sometimes the stock price of some of these companies drops too much and that is when you should buy them just in case one of the other 51 companies currently in competition in the race for the title of the most powerful company in the world decides to acquire them just to keep Google in the 52nd position.
If you monitor the stock price closely of these six companies closely you can make a lot of money.
A very long time ago, you could buy all the newspapers published within the United States of America or Yahoo!, which was not the hugely profitable company of today with the same check, which can teach you a lot about bubbles.
I don't know how fast these six companies are growing compared to Google and that may be a good topic for another day.
However, you can replace the most expensive company in the group, which is Tencent Holdings (OTCPK:TCEHY) with a market value of $135.4 billion and replace it with several smaller but extremely profitable companies and you can see interesting opportunities.
Only companies with a market value of less than $10 billion are included.
| | | | |
| --- | --- | --- | --- |
| Company | Sales | Profits | Market value |
| Mail.ru Group Ltd. | 00.7 | 1.2 | 07.7 |
| NetEase (NASDAQ:NTES) | 01.5 | 0.7 | 09.1 |
| Computer Sciences (NYSE:CSC) | 13.2 | 0.7 | 09.0 |
| CGI Group (NYSE:GIB) | 09.9 | 0.6 | 09.6 |
| Teradata (NYSE:TDC) | 02.7 | 0.4 | 07.7 |
| ATOS (OTCPK:AEXAF) | 11.4 | 0.3 | 08.9 |
Source: Forbes (All values are in billions, sorted by profits and calculated May 2014)
With the exception of LinkedIn (NYSE:LNKD), which made only a very tiny annual profit of $26,769,000 all these companies are extremely profitable with a minimum annual profit of at least $100 million.
Here is what I would do if I were the employee in charge of increasing profits by at least a cool billion annually at IBM or Google trading in the stock markets: I would sell short LinkedIn. This company is not worth $20 billion. Liam Neeson makes more money than them and he is just one guy and he does not even have an Academy Award.
Maybe Liam Neeson should file for an IPO with the symbol TAKEN. I wonder if the action fans of the world would increase the market value of his company all the way up to $10 billion just like the fans of social networks already did with LinkedIn, Facebook and Twitter.
How can Google make more money than IBM?
In order to increase annual profits from $12.2 billion to at least $16.5 billion they would need to buy at least four companies that can turn a combined profit of at least $4.3 billion like Cognizant Technology, Computer Sciences, CGI Group and Teradata, which would cost at least $60 billion.
Needless to say, that is not a very good plan for the future.
The trick is to find at least 40 smaller companies with a profit of at least $100 million per company with a market value of less than $1.5 billion.
Can you find these companies?
Disclosure: The author has no positions in any stocks mentioned, and no plans to initiate any positions within the next 72 hours. The author wrote this article themselves, and it expresses their own opinions. The author is not receiving compensation for it (other than from Seeking Alpha). The author has no business relationship with any company whose stock is mentioned in this article.