Background
On November 4, 2013, Weyerhaeuser (NYSE:WY) announced its intention to combine its homebuilding and real estate development business, Weyerhaeuser Real Estate Company (WRECO), with TRI Pointe Homes (NYSE:TPH) in a Reverse Morris Trust transaction. The combination will result in WY's shareholders receiving approximately 80.5 percent of the combined company with pre-transaction TPH's shareholders owning the balance. Post-transaction, TPH will have a market cap of approximately USD2.7bn compared with about USD0.5bn pre-transaction. Further details can be found in the press release here.
On May 22, 2014, WY announced that it had commenced its exchange offer expiring June 30, 2014. One of the main incentives to tender is that the exchange offer is designed to permit WY's shareholders to exchange their WY common shares for WRECO common shares (which will convert into shares of TPH) at a discount of 10 percent to the per-share value of TPH's common stock subject to an upper limit as described in the press release here.
Though this sounds tempting, examining the transaction dynamics indicates that the WY shareholders who do not tender into the exchange offer accrue most of the immediate benefits post-transaction as set out below:
1. A company that is more focused on its core forest products businesses - presumably the reason shareholders bought WY in the first place.
2. A company with reduced earnings volatility as WRECO has historically experienced somewhat greater fluctuations in earnings than WY's forest products businesses. This earnings volatility, as shown in the table below, will be transferred to TPH's shareholders post-transaction.
Selected historical financial data of WRECO

For the Year Ended December 31,

2013

2012

2011

2010

2009

(Dollar amounts in thousands)

Net earnings (loss)

(149,455)

61,481

35,528

55,278

(178,601)
(Source: TRI Pointe filing S-4/A)
3. The exchange offer is effectively a share buyback that provides WY with an opportunity to repurchase approximately 12% of its outstanding common shares without reducing its overall cash and financial flexibility.
4. WY will receive approximately USD739m in cash from the WRECO/TPH combination.
5. Removing a less profitable and at times loss making business that is a drag on WY's earnings.
6. Tax efficient transaction.
The net effect of the transaction on WY's earnings per common share and weighted average number of common shares outstanding are summarized in the table below:
Unaudited Pro Forma Condensed Consolidated Statement of Earnings of Weyerhaeuser reflecting the Transactions

For the

3 months ending March 31, 2014

Change

Actual

Pro forma

(%)

Earnings per common share

Basic

0.31

0.34

9.7%

Diluted

0.31

0.34

9.7%

Weighted average number of common shares outstanding (millions)

Basic

585

515

-11.9%

Diluted

589

520

-11.8%
(Source: TRI Pointe filing S-4/A)
What about WRECO/TPH?
TPH's management seem to have gone out of their way to effect this transaction. Post-merger with WRECO, TPH's shareholders will own less than 20% of the combined share capital. Normally a premium is paid to the party losing control of their company. But in this case, not only was the control premium waived, but an incentive in the form of a 10% discount to TPH's share price is being offered to WF's shareholders to participate in the exchange offer. On top of this a cash payment of approximately USD739m is being paid to WY as well by levering WRECO/TPH's balance sheet.
The market seems to agree that WY is getting the better deal. WY, TPH and as a market proxy, S&P 500, all traded roughly in line from May 9, 2014 up to the announcement of the commencement of the exchange offer on May 22, 2014. At which point, TPH's share price fell over 10% while WY's share price rose in line with the S&P 500. However, by June 11, 2014, TPH's share price underperformance relative to WY has narrowed to about 4%. (Note: some of the underperformance is probably attributable to arbitrage activity.)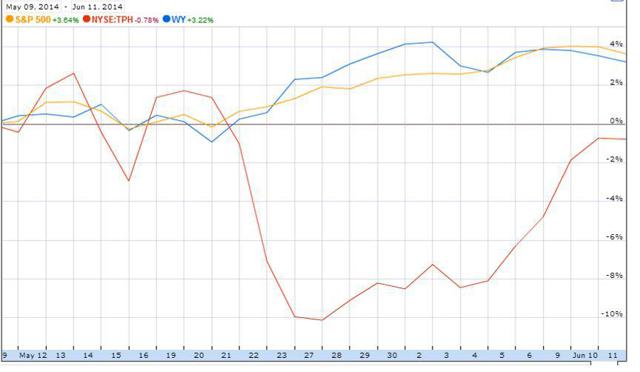 Click to enlarge
(Chart Source: Google finance)
At this point, it is tempting to speculate that WRECO/TPH may be an even greater bargain now given TPH's share price fall and relative underperformance. However, comparing WRECO/TPH to a selection of TPH's closest comparables does not support this view. Using WRECO/TPH's pro forma financials from TPH's S-4/A filing and its valuation as implied by TPH's share price shows that it is actually trading at a premium as highlighted in the table below.
| | | | |
| --- | --- | --- | --- |
| Company | Ticker | Price earnings ratio (Q1 2014 annualised) | 2013 PE ratio |
| Brookfield Residential Properties | | 24.1x | 16.7x |
| Standard Pacific Corp | | 22.8x | 17.5x |
| The Ryland Group. Inc. | | 22.7x | 10.9x |
| NVR, Inc. | | 54.9x | 20.7x |
| Comparable average | | 31.1x | 16.5x |
| WRECO/TPH | TPH | 68.9x | 40.3x |
(Sources: Company Filings 10Q/10Ks, TPH S-4/A and Bloomberg)
Having said all this, it is worth highlighting that TPH's management and particularly its Chairman, Barry Sternlicht (see short profile here), are not novices and they are putting their money where their mouths are. Pre-transaction, TPH's management are beneficial owners of over 47% of TPH. Post-transaction, this holding will be diluted below 10%.
Conclusion
If you bought WY for exposure to the forestry/timber sector then there is little incentive to tender into the exchange offer. Post-exchange, WY accrues most of the immediate benefits and emerges with an improved business and financial profile.
Comparing WRECO/TPH to its closest peers implies it is not a bargain at the moment. However, if you have a great desire to invest in the homebuilding construction sector, it may be prudent to wait for a better entry point.
Disclosure: The author has no positions in any stocks mentioned, and no plans to initiate any positions within the next 72 hours. The author wrote this article themselves, and it expresses their own opinions. The author is not receiving compensation for it (other than from Seeking Alpha). The author has no business relationship with any company whose stock is mentioned in this article.