Colony Financial (CLNY) announced that it has issued $75 million of Series B perpetual preferred stock. The details are: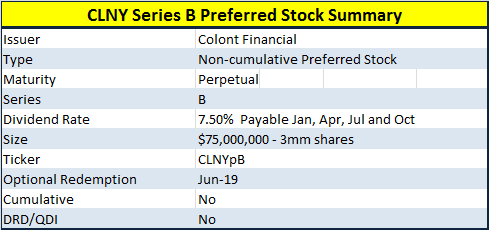 The preliminary prospectus can be found here.
Colony Financial is a real estate investment and finance company that is focused on acquiring, originating and managing a diversified portfolio of real estate-related debt and equity investments. The company's investment portfolio and target assets are primarily composed of interests in: (I) real estate and real estate-related debt, including loans acquired at a discount to par in the secondary market and new originations; and (ii) real estate equity, including single family homes held as rental investment properties. Secondary debt purchases may include performing, sub-performing or non-performing loans (including loan-to-own strategies).
This is Colony's second trip to the preferred rodeo, having previously issued the Series A preferred. As there are only two outstanding preferreds for CLNY, the relative value within the company's preferred is very straightforward.
click to enlarge)

What jumps out to me is the yield advantage available in the outstanding Series A preferred relative to the Series B. Paying a premium to get into the Series A buys an investor a 70 basis points in yield (stripped yield basis).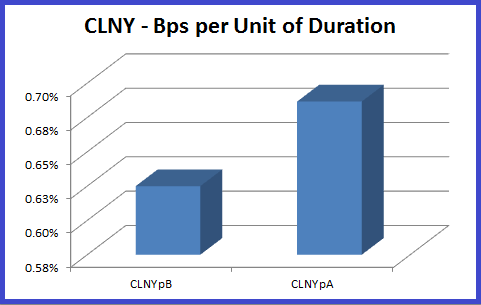 On a basis points per unit of duration (bpud) basis, the Series A, as expected, has the advantage.
Next, a comparison between Colony and their peer group. The peer group being used is Colony, American Capital Agency (NASDAQ:AGNC), Hatteras Financial (NYSE:HTS), NorthStar Realty Finance (NRF), Dynex Capital (NYSE:DX) and Arbor Realty Trust (NYSE:ABR).
click to enlarge)

As the above table shows, the new Colony issue has the lowest preferred yield (stripped basis) of the peer group and only slightly out yields the senior unsecured Arbor issue. The majority of the issues have an 8% or greater yield and do not present significant additional risk.
We can also view the new issue on a basis points per unit of duration basis: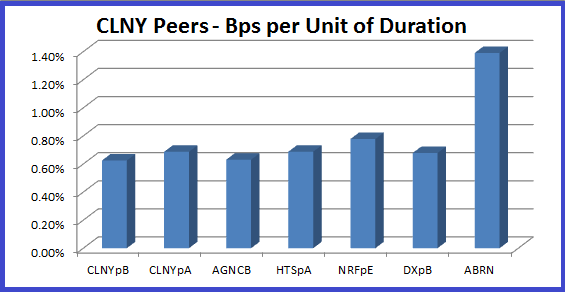 As the chart above shows, the new issue also offers investors less yield per unit of duration (interest rate risk).
Most new preferred issues can be purchased at a discount to par when they trade after issue (OTC) and should an investor be presented with the issue at a discount, the following is a matrix of the yields available at various discounts: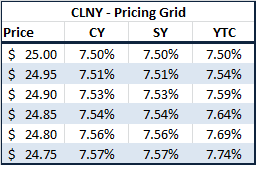 As the above table shows, even if purchased at a discount to par on the break, the new preferred is less attractive than the existing Colony preferred.
Finally, the "equity check," a quick check of the equity market's opinion of the peer group: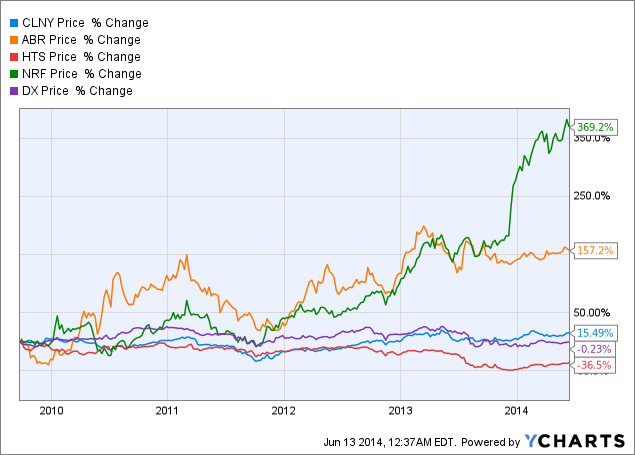 Bottom Line: While I think Colony's markets are in bloom - CRE securitizations are back, the own-to-rent business model and securitization are picking up steam and Europe presents opportunities - and the REIT is in a good place, the new preferred is a "pass" for me as there are other options available that produce more income for no discernible increase in risk.
Errata:
On June 11th, Colony announced a potential internalization of management:
Colony Financial, Inc. (the "Company") recently received a proposal from Colony Capital, LLC ("Colony Capital"), the owner of Colony Financial Manager, LLC, the Company's manager, regarding a potential transaction for an internalization of the management of the Company's current business and the contribution to the Company of certain other material assets and rights of Colony Capital.
This is interesting as other similar businesses (Annaly and NorthStar) are in the process of externalizing their manager in order to create separately listed funds and an asset manager in order to "unlock value" (a move I consider the American Realty approach).
Disclosure: The author is long NRF. The author wrote this article themselves, and it expresses their own opinions. The author is not receiving compensation for it (other than from Seeking Alpha). The author has no business relationship with any company whose stock is mentioned in this article.
Additional disclosure: This article is for informational purposes only, it is not a recommendation to buy or sell any security and is strictly the opinion of Rubicon Associates LLC. Every investor is strongly encouraged to do their own research prior to investing.